Mba · master's degree in business management - online
Home ›
MBA ›
Mba · master's degree in business management - online
Program Description
General information
Modality : online
Duration : 1 academic year
ECTS Credits : 60
Director : Mr. Gonzalo Wandosell Fernández de Bobadilla
Presentación
Within the institutional scope of the Catholic University of San Antonio, the implementation of this Master's program is a commitment to offer a superior quality education, providing society with the best means available for teaching and research.
This Official MBA University Title seeks to enrich the educational proposal of this area of ​​knowledge in the Region of Murcia, for a real adaptation to the world of the company, satisfying the needs of the knowledge society and complementing the skills and abilities obtained in the Grado teachings.
The interest and academic, scientific and professional relevance of the MBA must also be placed in the new context of the twenty-first century: today there are strong transformations in society and the labor market, which have a significant impact on the demands of Higher education for professional practice.
From the academic, scientific and professional point of view, the Postgraduate proposal is supported by the participation of a team of doctoral professors from the areas of knowledge related to the Master's teachings.
The MBA enables the expansion of knowledge and allows students to specialize in the labor market by providing a broad and flexible vision not subject to a rigid framework, teaching to think and analyze, fleeing obsolete academic systems.
The teaching program that is presented contains the subjects usually taught in other similar courses dealing in a special way with the problems of the people who work in the world of the company in the context of the world today. Professionally, these studies aim to provide the student with the knowledge, skills and abilities that the companies demand in their managerial positions, to give a global and integrative vision of all its functional areas.
Recipients
The recipients of this Master's in Business Administration (MBA) from UCAM are those graduates who, not having had previous training in Business Administration and Management (lawyers, engineers, journalists, CAFD graduates, etc.), want to acquire the Competences necessary to be able to develop, in the future, their technical capacities in the environment of the management and management of companies, either for the account of others, or for their own account. Graduates in ADE who wish to enroll will study the same subjects as in the Degree but from another point of view.
Career prospects
This Master complements the general training, which must be possessed by any manager, or personnel attached to managerial tasks, for the best knowledge and development of the company in all the administrative, economic and financial aspects that surround it and that prepares the student for The exercise of their profession within the company and in the field of Management and Administration, preparing specifically for the resolution of daily and daily activities and conflicts.
Therefore, the MBA graduate, after having acquired the advanced training that offers of a specialized and multidisciplinary character, allows to adapt his professional specialization to the top management of companies, facilitating the Planning, Management, Control and Organization of the activities of any organization.
CURRICULUM
1st Semester
Common compulsory module (30 ECTS)
Socioeconomic and legal environment
Accounting and Finance
Business management and marketing
HR management and management skills
Business strategy
2nd Semester
Module of specialization (15 ECTS)
Financial management and business organization
Marketing strategies
Practical module (15 ECTS)
Internships in companies
Master's Degree Work
Last updated Aug 2017
About the School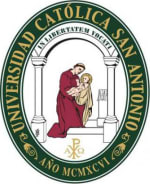 La Universidad Católica San Antonio - UCAM, como universidad católica, se caracteriza por ofrecer a sus alumnos una formación integral, basada en los conocimientos teóricos y técnicos específicos de c ... Read More
La Universidad Católica San Antonio - UCAM, como universidad católica, se caracteriza por ofrecer a sus alumnos una formación integral, basada en los conocimientos teóricos y técnicos específicos de cada titulación más la formación humana anclada en los principios del humanismo cristiano, a esta labor se dedican un claustro docente de reconocido prestigio y un equipo de tutores personales,
Read less