Home ›
Master ›
Master's Degree in Mining Operations Management
Separate your quota!
Until the 15 of August
What will you learn?
To apply the scientific and technological knowledge of mining operations management in an original and innovative way.
To identify, pose and solve problems within a field of management of mining operations, whose solution requires the generation of new knowledge through applied scientific research.
Respond to specific research demands related to the management of mining operations.
Description
The graduate of the Global Master in Mining Operations Management, will be able to plan, design, modify and evaluate the type of exploitation and treatment of mineral benefits that will be applied to a specific mining deposit, effectively manage costs, human talent , as well as the resolution of socio-environmental conflicts. Emphasis is placed on the technical and economic aspects of mining asset management, corporate social responsibility and integrated management systems.
Curriculum
Mention Equipment Optimization and Cost Analysis in Underground Mining
Mention Optimization of Equipment and Analysis of Costs in Surface Mining
Educational Model CAMIPER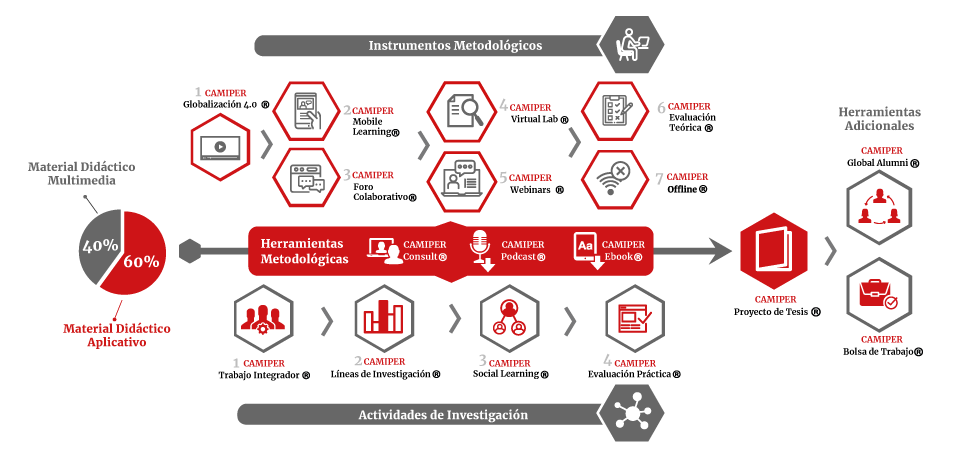 Complement your Masters
With our global programs of International Travel and International Internships, with which you can perfect your learning by adding various professional experiences in the most important mining companies in the world.
See 11 more programs offered by Camiper Escuela de Altos Estudios »
Last updated August 6, 2019
This course is Online, Online & Campus Combined
Duration
1 year
Part-time
Full-time