Master's degree in taxation and tax advice
Program Description
Voted best Masters in Spain 2013 in its category by the daily ABC
The correct knowledge of the Spanish tax system requires not only an effort of analysis and assessment of taxes that comprise it but also study and consideration of other issues, such as international taxation, specific taxation of certain transactions and companies with differentiated taxation, procedures set out in tax, etc.
In order to help improve the skills of professionals develops an eminently didactic and practical guidance Title of Master in Taxation / Tax, which responds to a demand from the professional market: the need to acquire a high degree of specialization in the field of taxation.
The Master in Taxation / Tax Consultancy is an official title whose curriculum is published in the Official Gazette No. 31 of February 5, 2010 and correction of errors in BOE number 75 of 28 March 2012.
Addressed to
The title of Master in Tax / Tax Consultancy aims to provide comprehensive training, beginning with laying the foundations of the tax system in order to analyze the different taxes rigorous, thorough, ethics and practice, in order to ensure that the student has a Total and global vision of them, enabling it to observe the different relationships between taxes.
Anyone interested in possession of an official university degree, you can access the realization of the title of Master in Tax / Tax Consultancy.
In particular, it is aimed primarily at: graduates in Law, Economics, Business and Administration and Management who want to start practicing tax advice Sciences, as well as qualified professionals engaged in this activity and look at the Master response to the difficulties them in the daily exercise of their profession.
It is not required to have previous experience in the tax field.
Student Profiles
UDIMA aims to provide training opportunities to all those who for scheduling problems, mobility, geographic distance, family conciliation, ... they can not go to a college campus a face, to form or complete their education.
The duration of the Master full time is 12 months (30 ECTS / semester). However, to enable students to achieve the attainment of its objectives, offer the realization of the Master part time 18 months (20 ECTS / semester), understanding that the student profile is that of professionals who will combine his professional activity with a process of accelerated learning and demanding various tax issues.
The estimation and planning of lessons that correspond to this title requires the dedication of at least 20 hours per week.
Main objective of the Master
It is intended that students master all the necessary knowledge to enable it to carry out its work properly and tax advisor guarantee of success. Through the study of the teaching units and conducting evaluation activities and learning, the student acquires the necessary tools to do their work by applying their knowledge.
This general objective can be broken down into the following specific learning objectives:
Develop an understanding of the basic-tax legal foundations that allow students to perform deductive reasoning.
Acquire the necessary skills to perform tasks advisory and tax planning for both legal and natural persons.
Learning to practice the settlements for the different taxes (both state, transferred to the autonomous communities and municipal) that shape our tax system.
Improve the ability to write reports and opinions, and proceeding to the public display and defending own arguments.
Help future professionals to develop their skills to quickly assimilate information effectively identify legal problems, gather relevant information quickly and encourage time management tools needed for a demanding job scenario.
Education system
The training model UDIMA is based on distance education, making intensive use of Information Technology and Communications (ICT) to facilitate the educational process.
The evaluation system of learning UDIMA aims to develop and, where appropriate, overcoming different types of activities. The percentage weights established to assess the activities of each subject will be described in detail in the file for each module or subject contained in the planning of education and established using the minimum and maximum set out in the following table:
Paricipación in learning activities: ≥ 10%
Controls: ≥ 10%
Continuous Assessment activities (AEC): Assumptions and case studies, information search, execution and reporting: ≥ 20%
Live Final exam: ≤ 60%
TOTAL: 100%
In all subjects must have an academic track student through the qualification of educational activities based on the characteristics of the European Higher Education Area.
Last updated Mar 2020
About the School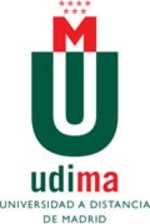 UDIMA, una universidad sin distancias «La UDIMA pretende ser una Universidad sin distancias, en la que aprender haciendo resulte el factor primordial que dote a todos nuestros estudiantes de las comp ... Read More
UDIMA, una universidad sin distancias «La UDIMA pretende ser una Universidad sin distancias, en la que aprender haciendo resulte el factor primordial que dote a todos nuestros estudiantes de las competencias precisas para emprender y asegurar su empleabilidad.» La Universidad a Distancia de Madrid (UDIMA) es una institución oficial de enseñanza superior, innovadora, abierta y flexible.
Read less