Master's degree in education and new technologies
Home ›
Master ›
Master's degree in education and new technologies
Program Description
training program for teachers, researchers and educators with the aim of enabling knowledge and use of new communication technologies and information, as well as new training models e-learning and b-learning, for the benefit of training activities in the new educational contexts.
Therefore it intends to form a teacher who knows, assume and adapt new technologies to their teaching and research needs.
At the same time, tries to deepen the knowledge of the possibilities offered by current and emerging to find new ways of obtaining and managing information technology in educational settings.
Master conceived with the aim of exploring the potential of new technologies in teaching and research use, within the framework of higher education.
This training program whose main objective is that "the student, take and adapt new technologies to their teaching and research needs."
Addressed to
The Master's Degree in Education and New Technologies is investigative in nature, mainly addressing graduates (graduates, graduates and diploma holders) of the branch of Social Sciences and Law, in order to obtain sufficient expertise for the proper performance of the functions of an expert in Education and New Technologies.
It is important to clarify that this training program does not require previous experience in education, but aims to give students comprehensive training, progressively and effectively, starting with establishing the knowledge of new technologies applied to education.
Because of the innovative nature of the training program and to better use the same English level B1 (B Independent Speaker / B1 Threshold) of the Common European Framework of Reference for Languages ​​(McRel) is recommended.
Main objective of the Master
UDIMA, University specifically geared to the use of ICT and the methodology and evaluation system associated with distance learning, she has conceived this Masters, with the aim of exploring the potential of new technologies for teaching purposes and research within the framework of higher education.
The main objective of the program is to enable students to adequately master all the necessary knowledge to enable it to perform with success guarantee their work as being linked to both teaching and research, providing both the task of professional development their lines of work, and the design of training programs, production of teaching materials, study and research applied to educational technology, in order to later teaching and research activities.
innovative and international
The growth of information and communications technology, the development of telematics and transformation experienced by audiovisual techniques and construction and image reproduction have consequently a radical renewal in treatment techniques and management information. This has consequences of all order in the world of education, and also in the field of research. This requires scientists and educators to absorb and incorporate new technologies and specific concepts, in order to bring the educational and research activities at the height of the times.
Therefore, the purpose of the Master in Education and New Technologies is to promote initial training and updating those practicing teachers and staff in the education sector who want or need an advanced level training on educational opportunities and research at the Educative technology.
Based on the powers contained in the approved curriculum and the development of mobility actions and educational activities contained therein, it is easier for students participating in various national and international networks.
Participation in these networks - through the Office of International Relations at the University - guarantees our students interaction as observers and specific collaborators in the different research groups and consulting resources associated with innovation technological and pedagogical and research that the University has access as a partner or participates as president of the same; European Foundation for Quality in E-Learning (EFQUEL), European Distance and E-Learning Network (EDEN), European University Association (EUA), GUIDE Association, National Association of Distance Learning Centers (ANCED), Foundation of the Government of Spain for the international projection of Spanish universities (Universidad.es Foundation) and through the Presidency of the Commission UDIMA E-Learning of the National Association of Internet (ISNA).
Program [60 credits]
The Master's Degree in Education and New Technologies comprises 60 ECTS credits distributed as follows:
Mandatory subjects: 42 ECTS
Electives: 6 ECTS
End Master Project: 12 ECTS
TOTAL: 60 ECTS
The set of subjects included in this curriculum are structured into three different training modules: Module Technology It includes the study of the subjects of Advanced Techniques Learning Online, E-Learning Innovations, Applied Research in Educational Technology, Collaborative environments, E-Portfolios, Metaversos, Virtual Learning Environments and Open Content. These materials provide for the study, experimentation, innovation and research applied to utilities and technological-pedagogical potential that these telematic tools present in the global education.
In Education module techniques are established as subjects of study subjects Educational Trends for the XXI Century, New models and resources in teaching and Designs Training Programs E-Learning and B-Learning allows students to gain an overview of theories and advanced associated with the application of new technologies to the Education Information Society and those considered as new educational trends for the XXI Century.
The Communication module It presents three different subjects; Mobile Learning, Media and Social Networks and Blogs. These materials are intended to provide students with the Master an effective and practical knowledge about the ways in which you can develop interaction and communication flows in any teaching-learning process online. Studying new ways of transmitting knowledge through different communication channels, devices and media that can generate innovative learning communities.
Once overcome by harnessing the subjects of the compulsory modules, students will conduct a Master's Thesis compulsorily where put into play their new competencies and skills by conducting a research project, either through the development of a B-Learning curriculum or E-Learning or applied research Emerging Technologies studied in different electives ,, thereby enabling a final adjusted level of acquisition of the necessary practice for the performance of their duties assessment.
Recognition
official title
Students who meet the requirements of UDIMA will be awarded the Master's Degree in Education and New Technologies taught by UDIMA, besides the title of Professional Master issued by the Center for Financial Studies.
UDIMA Requirements: Possess a bachelor's degree, college diploma or equivalent.
Last updated Mar 2020
About the School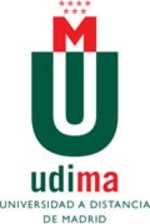 UDIMA, una universidad sin distancias «La UDIMA pretende ser una Universidad sin distancias, en la que aprender haciendo resulte el factor primordial que dote a todos nuestros estudiantes de las comp ... Read More
UDIMA, una universidad sin distancias «La UDIMA pretende ser una Universidad sin distancias, en la que aprender haciendo resulte el factor primordial que dote a todos nuestros estudiantes de las competencias precisas para emprender y asegurar su empleabilidad.» La Universidad a Distancia de Madrid (UDIMA) es una institución oficial de enseñanza superior, innovadora, abierta y flexible.
Read less