Master of Science in Mechanical Engineering
Home ›
MSc ›
Master of Science in Mechanical Engineering
Program Description
Master of Science in Mechanical Engineering
Mechanical engineering is a diverse subject that derives its breadth from the need to design and manufacture everything from small individual parts and devices (e.g. microscale sensors and inkjet printer nozzles) to large systems (e.g. spacecraft and machine tools). The role of a mechanical engineer is to take a product from an idea to the marketplace. To accomplish this, a broad range of skills are needed. The mechanical engineer needs to acquire particular skills and knowledge. He/she needs to understand the forces and the thermal environment that a product, its parts, or its subsystems will encounter; to design them for functionality, aesthetics, and the ability to withstand the forces and the thermal environment they will be subjected to; and to determine the best way to manufacture them and ensure they will operate without failure. Perhaps the one skill that is the mechanical engineer's exclusive domain is the ability to analyze and design objects and systems with motion. The Mechanical Engineering Department at Columbia was established in 1897. It has enjoyed a national and international reputation for much of its history. Between 1950 and 1980, professors Dudley D. Fuller, Harold G. Elrod, and Vittorio Castelli were the foremost leaders in the field of lubrication theory and practice. In the 1960s, Professor Ferdinand Freudenstein (known as the "Father of Modern Kinematics"), revolutionized the field of mechanical design by ushering in the computer age in kinematics synthesis and the design of the mechanism. In more recent times, the department has been known for its research contributions in the fields of control theory, manufacturing, thermofluids, and biomechanics. Faculty members have given keynote lectures at national and international conferences and received best-paper awards and professional-society awards. All faculty members are active in research with many serving as editors and associate editors of professional journals and as leaders in professional societies.
Admission Requirements
Degree required for admission: Students admitted to the program must possess a Bachelor's degree in Mechanical Engineering or another related field (subject to the approval of the Mechanical Engineering Program) from an accredited academic institution. Applicants should have a strong undergraduate record to be competitive for admission.
GPA required: Minimum of 3.0
GRE requirements: General test required
Other application requirements: Two recommendation letters, transcripts, resume, and a personal-professional statement are required. TOEFL test scores are required of all students who received their bachelor's degree in a country where English is not the official and spoken language. All application requirements in the Graduate Application must be completed as specified in the application.
Courses
The program leading to the Master of Science degree in mechanical engineering requires completion of a minimum of 30 points of approved coursework via CVN consisting of no fewer than ten courses. A minimum grade point average of 2.5 is required for graduation. All degree requirements must be completed within 5 years of the beginning of the first course credited toward the degree. This includes courses taken in the non-degree program. The student's program of study is developed in consultation with a program adviser to reflect the student's special interests. Typical choices include such subjects as mechanics of solids and fluids, thermodynamics, heat transfer, manufacturing engineering, robotics, kinematics, dynamics and vibrations, controls, and power generation. Nevertheless, the following guidelines must be adhered to:
The sequence of courses selected must not be haphazard, but rather show a clearly discernible specialty.
All courses must be at the graduate level, i.e., numbered 4000 or higher, with a minimum of (6 pts) 6000-level or higher (lecture) courses included.
Every program must contain at least one course in mathematics (APMA or MATH designators), statistics (SIEO or STAT designator) or their equivalent, covering material beyond what the student has taken previously. It should appear early in the sequence to serve as a basis for the technical coursework. Examples of such courses offered by CVN are APMA E4001: Principles of Applied Mathematics, APMA E4200: Partial Differential Equations I, APMA E4204: Functions of a Complex Variable, and SIEO W4150: Introduction to Probability and Statistics.
The out-of-department study is encouraged, but at least five courses should be in mechanical engineering. Only courses with a designation of MECE, IEME, EEME, or MEBM are considered mechanical engineering courses. Courses with any other designation (e.g. ENME) are not mechanical engineering courses but may be taken as electives. Many courses offered by CVN fit well into this program. Please consult with a program advisor first.
Application Fee
A processing fee of $200 is required for first-time applicants to a graduate degree program.
The Graduate Student Services Office will only process applications which are submitted with an application fee. The processing fee is non-refundable. Please make the check payable to Columbia Video Network.
Applications for more than one-degree program cannot be processed simultaneously.
Application Deadline
Please note: Applications are accepted on a rolling basis. Once a completed application has been received it will be processed and given to the Admissions Committee for review. Applications will be considered for the next upcoming semester's admissions cycle. For example, an application received in February will be evaluated for the upcoming Summer semester. Only completed applications will be submitted to the Admissions Committee for review.
Transcripts
Official transcripts from each college/university you have attended or are currently attending must be submitted with the application. Transcripts must be in the original, sealed envelope.
Credits which appear as transfer credits on any other transcript are not valid; an official transcript from the school where the credits were earned must be submitted.
Students who have previously or are currently enrolled at Columbia University must request that copies of their transcripts be sent to CVN at Columbia Video Network, 500 W 120th St, 540 MUDD, MC 4719, New York, NY 10027
The Graduate Student Services Office requests that transcripts be submitted with the application. If you foresee a delay in submitting official transcripts, please attach an unofficial set to the application. Your file may be reviewed by the department with a complete set of unofficial documents; however, you will be required to submit official transcripts before you will be formally admitted to a graduate degree program.
All materials submitted in support of an application, whether official or unofficial, become the property of Columbia University and will not be returned to the applicant or forwarded to other schools or agencies. Since your documents will not be returned, we suggest that you keep copies of any documents you may need for your personal records.
Required Exam Scores
Graduate Record Exam (GRE) general test results are required of all MS applicants. GRE scores are valid for 5 years.
TOEFL or IELTS is required of all candidates who have not received their bachelor's degree in a country where English is the official spoken language. TOEFL and IELTS scores are valid for two years.
All score reports must be official and sent to Graduate Admissions directly from the Educational Testing Service (ETS).
The Columbia Engineering CEEB code is 2111 (not 2162 which belongs to the Graduate School of Arts and Science).
Required Documents
These application materials are designed to help individuals provide personal and academic information about themselves, which will be used to evaluate their candidacy for admission to graduate study in the Fu Foundation School of Engineering and Applied Science at Columbia University. Applicants can assist the Graduate Admissions office in providing prompt feedback about their application status by not submitting extraneous information which has not been requested such as excessive numbers of recommendation letters, copies of abstracts and theses, videotapes and/or photographs of research work, and secondary school transcripts. The information below indicates what items are required for a complete application.
Degree application form (online)
Two recommendation letters in sealed envelopes via mail, or directly from the recommender via e-mail to records@cvn.columbia.edu
Official GRE general exam results
All score reports must be official and sent directly from the Educational Testing Service (ETS)
The Columbia Engineering CEEB code is 2111
TOEFL or IELTS test results (if applicable)
One copy of official transcripts from all previously attended post-secondary colleges/universities Personal/Professional Statement - a concise (not more than two pages) typewritten statement outlining your academic and professional goals Resume/Curriculum Vitae $200 Application Fee Transfer Credits Form (if applicable)
Please note: Students that begin their studies at Columbia University under non-matriculated status through CVN must continue to take all of their coursework through CVN. When applying for admission to a degree program, students must submit all of their application materials directly to Columbia Video Network for processing. Applications that are sent directly to the Office of Graduate Student Services or submitted online via the ApplyYourself Application form instead of CVN's forms will result in total forfeiture of all credits taken under non-matriculated status through CVN. All Columbia courses to be used towards a student's program must be completed via CVN. Also, note that any student taking courses under the auspices of CVN can take on-campus courses solely under the administrative guidance of CVN with advisor approval.
Tuition and Fees
Please note that all tuition and fees are in U.S. dollars and are estimated. Tuition and most fees are prescribed by statute and are subject to change at the discretion of the Trustees.
CVN Credit Tuition:$1782 per point (Credit Hour)
CVN Audit Tuition:$834 per point (Credit Hour)
CVN Fee:$395 per course
Transcript Fee:$105 non-refundable one-time fee
Graduate Admission Application Fee:$200 non-refundable one-time fee
Certification Program Application Fee:$150 non-refundable one-time fee
Late Registration Fee:$100 non-refundable fee
CVN Withdrawal Fee:$75, plus prorated tuition and all non-refundable fees
For example: A three-credit course would be $5346 + transcript fee $105(one-time) + CVN fee $395 = $5846
Last updated Nov 2017
About the School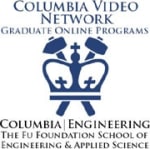 Columbia Video Network has been leading the field of online learning since its inception in 1986, enabling thousands of working professionals and remotely located students to benefit from distance lea ... Read More
Columbia Video Network has been leading the field of online learning since its inception in 1986, enabling thousands of working professionals and remotely located students to benefit from distance learning and pursue their degrees without any residency requirements on the campus in New York. The Fu Foundation School of Engineering and Applied Sciences (SEAS) offers broad-based instruction within a major...
Read less