Master of Science in Industrial Engineering - Systems Engineering Concentration
Home ›
MSc ›
Master of Science in Industrial Engineering - Systems Engineering Concentration
Program Description
Master of Science in Industrial Engineering - Systems Engineering Concentration
Have an undergraduate degree in engineering, mathematics, or a related field, and want to integrate that knowledge with other elements of engineering and operations to be able to visualize the big picture and bring it to life? The MS in Systems Engineering offered exclusively online is designed for students with such ambitions, and focuses on how complex engineering projects should be managed, designed, and operated. Whereas other engineering degrees build competency in independent facets of engineering, systems engineering involves the organization and integration of those individual parts into a coherent, efficiently functioning system. An individual with a mastery of systems engineering may be employed in one of an array of intriguing positions within the government or private sector: being part of an integrated product team, overseeing the design of cutting-edge aircraft, developing a communications satellite, running simulations on operational concepts for a product release, or playing an integral role in one of many other engineering endeavors. The role of a systems engineer is truly paramount to the success of an engineering project. Students will apprehend SE principles, concepts, definitions, and lifecycle models, as well as the value of a holistic approach to analyzing and synergizing a system.
Admission Requirements
Degree required for admission: Students admitted to the program must possess a bachelor's degree in engineering, science, mathematics, statistics, or other related fields from an accredited academic institution. Applicants should have a strong undergraduate record to be competitive for admission.
GRE requirements: General test required
Other application requirements: Two recommendation letters, transcripts, resume, and a personal-professional statement are required. TOEFL test scores are required of all students who received their bachelor's degree in a country where English is not the official and spoken language. All application requirements in the Graduate Application must be completed as specified in the application.
Courses
Students must complete all required courses for a total of 30 graduate points of academic work via CVN with an academic average of 2.5 or better. All degree requirements must be completed within 5 years of the beginning of the first course credited toward the degree. Core Courses (12 points) The core courses provide a student with a foundation in the fundamentals of Systems Engineering. The core courses contribute 12 points of graduate credit toward the degree. Students must complete all four classes:
IEOR E4520: Applied Systems Engineering
IEOR E4571: Systems Engineering: Tools and Methods
IEOR E4004: Introduction to Operations Research-Deterministic Models
IEOR E4106: Stochastic Models
Students are suggested to take either one or two courses during their first four semesters. Students should take one core course per term. Students who wish to take additional courses, these courses would be drawn from the elective menus below. Elective Courses (18 points) In addition to the required core courses, students must select six elective courses, four or five from Group I and one or two from Group II, for a total of 18 points of graduate credit. Please note that elective courses can be mixed and matched from the various menus below upon consultation with the program advisor. Group I: Choose four or five courses Infrastructure and Sustainability Electives
APPH E4130: Physics of Solar Energy
CHAP E4120: Statistical Mechanics
CIEE E4252: Environmental Engineering
CIEN E4111: Uncertainty and Risk in Infrastructure Systems
CIEN E4129: Managing Engineering and Construction Processes
CIEN E4130: Design of Construction Systems
CIEN E4210: Forensic Structural Engineering
CIEN E6131: Managing Civil Infrastructure Systems
EAEE E4150: Air Pollution Prevention and Control
EAEE E4160: Solid and Hazardous Waste Management
EAEE E4190: Photovoltaic Systems Engineering and Sustainability
EAEE E6212: Carbon Sequestration
ECIA W4100: Management and Development of Water Systems
EAIA W4200: Alternative Energy Resources
ENME E4202: Advanced Mechanics
Mechanical, Electrical and Computer Systems Electives
COMS W4111: Database Systems
COMS W4118: Operating Systems
COMS W4180: Network Security
COMS W4187: Security Architecture and Engineering
CSEE W4119: Computer Networks
EEME E4601: Digital Control Systems
ELEN E4702: Digital Communications
ELEN E4810: Digital Signal Processing
ELEN E4815: Random Signals and Noise
IEME E4310: The Manufacturing Enterprise
MECE E4431: Space Vehicle Dynamics and Control Systems
MECE E4602: Introduction to Robotics
MECE E4604: Modern Design for Manufacturability (also called 'Product Design for Manufacturability')
Biological Systems Electives
BMCH E4810: Artificial Organs
BMEN E4001: Quantitative Physiology I: Cells and Molecules
BMEN E4300: Solid Biomechanics
BMEN E4750: Sound and Hearing
CBMF W4761: Computational Genomics
CHEN E4750: The Genome and the Cell
CHEN E4800: Protein Engineering
Group II: Choose one or two courses Management Electives
IEOR E4000: Production and Operations Management
IEOR E4001: Design & Management of Production & Service Systems
IEOR E4003: Industrial Economics
IEOR E4210: Supply Chain Management
IEOR E4404: Simulation
IEOR E4405: Production Scheduling
IEOR E4412: Quality Control and Management
IEOR E4418: Logistics and Transportation Management
IEOR E4510: Project Management of Complex Systems
IEOR E4601: Dynamic Pricing and Revenue Management
Application Fee
A processing fee of $200 is required for first-time applicants to a graduate degree program.
The Graduate Student Services Office will only process applications which are submitted with an application fee. The processing fee is non-refundable. Please make the check payable to Columbia Video Network.
Applications for more than one-degree program cannot be processed simultaneously.
Application Deadline
Please note: Applications are accepted on a rolling basis. Once a completed application has been received it will be processed and given to the Admissions Committee for review. Applications will be considered for the next upcoming semester's admissions cycle. For example, an application received in February will be evaluated for the upcoming Summer semester. Only completed applications will be submitted to the Admissions Committee for review.
Transcripts
Official transcripts from each college/university you have attended or are currently attending must be submitted with the application. Transcripts must be in the original, sealed envelope.
Credits which appear as transfer credits on any other transcript are not valid; an official transcript from the school where the credits were earned must be submitted.
Students who have previously or are currently enrolled at Columbia University must request that copies of their transcripts be sent to CVN at Columbia Video Network, 500 W 120th St, 540 MUDD, MC 4719, New York, NY 10027
The Graduate Student Services Office requests that transcripts be submitted with the application. If you foresee a delay in submitting official transcripts, please attach an unofficial set to the application. Your file may be reviewed by the department with a complete set of unofficial documents; however, you will be required to submit official transcripts before you will be formally admitted to a graduate degree program.
All materials submitted in support of an application, whether official or unofficial, become the property of Columbia University and will not be returned to the applicant or forwarded to other schools or agencies. Since your documents will not be returned, we suggest that you keep copies of any documents you may need for your personal records.
Required Exam Scores

Graduate Record Exam (GRE) general test results are required of all MS applicants. GRE scores are valid for 5 years.
TOEFL or IELTS is required of all candidates who have not received their bachelor's degree in a country where English is the official spoken language. TOEFL and IELTS scores are valid for two years.
All score reports must be official and sent to Graduate Admissions directly from the Educational Testing Service (ETS).
The Columbia Engineering CEEB code is 2111 (not 2162 which belongs to the Graduate School of Arts and Science).
Required Documents
These application materials are designed to help individuals provide personal and academic information about themselves, which will be used to evaluate their candidacy for admission to graduate study in the Fu Foundation School of Engineering and Applied Science at Columbia University. Applicants can assist the Graduate Admissions office in providing prompt feedback about their application status by not submitting extraneous information which has not been requested such as excessive numbers of recommendation letters, copies of abstracts and theses, videotapes and/or photographs of research work, and secondary school transcripts. The information below indicates what items are required for a complete application.
Degree application form (online)
Two recommendation letters in sealed envelopes via mail, or directly from the recommender via e-mail to records@cvn.columbia.edu
Official GRE general exam results
All score reports must be official and sent directly from the Educational Testing Service (ETS)
The Columbia Engineering CEEB code is 2111
TOEFL or IELTS test results (if applicable)
One copy of official transcripts from all previously attended post-secondary colleges/universities Personal/Professional Statement - a concise (not more than two pages) typewritten statement outlining your academic and professional goals Resume/Curriculum Vitae $200 Application Fee Transfer Credits Form (if applicable)
Please note: Students that begin their studies at Columbia University under non-matriculated status through CVN must continue to take all of their coursework through CVN. When applying for admission to a degree program, students must submit all of their application materials directly to Columbia Video Network for processing. Applications that are sent directly to the Office of Graduate Student Services or submitted online via the ApplyYourself Application form instead of CVN's forms will result in total forfeiture of all credits taken under non-matriculated status through CVN. All Columbia courses to be used towards a student's program must be completed via CVN. Also, note that any student taking courses under the auspices of CVN can take on-campus courses solely under the administrative guidance of CVN with advisor approval.
Tuition and Fees
Please note that all tuition and fees are in U.S. dollars and are estimated. Tuition and most fees are prescribed by statute and are subject to change at the discretion of the Trustees.
CVN Credit Tuition:$1782 per point (Credit Hour)
CVN Audit Tuition:$834 per point (Credit Hour)
CVN Fee:$395 per course
Transcript Fee:$105 non-refundable one-time fee
Graduate Admission Application Fee:$200 non-refundable one-time fee
Certification Program Application Fee:$150 non-refundable one-time fee
Late Registration Fee:$100 non-refundable fee
CVN Withdrawal Fee:$75, plus prorated tuition and all non-refundable fees
For example: A three-credit course would be $5346 + transcript fee $105(one-time) + CVN fee $395 = $5846
Last updated Nov 2017
About the School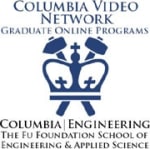 Columbia Video Network has been leading the field of online learning since its inception in 1986, enabling thousands of working professionals and remotely located students to benefit from distance lea ... Read More
Columbia Video Network has been leading the field of online learning since its inception in 1986, enabling thousands of working professionals and remotely located students to benefit from distance learning and pursue their degrees without any residency requirements on the campus in New York. The Fu Foundation School of Engineering and Applied Sciences (SEAS) offers broad-based instruction within a major...
Read less