Master of Science in Environmental Engineering
Home ›
MSc ›
Master of Science in Environmental Engineering
Program Description
Master of Science in Environmental Engineering
The sustainability of human society on Earth is likely to be one of the dominant challenges of the 21st century. Continued population growth, coupled with urbanization and industrialization throughout the globe, has resulted in rapid consumption of our natural resources, extensive waste production, environmental degradation, threats to human health, and climate change. Much has been said about these problems, but thus far not enough has been done. Needed are better engineering solutions for a sustainable planet. The Columbia University Department of Earth and Environmental Engineering (EEE) strives to develop effective solutions to these complex and multidisciplinary problems, reconciling a deep concern for the environment with the needs of our global industrialized society. Our central theme is the conscientious stewardship of our finite natural resources, namely minerals, fuels, energy, water, and land. EEE maintains the Henry Krumb School of Mines' longstanding tradition of responsibly providing essential materials to society while pioneering important new environmental initiatives. EEE now offers the Master of Science in Earth and Environmental Engineering degree, designed for engineers and scientists who plan to pursue, or are already engaged in, environmental management/development careers. The focus of the program is the environmentally sound mining and processing of primary materials (minerals, energy, and water) and the recycling or proper disposal of used materials. The program also includes technologies for assessment and remediation of past damage to the environment. Students must complete 30 credits of graduate-level coursework and can choose a pace that allows them to complete the MS requirements while being employed.
Admission Requirements
Degree required for admission: Students admitted to the program must possess an undergraduate degree in engineering, science, mathematics, computer science or other related fields (subject to the approval of the Earth and Environmental Engineering Program) from an accredited academic institution. Applicants should have a strong undergraduate record to be competitive for admission.
GPA required: Minimum of 3.0
GRE requirements: General test required
Other application requirements: Two recommendation letters, transcripts, resume, and a personal-professional statement are required. TOEFL test scores are required of all students who received their bachelor's degree in a country where English is not the official and spoken language. All application requirements in the Graduate Application must be completed as specified in the application.
Courses
Students must complete all core courses (described below) and selected electives (described below) for a total of 30 graduate points of academic work via CVN with an academic average of 2.5 or better. All degree requirements must be completed within 5 years of the beginning of the first course credited toward the degree. This includes courses taken in the non-degree program. Core Courses (12 credits): The core courses provide a student with a foundation in the fundamentals of Earth and Environmental Engineering. The core courses contribute 12 points of graduate credit toward the degree. Students must complete four of the following seven courses:
CHEE E4252: Introduction to Surface and Colloid Chemistry
EAEE E4003: Introduction to Aquatic Chemistry
EAEE E4200: Production of Inorganic Materials
EAEE E4550: Catalysis for Emissions Control
EAEE E4901: Environmental Microbiology
EAEE E6208: Combustion Chemistry and Processes
ECIA W4100: Management and Development of Water Systems
Elective courses (9 credits): In addition to the required four Core Earth and Environmental Engineering courses listed above, students will need to complete three additional courses from the courses listed below for a total of nine credits in Earth & Environmental Engineering or related fields such as Chemical Engineering, Civil Engineering, and Materials Science and Engineering. Approved courses that will fulfill this category of course requirements include (but are not limited to) the following classes. Additional courses not listed below can be applicable towards this requirement, subject to the approval of the faculty advisor. All of the courses below have already been recorded by CVN.
APPH E4090: Nanotechnology
CHEE E4050: Principles of Industrial and Environmental Electrochemistry
CHEE E4530: Corrosion of Metals
CHEE E6252: Applied Surface and Colloid Chemistry
CHEN E4010: Chemical Process Analysis
CIEE E4252: Environmental Engineering
EAEE E4160: Solid and Hazardous Waste Management
EAEE E4190: Photovoltaic Systems Engineering
EAEE E4950: Environmental Biochemical Processes
EAIA W4200: Alternative Energy Resources
MSAE E4215: Mechanical Behavior of Structural Materials
MSAE E4132: Fundamentals of Polymers and Ceramics
OR
MSAE E4250: Ceramics and Composites
MSAE E4202: Thermodynamics and Reactions in Solids
MSAE E4206: Electronic and Magnetic Properties of Solids
APMA E4001: Principles of Applied Mathematics
APMA E4200: Partial Differential Equations
Free Electives (9 credits): A student must select three elective courses for a total of 9 points of graduate credit. These elective courses allow the student to pick subjects from a variety of areas within the Engineering School to complement the core program. The determination of which courses are applicable towards the elective requirements is subject to the approval of the faculty advisor.
Application Fee
A processing fee of $200 is required for first-time applicants to a graduate degree program.
The Graduate Student Services Office will only process applications which are submitted with an application fee. The processing fee is non-refundable. Please make the check payable to Columbia Video Network.
Applications for more than one-degree program cannot be processed simultaneously.
Application Deadline
Please note: Applications are accepted on a rolling basis. Once a completed application has been received it will be processed and given to the Admissions Committee for review. Applications will be considered for the next upcoming semester's admissions cycle. For example, an application received in February will be evaluated for the upcoming Summer semester. Only completed applications will be submitted to the Admissions Committee for review.
Transcripts
Official transcripts from each college/university you have attended or are currently attending must be submitted with the application. Transcripts must be in the original, sealed envelope.
Credits which appear as transfer credits on any other transcript are not valid; an official transcript from the school where the credits were earned must be submitted.
Students who have previously or are currently enrolled at Columbia University must request that copies of their transcripts be sent to CVN at Columbia Video Network, 500 W 120th St, 540 MUDD, MC 4719, New York, NY 10027
The Graduate Student Services Office requests that transcripts be submitted with the application. If you foresee a delay in submitting official transcripts, please attach an unofficial set to the application. Your file may be reviewed by the department with a complete set of unofficial documents; however, you will be required to submit official transcripts before you will be formally admitted to a graduate degree program.
All materials submitted in support of an application, whether official or unofficial, become the property of Columbia University and will not be returned to the applicant or forwarded to other schools or agencies. Since your documents will not be returned, we suggest that you keep copies of any documents you may need for your personal records.
Required Exam Scores
Graduate Record Exam (GRE) general test results are required of all MS applicants. GRE scores are valid for 5 years.
TOEFL or IELTS is required of all candidates who have not received their bachelor's degree in a country where English is the official spoken language. TOEFL and IELTS scores are valid for two years.
All score reports must be official and sent to Graduate Admissions directly from the Educational Testing Service (ETS).
The Columbia Engineering CEEB code is 2111 (not 2162 which belongs to the Graduate School of Arts and Science).
Required Documents
These application materials are designed to help individuals provide personal and academic information about themselves, which will be used to evaluate their candidacy for admission to graduate study in the Fu Foundation School of Engineering and Applied Science at Columbia University. Applicants can assist the Graduate Admissions office in providing prompt feedback about their application status by not submitting extraneous information which has not been requested such as excessive numbers of recommendation letters, copies of abstracts and theses, videotapes and/or photographs of research work, and secondary school transcripts. The information below indicates what items are required for a complete application.
Degree application form (online)
Two recommendation letters in sealed envelopes via mail, or directly from the recommender via e-mail to records@cvn.columbia.edu
Official GRE general exam results
All score reports must be official and sent directly from the Educational Testing Service (ETS)
The Columbia Engineering CEEB code is 2111
TOEFL or IELTS test results (if applicable)
One copy of official transcripts from all previously attended post-secondary colleges/universities Personal/Professional Statement - a concise (not more than two pages) typewritten statement outlining your academic and professional goals Resume/Curriculum Vitae $200 Application Fee Transfer Credits Form (if applicable)
Please note: Students that begin their studies at Columbia University under non-matriculated status through CVN must continue to take all of their coursework through CVN. When applying for admission to a degree program, students must submit all of their application materials directly to Columbia Video Network for processing. Applications that are sent directly to the Office of Graduate Student Services or submitted online via the ApplyYourself Application form instead of CVN's forms will result in total forfeiture of all credits taken under non-matriculated status through CVN. All Columbia courses to be used towards a student's program must be completed via CVN. Also, note that any student taking courses under the auspices of CVN can take on-campus courses solely under the administrative guidance of CVN with advisor approval.
Tuition and Fees
Please note that all tuition and fees are in U.S. dollars and are estimated. Tuition and most fees are prescribed by statute and are subject to change at the discretion of the Trustees.
CVN Credit Tuition:$1782 per point (Credit Hour)
CVN Audit Tuition:$834 per point (Credit Hour)
CVN Fee:$395 per course
Transcript Fee:$105 non-refundable one-time fee
Graduate Admission Application Fee:$200 non-refundable one-time fee
Certification Program Application Fee:$150 non-refundable one-time fee
Late Registration Fee:$100 non-refundable fee
CVN Withdrawal Fee:$75, plus prorated tuition and all non-refundable fees
For example: A three-credit course would be $5346 + transcript fee $105(one-time) + CVN fee $395 = $5846
Last updated Nov 2017
About the School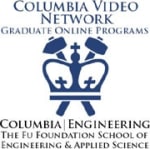 Columbia Video Network has been leading the field of online learning since its inception in 1986, enabling thousands of working professionals and remotely located students to benefit from distance lea ... Read More
Columbia Video Network has been leading the field of online learning since its inception in 1986, enabling thousands of working professionals and remotely located students to benefit from distance learning and pursue their degrees without any residency requirements on the campus in New York. The Fu Foundation School of Engineering and Applied Sciences (SEAS) offers broad-based instruction within a major...
Read less