Master of Science in Construction Management
Home ›
MSc ›
Master of Science in Construction Management
Read more about this program on the institution's website
Program Description

Read more about how RIT is tackling the coronavirus crisis here
Overview
The master of science degree in construction management is specifically designed for experienced construction management professionals interested in advancing into leadership positions within the field. The program may also accommodate recent graduates of undergraduate programs in construction management or related disciplines.
The goals of the program are to provide graduates with the requisite strategic skills to lead and advance the construction industry. Graduates will develop competencies in: leadership; construction cost analysis and control; construction operations management and productivity; construction business development; sustainable design and construction; and in construction client relationship building. As part of the multidisciplinary nature of the program, a wide range of electives from different disciplines provides graduates with the flexibility to take relevant courses across the RIT campus. Core construction management courses in the program are taught by faculty with both field and research experience in the discipline.
Plan of study
As this program is hosted completely online and designed with the working professional in mind, you will have the convenience and flexibility to plan your course work around the rest of your day. The 30 semester hour program can be completed in as little as 1.5 years of full-time study, or approximately 2-3 years of part-time study while working full-time. The curriculum consists of core courses, professional electives, and a choice of a graduate thesis, project, or a comprehensive exam.
Curriculum
Construction Management, MS degree, typical course sequence
First Year
CONM-650 Principles of Construction Leadership and Management
CONM-690 Sustainable Building Construction and Design
CONM-718 Construction Operations and Productivity
CONM-720 Construction Cost Analysis and Management
GRCS-701 Research Methods
Professional Electives
Second Year
CONM-760 Construction Client Development 3
Choose one of the following:
CONM-790 Thesis, plus GRCS-702 Principles of Research Communications
CONM-795 Comprehensive Exam, plus two Professional Electives
CONM-797 Graduate Project, plus one Professional Elective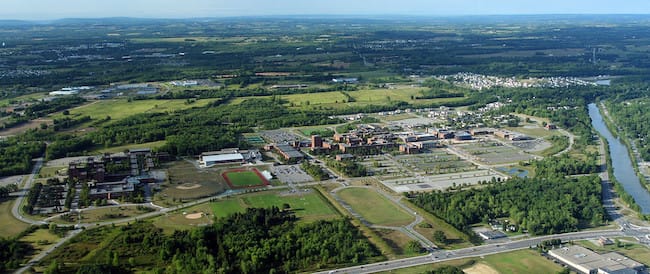 Admission Requirements
To be considered for admission to the MS in construction management, candidates must fulfill the following requirements:
Hold a bachelor's degree with a minimum undergraduate GPA of 3.0 in construction management, civil engineering, civil engineering technology, or related program that includes at least 15 semester hours of college-level math and science. Applicants holding other bachelor degrees with appropriate, related work experience will be considered for admission on an individual basis.
Have coursework or the equivalent documented professional experience in cost estimating, planning & scheduling, and project management.
Business/management courses and a statistics course are strongly recommended.
Have at least one year of relevant construction management experience. Those who lack appropriate work experience may be required to complete one or more semesters of related graduate co-operative work experience.
If academic and/or work preparation is needed before being admitted and beginning graduate studies, applicants are encouraged to develop a plan with the program chair. Preparatory course(s) may be completed at RIT or with pre-approval may be completed at other universities. Each course must be completed with a grade of B or higher.
Submit a completed, official graduate application, accompanied by official transcripts (in English) of all previously completed undergraduate and graduate course work.
International applicants whose native language is not English must submit scores from the Test of English as a Foreign Language (TOEFL). A minimum score of 570 on the written exam, 230 on the electronic version of the exam, or 88 on the internet version of the exam is required.
Last updated May 2020
About the School
With more than 80 graduate programs in high-paying, in-demand fields and scholarships, assistantships and fellowships available, we invite you to take a closer look at RIT. Don't be fooled by the word ... Read More
With more than 80 graduate programs in high-paying, in-demand fields and scholarships, assistantships and fellowships available, we invite you to take a closer look at RIT. Don't be fooled by the word "technology" in our name. At RIT, you will discover a university of artists and designers on the one hand, and scientists, engineers, and business leaders on the other – a collision of the right brain and the left brain.
Read less