Master of Public Administration
Program Description
Why Get A Master's Degree in Public Administration at the Carsey School?
Our Master of Public Administration (MPA) will provide you with a practical skillset and the theoretical foundation needed to be a successful publicly minded professional. The encompassing MPA curriculum includes courses that bring together concepts from public policy, management, politics, and law, providing you with a well-rounded understanding of what it means to run an organization in the public or nonprofit sector. Public administration is where we see public policy affecting citizens on a personal level, and where public officials can have the greatest impact in their communities.
Why Choose the Carsey School's Public Administration Program?
The Carsey School of Public Policy's 16-month online MPA program is ideal for new graduates and working professionals, enabling you to achieve your full potential, effect change within your organization, and prepare for the next step in your career. You'll engage in hands-on opportunities during which you'll apply knowledge and skills developed in the program to real issues within your community. Classes are offered year-round online and can be taken at a pace that fits into a busy work schedule. You'll also grow your professional network of public service professionals throughout the program and after graduation.
Potential Career Areas
City or county management
Nonprofit management
Community leadership
Fundraising
Human resources
Law enforcement
Public affairs/communications
Research analysis
Government administration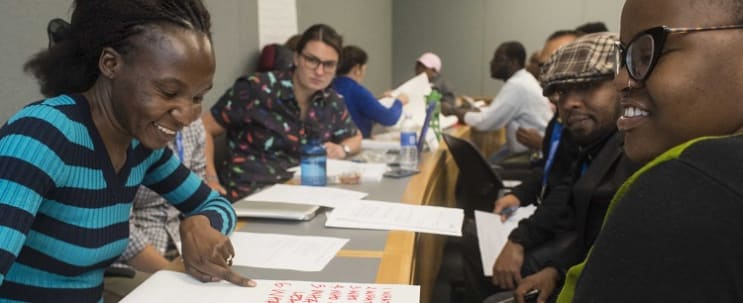 photo courtesy of University of New Hampshire Carsey School of Public Policy
Program Description
This online Master of Public Administration program (MPA) offers you the opportunity to learn the skills you need in all aspects of public and nonprofit management including leadership, program evaluation, budgeting, planning, personnel management, collective bargaining, and policy analysis. Our flexible MPA curriculum is accessible online, enabling you to learn in a way that works for you while addressing issues that are important to your region. Carsey School MPA graduates are prepared to engage with their communities, ensure accountability, and have the administrative competency to achieve their organization's mission in an effective and sustainable manner.
The program's flexible schedule accommodates full-time working professionals with year-round courses offered fully online
Study with public service professionals and professors who bring strong analysis and best practices to your learning from around the globe
Graduate in as little as 16 months
Program Delivery and Location
Academic courses are offered online year-round -- start your MPA degree in the fall, spring, or summer!
Academic Requirements for the Program
Students enrolled in the Carsey School's Master of Public Administration program (MPA) are required to complete a thirty-six (36) credit program, consisting of:
Four (4) Basic Core Curriculum Courses
Three (3) Advanced Core Curriculum Courses
Five (5) Elective Courses
These provide students with a strong foundation in theory and the applied skills necessary to foster democratic involvement, accountability, and administrative competency in the provision and delivery of public services in towns/villages, cities, state/district/region/province agencies, and a wide range of nonprofit and non-governmental organizations. Further opportunities for depth and specialization are provided through a broad range of elective courses that vary by semester. As a culminating graduate experience, students engage in a capstone project within their community, enabling students to directly apply what they've learned throughout their MPA program.
Application Checklist
Transcripts: One official transcript should be sent directly to the University of New Hampshire's Graduate School from each institution you attended for at least 2 semesters. All submitted transcripts must be in English.
Personal Statement: This should be a clear, concise statement of your relevant past experiences, including academics, research, and/or work experience. The statement should also include an expression of interests and an explanation of your goals in pursuing your graduate degree.
3 Letters of Recommendation: These should include academic and professional references. References from family or friends are not accepted.
Resume: Please include relevant job experience(s), skills, and education.
The GRE is not required.
Official TOEFL iBT (80+) or IELTS (6.5+). If an international applicant's previous education was in English and they can provide documentation demonstrating their written facility with the English language, a TOEFL waiver can be requested.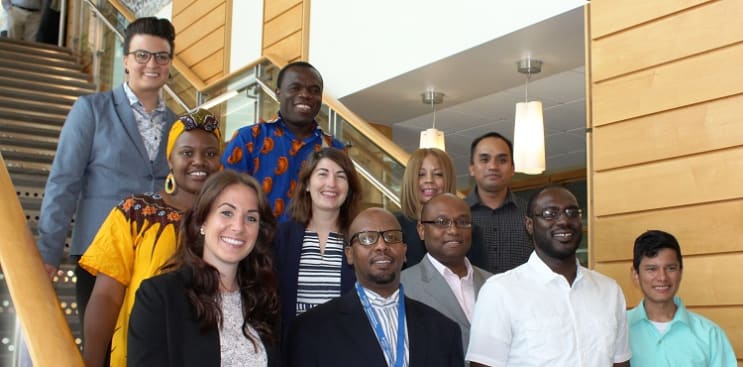 photo courtesy of University of New Hampshire Carsey School of Public Policy
Last updated Sep 2020
Keystone scholarship
Discover the options our scholarship can give you
About the School
The Carsey School is nationally recognized for policy education, research, and bringing people together for thoughtful dialogue to address important societal challenges. To its core, the Carsey School ... Read More
The Carsey School is nationally recognized for policy education, research, and bringing people together for thoughtful dialogue to address important societal challenges. To its core, the Carsey School is about making positive change. Our students gain the skills to start and build impactful careers, learning from both leading scholars and leading practitioners in policy, community development, and public management. Our faculty and staff engage communities, advise policymakers, and convene public discussions.
Read less