Master of Professional Studies in Higher Education Administration
Home ›
Master ›
Master of Professional Studies in Higher Education Administration
Program Description
The Master of Professional Studies (MPrS) degree is an applied professional program with workforce development, organizational leadership, and personal development at the core of its mission. This graduate degree is designed to provide students an accessible, online, and affordable opportunity to achieve their educational and professional objectives.
The MPrS degree is fully accredited by the Southern Association of Colleges and Schools. The program is a 33 to 36 credit hour graduate degree program with a thesis or non-thesis option.
Through this program students will demonstrate:
An understanding of the nature and impact of major social, economic, and political forces, including population diversity, technological change, and globalization.
The ability to communicate effectively with diverse audiences.
The ability to conduct research and utilize research findings as a foundation for decision making.
An understanding of ethical bases for decision making.
The ability to lead, negotiate, and resolve conflicts.
Students will acquire and demonstrate these skills through a specific set of six required core courses and a set of four courses within one of the following specialization areas: Higher Education Administration, Community Development, Security and Safety Leadership, and Information Technology.
Higher Education Administration
This specialization is designed for students whose career path puts them squarely within two or four-year systems of higher education. Courses have been developed focusing on student development and student affairs, enrollment management and institutional marketing, NCAA athletics, contemporary and legal issues, administrative organization, budgetary planning, institutional evaluation, and the Community College system. All courses are taught online by seasoned higher education professionals. The concentration is ideal for those currently employed in higher education and undergraduate students who derived satisfaction and purpose from their involvement in campus life.
Degree Requirements
The Master of Professional Studies degree is a 33-36 credit hour program. The following six courses, called the "core" component, are required of all students seeking this degree:
PRS 601 - Applied Research for Professionals (3 credit hours)
This course offers students an examination of research methods suitable for data collection involving human subjects, organizational units, and geographic areas extending to discussions and applications of data analysis tools and techniques. Students will develop and conduct research projects to demonstrate mastery of course content. These projects must relate to the student's area of specialization within the MPrS degree.
PRS 603 - Professional Communications (3 credit hours)
An examination of communications literature and practice, including theory and application of communication, approaches. Students will evaluate communication effectiveness to diverse audiences and seek to improve their individual communication effectiveness. MPrS students will complete a Personal Report on Communication Apprehension (PRCA) and meet appropriate steps to lower their communication apprehension.
PRS 605 - Professional Ethics in a Multicultural World (3 credit hours)
This course represents an exploration of the nature of ethics related to organizational practices in such areas as business, engineering, and health care. Focus is also placed on individual interactions within organizational settings. Topics, including ethical theory and applied ethics, are discussed in a multicultural context.
PRS 607 - Leadership, Negotiation, and Conflict Resolution (3 credit hours)
This course provides early and mid-career professionals an opportunity to explore their personal strengths and weaknesses related to current leadership skills. Strategies applicable to resolving conflict internal and external to an organization through negotiation, including mediation and arbitration, will be addressed.
PRS 609 - Organizations, Institutions, and Change (3 credit hours)
This course represents a multi-disciplinary study of the impact of social change on individuals, organizations, and the social institutions of society where many professionals work in an administrative and leadership capacity. The course focuses on developing the student's ability to understand, plan for, cope with, and manage personal and organizational change in the context of a dynamic society.
PRS 611 - Globalization and Society (3 credit hours)
This course explores historical and contemporary aspects of globalization, defined as the increased interconnectivity and internationalization of economic, political, social, and cultural systems. The course examines the historical development trajectory of globalization, focusing on its causes and effects, including positive and negative impacts of globalization on modern societies and the debates surrounding these impacts.
In addition to the six core courses, students will enroll in PRS 695 - Capstone/Thesis (3-6 credit hours)
All MPrS students will produce a Capstone or Thesis project as a graduation requirement. The student will work closely with their faculty advisor or Thesis Committee in meeting this requirement.
As students complete the core component, they will also be completing 12 credit hours (4 graduate-level courses) of coursework in their area of specialization (i.e., Community Development, Higher Education Administration, Information Technology, and Security and Safety Leadership). Students are expected to communicate with their academic advisor regarding the selection and scheduling of their specialization coursework within the completion of 12 graduate credit hours. Advising appointments will be arranged around the student's schedule. Students must have their specialization coursework approved within the completion of the first 12 credit hours of this degree program.
Admission Requirements
Please read the following information carefully.
In addition to the general requirements for admission to graduate studies, admission to the Master of Professional Studies degree program also requires the following:
The applicant must possess a baccalaureate degree or equivalent from an institution accredited by one of the six U.S. regional accrediting associations, by one of the agencies recognized as an accrediting agency by the U.S. Department of Education, or by an appropriate governmental agency in the country in which the institution is located. The baccalaureate degree must bear a strong substantive and conceptual relationship to the applicant's area of specialization within the MPrS degree.
The applicant must have an overall undergraduate cumulative GPA of at least 2.7 on a 4.0 scale or a 3.0 GPA in the last 60 hours of undergraduate study. As this degree program aims to enhance skill sets related to the professional work environment, applicants who do not meet the cumulative GPA standard but who demonstrate a minimum of three years of successful full-time work experience in a professional field may be admitted conditionally. Such applicants must have current and/or prior employers complete the Job Verification form. Employers will send this fillable form directly to Dr. Craig Robertson (mps@una.edu). Employment verification must be received before a student enrolls in a graduate course. Conditionally admitted students will take no more than nine graduate-level credits their first semester and must earn a minimum cumulative GPA of 3.0 in the first completed nine hours of graduate coursework in the MPrS degree program. Conditionally admitted students must resolve outstanding admission obligations before registering for subsequent semesters.
The applicant will submit a Letter of Intent (see below) for evaluation. The Letter of Intent must demonstrate the applicant's suitability for graduate-level study in the MPrS program.
Recommendations from three professional references (see below).
How to Apply
Step 1: Apply Online
Materials you will be required to upload to the online application include:
Letter of Intent - The letter of intent is an important element in defining the applicant's suitability for acceptance. It should introduce the applicant, address their reasons for applying, clearly identify the choice of concentration, and convey how the degree program will affect their future career plans.

The Letter of Intent will convey how the applicant's baccalaureate education and/or work experience has prepared them for graduate studies within their MPrS area of specialization.
The Letter of Intent will identify possible graduate-level courses offered at UNA or other schools that may become part of the applicant's area of specialization.

Three professional references must complete a fillable form for each applicant. Applicants input the email addresses of their references as part of the online application process.
Request official transcripts from each institution previously attended whether or not you received a degree from that institution. Transcripts from The University of North Alabama are required. Official transcripts can be sent through an electronic transcript service to graduate@una.edu or mailed directly from the previously attended institution to Office of Graduate Admissions, UNA Box 5078, Florence, AL 35632.
Please contact the Department of Interdisciplinary and Professional Studies with any questions you may have concerning admission requirements or the transfer of graduate credits hours.
Last updated Aug 2020
About the School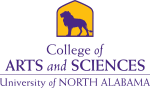 The College of Science, Technology, Engineering, Arts and Mathematics, 19 different departments with an array of majors, minors and certificate programs working independently and together to ignite th ... Read More
The College of Science, Technology, Engineering, Arts and Mathematics, 19 different departments with an array of majors, minors and certificate programs working independently and together to ignite the dream that creates the steam that powers your future. Join us and get ahead!
Read less