Master of Fine Arts in Creative Writing
Home ›
Master ›
Master of Fine Arts in Creative Writing
Program Description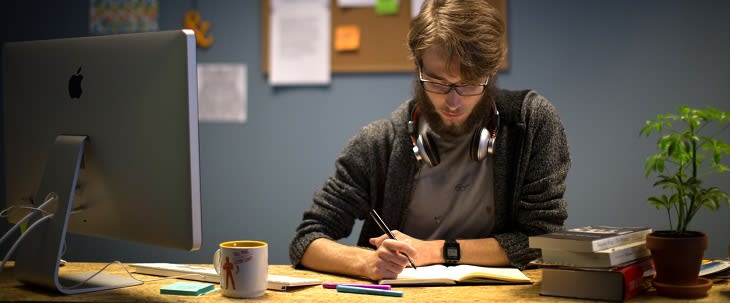 ©Full Sail University
Stories are inherent in all of us; in every culture, and in every aspect of human connection. They are how we chronicle our time on earth, and how we make sense of a world that doesn't always adhere to our expectations.
In Full Sail's Creative Writing MFA program, you'll take your passion for storytelling to the next level by incorporating visual elements into your writing process. You'll explore a variety of narrative structures while writing across mediums and genres, and focus on creating characters that resonate with an audience.
Course Highlights
The Art of Visual Storytelling

- Students study the universal themes of traditional storytelling as well as their applications to visual narrative design and new nonlinear and interactive forms of media.

Character Creation & Development

- Students are introduced to various psychological profiles for characters, creating a portfolio of characters ranging from simple to complex.

Multimedia Adaptation

- In this course, students will learn how to adapt their stories and scripts into other written and visual mediums, considering the parameters of each format.
Admissions
Before You Apply
There are several things to know about the graduate admissions process at Full Sail University.
No traditional application deadlines: classes begin monthly for most programs, so you can apply anytime and start on the date that works best for you.

Program design and course order: you do not need to sign up for specific classes every semester – all of our programs have a predetermined program design and course order.

Acceleration: Full Sail's graduate programs are taken on an accelerated schedule and can be completed in as little as 12 months.

GRE submission: we do not require you to complete the GRE or submit your GRE scores to apply for a graduate program.
Application and Acceptance
Our admissions requirements and acceptance procedures are different from a traditional college. To be considered for admission to a graduate program at Full Sail, the following requirements apply:
You must have a bachelor's degree or higher - a Full Sail bachelor's degree with a minimum cumulative GPA of 2.0, or a baccalaureate-level or higher degree from another accredited postsecondary educational institution recognized by the U.S. Department of Education along with transcripts.

Degree held must be of similar scope/subject matter as the intended graduate degree program, with a transfer academic average of 2.0. Documentation of high school graduation or GED is not required.

Applicants with a GPA lower than the required 2.0 must submit a Letter of Intent, résumé and college transcripts for Program Director review.

Students with an undergraduate degree from an unrelated scope or subject matter may be considered for admission upon the provision of a Statement of Intent and a professional résumé. For additional information, please contact your Admissions Representative.
How to Apply
If you've spoken to an admissions representative and completed your interview, and you're ready to begin the application process, there are several items you'll need to have ready:
Government-Issued photo identification such as a driver's license, passport, or state-issued ID card.

Verification of English proficiency if English is not your primary language (all required documentation that is not in English must be accompanied by a certified English translation).
Once you have these items, you're ready to begin the online application. Completing your application will take 30-45 minutes, and you can save your application if you run out of time or need to gather additional information.
After You've Applied
If you haven't already completed your admissions interview, that will be your next step. An admissions representative will reach out to schedule an interview at a convenient time for you.
If you have completed your interview, your enrollment guide will reach out to finalize your application and gather additional information.
You will also receive an email that gives you access to our Launch Portal, where you'll be able to submit documentation and complete the final steps for enrollment.
Degree-Specific Requirements
An applicant's career objectives will be considered as part of an admissions decision.
Last updated Jul 2020
About the School
Full Sail is dedicated to helping creative students follow their dreams in the entertainment and media industry. Whether they are passionate about music, art and design, web and technology, filmmaking ... Read More
Full Sail is dedicated to helping creative students follow their dreams in the entertainment and media industry. Whether they are passionate about music, art and design, web and technology, filmmaking, or the business behind entertainment, an education at Full Sail University can prepare students for a career path doing what they love.
Read less