Master of Engineering (Industrial Automation)
Home ›
Master ›
Master of Engineering (Industrial Automation)
Read more about this program on the institution's website
Program Description
Course at a Glance
Code: MIA
Course Length: 2 Years (part-time)
Course taught in English
In this accredited and prestigious programme you will gain:
Skills and know-how in the latest and developing technologies in instrumentation, process control, and industrial automation
Practical guidance and feedback from industrial automation experts from around the world
Live knowledge from the extensive experience of expert instructors, rather than from just theoretical information gained from books
Credibility and respect as the local industrial automation expert in your firm
Global networking contacts in the industry
Improved career choices and income
A valuable and accredited Master of Engineering (Industrial Automation) qualification
There is a global shortage of automation, instrumentation, and control engineers due to the rapid growth of new industries and technologies.
Our Master of Engineering (Industrial Automation) perfectly addresses this gap in the industrial automation industry. The program's twelve core units and project thesis provide you with the practical knowledge and skills required. Students with a background in electrical, mechanical, instrumentation and control, or industrial computer systems engineering can benefit from this program.
The content has been carefully designed to provide you with relevant concepts and the tools required in today's fast-moving work environment. For example:
Power Engineering covers major equipment and technologies used in power systems, including power generation, transmission and distribution networks.
Programmable Logic Controllers covers in-depth principles of operation of programmable controllers, networking, distributed controllers, and programme control strategies.
Industrial Process Control Systems combines the process identification and feedback control design with a broad understanding of the hardware, system architectures and software techniques widely used to evaluate and implement complex control solutions.
Industrial Instrumentation identifies key features of widely used measurement techniques and transducers combined with microprocessor devices to create robust and reliable industrial instruments.
Process Engineering will enable students to evaluate and utilize complex process calculations through the application of control principles.
Industrial Data Communications provides the requisite knowledge to manage modern fieldbuses and industrial wireless systems.
Safety Systems provides an introduction to the common safety philosophy of hazard identification, risk management and risk-based design of protection methods and functional safety systems; and much more.
Special topics enable students to incorporate current technologies and the knowledge acquired from the entire course and thus solve complex industrial automation problems. The Project Thesis, as the capstone of the course, requires a high level of personal autonomy and accountability and reinforces the knowledge and skill base developed in the preceding units. As a significant research component of the course, this project will facilitate research, critical evaluation and the application of knowledge and skills with creativity and initiative, enabling students to critique current professional practice in the industrial automation industry.
Who Will Benefit from this Prestigious Programme
Those seeking to achieve advanced know-how and expertise in industrial automation, including but not limited to:
Electrical Engineers and Electricians
Maintenance Engineers and Supervisors
Energy Management Consultants
Automation and Process Engineers
Design Engineers
Project Managers
Instrument Fitters and Instrumentation Engineers
Consulting Engineers
Production Managers
Chemical and Mechanical Engineers
Instrument and Process Control Technicians
** A note regarding recognition of this programme in the Australian education system: EIT is the owner of this programme. The qualification is officially accredited by the Tertiary Education Quality and Standards Agency (TEQSA). EIT delivers this programme to students worldwide.
Professional Recognition
Like all Australian higher education providers and universities, EIT programs are accredited by the exacting standards of the Australian Government's Tertiary Education Quality and Standards Agency (TEQSA). This master's degree is accredited by Engineers Australia under the Washington Accord. It is internationally recognized under the International Engineering Alliance (IEA) accords and the various signatories.
How Does it Work?
EIT programmes involve a combination of live, interactive sessions over the Internet with a professional lecturer, set readings, and assignments. The programmes include simulation software and remote laboratory applications to let you put the theory to practice, and provide you with constant support from dedicated Learning Support Officers.
Practical Exercises and Remote Laboratories
As part of the groundbreaking new way of teaching, EIT's online engineering degrees use a series of remote laboratories (labs) and simulation software, to facilitate your learning and to test the knowledge you gain during your programme. These involve complete working labs set up at various locations of the world into which you will be able to log in and proceed through the various practice sessions.
The practicals will be supplemented by simulation software, running either remotely or on your computer, to ensure you gain the requisite hands-on experience. No one can learn much solely from lectures, the labs and simulation software are designed to increase the absorption of the materials and to give you a practical orientation of the learning experience. All this will give you a solid, practical exposure to the key principles covered and will ensure that you obtain maximum benefit from your course.
Time Commitment and Duration
This degree takes two years to complete. We deliver our online master's degrees on a part-time intensive basis. Part-time students are expected to spend approximately 20 hours per week learning the program material and completing assessments. This includes attending tutorials.
Entry Requirements
To gain entry into this programme, applicants need one of the following:
A recognized 3-year bachelor degree* in an engineering qualification in a congruent** field of practice; OR
An EIT Bachelor of Science (Engineering) degree* in a congruent** field of practice; OR
A 4-year Bachelor of Engineering qualification (or equivalent), that is recognized under the Washington Accord or Engineers Australia, in a congruent**, or a different field of practice at the discretion of the Admissions Committee; OR
A 4-year Bachelor of Engineering qualification (or equivalent)* that is not recognized under the Washington Accord, in a congruent** field of practice to this programme; AND
An appropriate level of English Language Proficiency equivalent to an English pass level in an Australian Senior Certificate of Education, or an IELTS score of 6.0 (with no individual band less than 6.0), or equivalent as outlined in the EIT Admissions Policy.
All applicants must have evidence of automation and/or electrical exposure in their degree and/or work experience.
* With integrated compulsory 12-week professional industry experience, training or project work of which 6 weeks are directly supervised by a professional/eligible professional engineer as determined by EIT.
** Congruent field of practice means one of the following with adequate content (fields not listed below to be considered by the Dean and the Admissions Committee on a case-by-case basis):
Industrial Automation
Industrial Engineering
Instrumentation, Control and Automation
Mechanical Engineering
Mechanical and Material Systems
Mechatronic Systems
Manufacturing and Management Systems
Electrical Engineering
Electronic and Communication Systems
Chemical and Process Engineering
Robotics
Production Engineering
Applicants may have a maximum of one individual band of 5.5 and be granted entry subject to the provision of English language support by EIT.
Overseas qualification equivalency is assessed using on Country Education Profiles - an online qualifications recognition tool designed by the Australia Government Department of Education and Training to help organizations understand overseas higher education and postsecondary technical and vocational educational qualifications.
International students who wish to study this degree on-campus in Australia will need to have a valid international student visa.
A maths bridging test/exam must be completed by all Higher Education students during orientation week.
Prior Learning Recognition and Exemptions
EIT can give you credit for units where you can demonstrate substantial prior experience or educational background. An assessment fee may apply.
Testimonials
Experience at EIT was great, I learned a lot, improved existing technical skillset and developed new skills to advance my career. The remote learning enabled me to focus my work into my busy work schedule. I would definitely recommend EIT to friends and colleagues looking to take the next step in their career.
Eóin James McCartney, Australia
My experience at EIT was rich in knowledge and it definitely enhanced my skills in engineering overall.
Ian Shivraj Doolun, Mauritius
My experience at EIT has been the best when it comes to online learning. I got value for my money. The staff were very professional in executing their jobs. I want to use this opportunity to thank every member of EIT who made my study here a success. Thank you so much and keep up the great job.
Edidiong Edem Wilson, Nigeria
It was an extremely wonderful learning experience in EIT. The quality of material and the depth of experience of instructors was quite impressive. The course was tailored to meet current industry needs. I am totally satisfied with the course.
Obiezu Ifenna Amaobi, Nigeria
EIT has provided me with the best education experience so far that I would like to consider enrolling for a Doctorate programme whenever it commences.
Onoriode Akporherhe, Nigeria
It has been interesting and rewarding studying at EIT. The teaching and learning methodology is modern and simply out of this world. When I completed an Advanced Diploma in Industrial Automation at EIT several years ago, I knew I would be back for more academic pursuits. Now, having completed a master's degree programme in the same field, I cannot wait any longer to commence a PhD study in the same field at EIT.
Abimbola Adegoke Ogunlade, South Africa
Studying at EIT was an experience which has left me a better person. Now I can confidently explore the technology in my field of work and also can work in a planned way unlike before. This course has given me the ability to analyse and understand situations which previously I would have not been able to figure out. I can say I came out of EIT a changed person and a better manager.
Givemore Mhene, Zimbabwe
I am extremely satisfied and thankful for all the support and facilities provided by EIT and their staff during the completion of my course. The best aspect of my course was the integration of online tutoring and on-campus tutoring.
Subish Tamang, Nepal
Last updated Nov 2020
About the School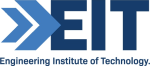 The key objective of the Engineering Institute of Technology (EIT) is to provide an outstanding practical engineering and technology education; from Diplomas through to Masters Degrees. The finest eng ... Read More
The key objective of the Engineering Institute of Technology (EIT) is to provide an outstanding practical engineering and technology education; from Diplomas through to Masters Degrees. The finest engineering lecturers and instructors, with extensive real engineering experience in the industry, are drawn from around the world. The learning is gained through face-to-face classes as well as synchronous, online (eLearning) technologies.
Read less