Master of Engineering (Civil: Railway Infrastructure)
Home ›
Master ›
Master of Engineering (Civil: Railway Infrastructure)
Read more about this program on the institution's website
Program Description
This programme is delivered via EIT's innovative live online approach
The Master of Engineering (Civil: Railway Infrastructure) will equip you with the necessary skills to address the demands of the railway engineering industry. You will receive high-level professional and technical development for engineers working with track and the infrastructure in the rail corridor. Upon completion of this programme you will gain:
Skills and knowledge in the latest and developing technologies in railway infrastructure

Practical tuition from experts around the world

Global networking contacts in the industry

Improved career choices and income

A valuable and accredited Master of Engineering (Civil: Railway Infrastructure)** degree
Programme Details
The billions of dollars' worth of public and private resources invested in rail track infrastructure around the world demand a well-trained and competent engineering workforce for the safe and efficient operation of the track and associated assets. However, developments over the past 20 years such as downsizing of public railway authorities, increased retirement of experienced employees, privatization, and the rapid expansion of the rail industry have left engineers with severely limited pathways to upskill themselves quickly.
This degree has been developed by railway experts to address the specific needs of the industry. The industry focus of the degree is enhanced through the expectation that students will be employed in the railway industry during all or part of their study; the units in this Master degree have been structured with this very purpose in mind.
This optimal mix of academic and industry-based learning provides engineers with more advanced skills and knowledge much faster than workplace training can do.
Through EIT's online delivery, railway engineers can study the degree from anywhere in the world. The blend of differing railway contexts, operating standards, practices, and policies experienced by these engineers resident in many countries will provide a unique learning opportunity for them as they interact with each other throughout the degree.
Despite the very diverse locations of railway infrastructure engineers, the course coordinators and lecturers work hard to build a sense of professional community among the students.
The programme is delivered using a wide range of learning activities such as live webinars, written assignments, case studies, team projects, remote laboratories, and more. These experiences aim to get the students interacting via technology-based learning experiences that highlight shared skills and knowledge derived from the many cultural and technical contexts in which the students are working.
Time Commitment
Successful students are thus likely to spend approximately 20 hours per week in order to cover the material adequately and to gain sufficient knowledge in each unit. This includes the preparatory reading, attendance at each webinar and the time necessary to complete the assignments and laboratory work.
Potential Job Outcomes
Project Engineer

Asset Manager

Project Manager

Parkway Engineer

Senior Civil Engineer

Rail Project Engineer

Senior Track Designer

Track Engineer

Safety assurance engineer

Chief estimator
Who Will Benefit from this Prestigious Programme
Those seeking to achieve advanced knowledge and expertise in civil: railway infrastructure. They can be employed in any form of rail infrastructure body, ranging from small private consultancies to large publicly-owned railway system owners.
Those working in, or looking to move into areas related to railway infrastructure

Designers, consultants, contractors, and maintainers, associated with railway infrastructure
Rules of Progression
The Project Thesis can only be attempted once all other units have been successfully completed.
All engineering disciplines are built up of individual bodies-of-knowledge that together target a specific application. It not only relies on the combined body of knowledge from the undergraduate degree, specifically mathematics, physics, and discipline knowledge but also on the various units that form this course. The '500' level units are designed at AQF level 8 (Graduate Diploma). The knowledge from each unit allows students to be able to investigate difficult problems, analyze and synthesize complex solutions, and communicate their solutions and ideas. This will enable successful progress to the '600' level units at AQF level 9 (master's degree). All this knowledge is brought together as the students tackle complex application problems in their final Thesis.
The content of each unit is designed to provide a graduated increase in knowledge and skills from the '500' level units to the '600' level units culminating in a Project Thesis. All units must be passed, or have exemptions, to achieve the qualification.
The Graduate Diploma of Engineering is nestled within the master's degree as an exit point only after successful completion of all the '500' level units of the programme. Both qualifications have the same entry requirements. The second year of the master's degree does not serve as an entry point.
Industrial Experience
In terms of industrial or practical experience, EIT's Master of Engineering programmes require the completion of 240 hours of relevant industrial experience (i.e. internship, paid/unpaid work) in an engineering environment under professional supervision. In addition, the course will also entail some hands-on workshops through BXX001-004 units, which will be used to provide you with hands-on work skills. The course also requires the completion of Professional Practice Workshop through MXX001 unit, which has engineering student project teams working on a discipline related comprehensive industrial case study. If you already have some work experience in the relevant engineering field, you may apply to have credit granted by completing the associated recognition of prior learning form to demonstrate that your experience is of a sufficient nature and standard.
Programme Structure
Students must complete 48 credit points comprising 12 core units and one (1) capstone Thesis. There are no electives in this programme. The programme duration is two years. Subjects will be delivered over four (4) terms per year, and students will take two (2) units per term. There will be a short break between years.

| | | | | |
| --- | --- | --- | --- | --- |
| Year | Term | Unit Code | Subjects | Credit Points |
| Year 1 | Term 1 | MRI501 | Introduction to Railway Operations | 3 |
| Year 1 | Term 1 | MRI502 | Introduction to Railways Management | 3 |
| Year 1 | Term 2 | MRI503 | Sustainable Engineering Principles | 3 |
| Year 1 | Term 2 | MRI504 | Ballast Sleepers and Fasteners | 3 |
| Year 1 | Term 3 | MRI505 | Railway Projects and Systems Engineering | 3 |
| Year 1 | Term 3 | MRI506 | Rail and Related Track Structures | 3 |
| Year 1 | Term 4 | MRI507 | Management of Railway Assets | 3 |
| Year 1 | Term 4 | MXX501/601 | Engineering Research and Practice | 3 |
| Year 2 | Term 1 | MRI601 | Track Structure and Formation Design | 3 |
| Year 2 | Term 1 | MRI602 | Track Geometry and Train Interaction | 3 |
| Year 2 | Term 2 | MRI603 | Construction and Capital Works | 3 |
| Year 2 | Term 2 | MRI604 | Environment Safety and Standards | 3 |
| Year 2 | Term 3 & 4 | ME700 | Project Thesis (taken over 2 terms – equivalent to 4 units) | 12 |
Additional Mandatory Units
| | |
| --- | --- |
| Units | Credit Points |
| `BXX001 - Hands-on Workshop 1 | 0 |
| `BXX002 - Hands-on Workshop 2 | 0 |
| `BXX003 - Hands-on Workshop 3 | 0 |
| `BXX004 - Hands-on Workshop 4 | 0 |
| MXX001 - Professional Practice Hands-on Workshop | 0 |
| MXX510 - Professional Experience | 0 |
` Applicable to students gaining entry under option a) or d) of the Entry Requirements.
Graduate Diploma of Engineering (Civil: Railway Infrastructure): Students who elect to exit the programme after successfully completing all of the first-year units, as outlined above, can opt to receive EIT's Graduate Diploma of Engineering (Civil: Railway Infrastructure). If students wish to finalize the Master qualification after exiting at the Graduate Diploma level, they will need to re-enrol and relinquish the Graduate Diploma testamur.
Entry Requirements - Master of Engineering (Civil: Railway Infrastructure)
To gain entry into this programme, applicants need one of the following:
a) a recognized 3-year bachelor degree* in an engineering qualification in a congruent** field of practice.

b) an EIT Bachelor of Science (Engineering) degree in a congruent** field of practice.

c) a 4-year Bachelor of Engineering qualification (or equivalent), that is recognized under the Washington Accord or Engineers Australia, in a congruent**, or a different field of practice at the discretion of the Admissions Committee.

d) a 4-year Bachelor of Engineering qualification (or equivalent)* that is not recognized under the Washington Accord, in a congruent** field of practice to this programme.
AND
An appropriate level of English Language Proficiency equivalent to an English pass level in an Australian Senior Certificate of Education, or an IELTS score of 6.0 (with no individual band less than 6.0)***, or equivalent as outlined in the

EIT Admissions Policy

.
* With integrated compulsory 12-week professional industry experience, training or project work of which 6 weeks are directly supervised by a professional/eligible professional engineer as determined by EIT.
** Congruent field of practice means one of the following with adequate content (fields not listed below to be considered by the Dean and the Admissions Committee on a case-by-case basis):
Civil Engineering

Construction Engineering

Transport Engineering

Urban Engineering

Mechanical Engineering

Railway Infrastructure

Railway Design and maintenance

Railway Maintenance

Railway Systems

Material and Mechanical Systems

Project Engineering
***Applicants may have a maximum of one individual band of 5.5 and be granted entry subject to the provision of English language support by EIT.
Please note: All documents submitted as part of your application must be certified.
Professional Recognition
This is an academically accredited programme by the Australian Government agency Tertiary Education Quality and Standards Agency (TEQSA).
Why Study With EIT?
Industry-Oriented:

EIT Programmes are specifically designed by an international body of industry experts, ensuring you graduate with cutting-edge skills that are valued by employers around the world.

Experienced Lecturers:

Our lecturers include highly experienced engineers, with real-world knowledge, not just academics.

World-Class Education:

Like all Australian higher education providers and universities, EIT programmes are accredited by the exacting standards of the Australian Government's Tertiary Education Quality and Standards Agency (TEQSA). Through the Sydney Accord, this online programme is also recognized by many authorizing bodies around the world. Together with its sister organization IDC Technologies, the group has trained over 500,000 engineers, technicians and technologists globally over the last 30 years.

Flexibility:

Our innovative online delivery model ensures that you have access to the best instructors and resources 24 hours a day. You can participate from anywhere in the world, as long as you have an Internet connection.

Dedicated Support:

You will be supported by dedicated Learning Support Officers and Course Coordinators for the duration of your studies, giving you a greater chance of success. Global Reach EIT's current students join from over 140 countries, with expert lecturers based around the globe, providing you with a truly international perspective.

Engineering Specialist:

EIT is one of the only private colleges in the world specializing in engineering.
Online Delivery Mode
Delivery:

EIT uses an innovative, online approach to ensure that you have a supportive, interactive and practical education experience. Our delivery model involves live, interactive online tutorials, remote laboratories, simulation software, and assignments with support from dedicated Learning Support Officers and Academic Staff.

Tutorials are conducted using our own specialized, live, interactive software system. You will receive course materials and assessments through an online Learning Management System which is available 24 hours a day.

All you need to participate is an adequate Internet connection, a computer, speakers and, if possible, a microphone.

Why Online?

EIT recognizes that many students have work and/or family commitments which makes pursuing further study very challenging. Our online programmes have been specifically designed to reduce the significant financial, time and travel commitments often required by on-campus programmes.

Practical Exercises and Remote Laboratories:

You will participate in laboratory practical assignments using remote laboratories and simulation software, to ensure you receive the requisite hands-on experience. The hardware equipment connected to most of the computers, both industrial and educational, allows you to perform the real implementation of engineering activities by interfacing the computers, software and simulators to real-world hardware.
Testimonials
"Studying at EIT was an experience which has left me a better person. Now I can confidently explore the technology in my field of work and also can work in a planned way unlike before. I can say I came out of EIT a changed person and a better manager."
Givemore Mhene, Zimbabwe
Last updated Oct 2020
About the School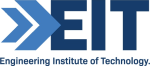 The key objective of the Engineering Institute of Technology (EIT) is to provide an outstanding practical engineering and technology education; from Diplomas through to Masters Degrees. The finest eng ... Read More
The key objective of the Engineering Institute of Technology (EIT) is to provide an outstanding practical engineering and technology education; from Diplomas through to Masters Degrees. The finest engineering lecturers and instructors, with extensive real engineering experience in the industry, are drawn from around the world. The learning is gained through face-to-face classes as well as synchronous, online (eLearning) technologies.
Read less