Master of Business Administration in Healthcare
Home ›
MBA ›
Master of Business Administration in Healthcare
Program Description
Program Overview
The healthcare industry is experiencing dramatic growth and change, requiring leaders who possess both an appreciation of this industry's unique challenges and best practices, and also a comprehensive business education.
American Sentinel's MBA-Healthcare is the best of both worlds - a state-of-the-art MBA program at its core, supplemented by a special focus on health care. We designed this program to prepare graduates for senior managerial positions in healthcare capable of integrating ideas from different disciplines and industry best practices to the unique challenges of health care.
The MBA - Healthcare program courses are open for enrollment once a month.
Program Objectives
The objectives of the online MBA - Healthcare program are to:
Develop management skills tailored to the unique challenges in the healthcare industry.
Review the sources of competitive advantage and alternative financing mechanisms relevant to healthcare organizations.
Explore the applications of information systems to improve decision making speed and effectiveness.
Appreciate the legal, regulatory, and ethical challenges characteristic of the healthcare industry.
Acquire the interpersonal skills required to manage the performance of health professionals in diverse organizational environments.
Through the Strategic Capstone Project course, conduct research and apply lessons learned to the healthcare industry.
Develop the insights required to integrate multiple functional perspectives and different professional perspectives to create innovative solutions to complex problems.
Last updated Nov 2017
About the School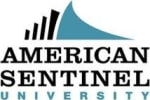 American Sentinel University exists to enable our students to achieve their educational and professional goals. Our high-quality online degree programs have been designed so that our students can maxi ... Read More
American Sentinel University exists to enable our students to achieve their educational and professional goals. Our high-quality online degree programs have been designed so that our students can maximize their Return on Learning. American Sentinel's educational approach is backed by top leaders in higher education in North America. American Sentinel was founded as a Vanderbilt University Technology Company by nationally recognized academic and business leaders, including Joe B. Wyatt, Chancellor Emeritus of Vanderbilt University and Dr. Richard W. Oliver, CEO of American Sentinel University (author of several management books, former VP Marketing for Nortel, an award-winning professor at Vanderbilt University). Fast Facts Founded in 1988 (American College of Computer & Information Science) and 2000 (American Graduate School of Management) Over 15 online degree programs with no residency requirements 1,200+ students 1,400+ alumni 40+ full and adjunct faculty (over 60% with PhDs) 35+ academic administrators and staff Offices: Denver, CO, and Birmingham, AL Accredited: Distance Education & Training Council Student Satisfaction: average more than 90% across programs Mission Statement American Sentinel University's mission is to provide high-quality, innovative degree and certificate programs that enable students to develop the critical thinking, decision-making, and leadership skills necessary to enhance their personal lives and their careers in emerging industries and fast-growing sectors of the global economy. Vision Statement To be recognized as a world leader in providing accessible, quality, advanced education for the motivated, non-traditional learner/professional who seeks to lead in emerging industries or growing market sectors of the global economy. Providing new levels of access to motivated, non-traditional students who here-to-fore have not had the opportunity for advanced professional degrees for reasons of time, money, or geography. Innovative use of technology that creates new standards in assessment and achievement of academic excellence. Understanding and meeting the changing needs of its students, communities, and other constituents Creating excellence in student and constituent services.
Read less