Master of Business Administration in Executive Management
Home ›
MBA ›
Master of Business Administration in Executive Management
Program Description
Overview
The MBA in Executive Management at Royal Roads University is designed for working professionals, by working professionals. We've used our experience in the industry to create a program that gives you the solid foundation required of today's business leaders, as well as the opportunity to put your learning to work through hands-on practice. No matter what your career aspirations are, you'll be able to use the tools and techniques found in your program to move your organization forward. You can choose to complete your MBA in Executive Management or with a specialization in Leadership, Management Consulting, International Business - Asia Pacific Trade and Investment Specialization, or International Business and Innovation - Europe Specialization.
Who It's For
Experienced managers and business leaders who are looking for versatility and customization of their MBA experience. The program builds on each student's current knowledge and experience to develop the strategic skills business growth depends upon and provides a broad understanding of critical issues in management leadership. It also allows students to select electives in such areas as sustainability, innovation, coaching or international business for an individualized MBA experience that aligns with their career goals.
The Royal Roads University Learning Model
At Royal Roads University, we use a cohort learning model for many of our programs, including the MBA. Our unique learning model requires you to work with your team, sharing personal experiences and diverse perspectives to develop unique solutions to projects and challenges. Working together ensures that everyone contributes to and benefits from the program and the connections you create through our cohort environment form a powerful network of support you can turn to during your program and after graduation.
An Investment in Education
The MBA program at Royal Roads University is challenging and requires compromises between you and your family, friends, and employers. Your cohort depends on you to contribute and participate in group projects and assignments, and you'll need to allocate enough time to manage your assigned readings and individual tasks. It's important to discuss these requirements with the important people in your life, so you can plan out mutually acceptable arrangements before you start your program. The program is challenging, but the experience is invaluable.
Team-Based Learning
Your program will include students from across Canada as well as internationally; typically, about 40 years old with 15 or more years of professional experience. One of the biggest benefits of this mixture of personal and professional experience is the opportunities created by developing your professional network. You can expand your network around the globe, finding access to resources outside of what your competition can discover. And that's a great way to build your business and professional exposure.
Organizational Management Project
The Organizational Management Project (OMP) is the major integrative learning activity of the MBA Program and offers a rich learning opportunity through the application of theory to a real-world situation. By applying theory to a real world-situation, completion of the OMP enhances the skills of the learner and provides a valuable contribution to the client or host organization.
More specifically, in the OMP, learners will examine a management problem, conduct academic and best-case research, analyze options, and provide recommendations and a high-level implementation plan in a final report for the client or host organization. The management problem to be researched and analyzed is identified in collaboration with an organization. MBA learners may choose to conduct their OMP with an external organization, or it can be conducted within a learner's own workplace provided the project is not related to the learner's own position and does not involve his/her direct reports. The MBA Program Office will also work with learners to identify potential projects with corporate or not-for-profit organizations that have indicated their interest in being involved with our program in this capacity.
BENEFIT TO HOST ORGANIZATION
A broad range of small, medium-sized, large and multinational clients and host organizations have benefited from the substantive, practically oriented management OMPs completed by learners from Royal Roads, including, for example, technology companies, resort operators, wholesale/retail operations, non-profit organizations, and municipal, provincial and federal government agencies.
Last updated Oct 2019
About the School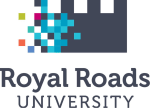 Located in one of Canada's most beautiful National Historic Sites, Royal Roads University has a long history of excellence. In 2015, we celebrated 75 years of leadership and learning - 55 years as a m ... Read More
Located in one of Canada's most beautiful National Historic Sites, Royal Roads University has a long history of excellence. In 2015, we celebrated 75 years of leadership and learning - 55 years as a military college and 20 years as a public applied research university.
Read less