Master of Business Administration (online)
Home ›
MBA ›
Master of Business Administration (online)
Program Description
The Turner College of Business offers an online Master of Business Administration (MBA) degree through the Georgia WebMBA®, a consortium of AACSB-accredited schools. The online program delivers an internationally accredited, accelerated MBA degree with the same quality and service offered on campus.
The online MBA is a general-purpose management degree that prepares individuals for leadership positions in business, industry, or government. Emphasis is placed upon global business, organizational behavior, accounting, operations, marketing, finance, management information systems, and their impact on managerial decision making. The program focuses on the practical application of these tools, techniques, and concepts.
Teamwork, the international context of business, and the ethical dimensions of managerial decisions are stressed throughout the program. The WebMBA focuses on applying knowledge and skills in real business settings through team-based learning. Students working full-time find that team and cohort-based courses help them learn from each other while providing a support network.
The program opens three cohorts in fall and spring with students taking two courses each semester for five consecutive semesters. The cost of the program is well below the national average. There are no campus visits required except for orientation offered in Atlanta, GA at the beginning of spring and fall semesters.
Career Opportunities
Careers for MBA graduates cover a very wide and diverse field of industries and opportunities. Graduates will find challenging and fulfilling positions in public and private sectors including government agencies, large corporations, non-profit organizations, small businesses, academia, marketing and many other fields. Many MBA graduates find ease in moving up to higher management positions within their current jobs and have ample opportunity to continue to advance their careers.
Admission Requirements
Beyond the general graduate program requirements, the MBA degree program also has the following additional requirements:
A graduate application, available online or in the paper, with the application fee.
An official baccalaureate degree transcript from an accredited institution.
Graduate Management Admission Test (GMAT) Scores; students may also submit Graduate Record Exam (GRE) scores. Only scores within the past five years will be accepted.

GMAT school code: R64-XW-20
GRE school code: 5123

Two recommendation letters from professional sources such as current for former employers, faculty, and business associates are required. Please use the recommendation form (DOC) (DOC) provided.
A current resume

Undergraduate Prerequisites:
ACCT 2101 Principles of Accounting 1
ACCT 2102 Principles of Accounting 2
BUSA 3115 Quantitative Analysis for Business Decisions or Statistics
FINC 3105 Managerial Finance
(Student must fulfill by test or course with a C or better prior to registration for MBA6145, MBA6157, MBA6165)
Learning Outcomes
Analyze and evaluate alternative courses of action using appropriate qualitative and quantitative tools to create value.
Recognize and evaluate the impact on business decisions of the ethical and social dimensions of business activities.
Formulate and assess integrated technology solutions to influence structures, processes, and techniques of management.
Analyze global economic environments, integrate multiple business components, and assess impact using a risk analysis.
Integrate multiple business functions across a broad range of situations by solving problems and making strategic decisions.
Apply team-development and leadership skills in group settings to produce, evaluate and present business decisions.
Additional Program Requirements
Students with previous graduate work may request up to six hours of transfer credit. Only credit from an AACSB accredited institution will be approved.

All students must complete the core curriculum for the degree.

A minimum B average in core courses, with no more than two Cs, is required for degree completion.

Students have a maximum of six years from the first term of enrollment to complete all MBA degree requirements.
Last updated May 2019
About the School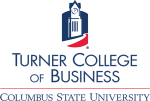 The D. Abbott Turner College of Business's business degree programs are professionally accredited through The Association to Advance Collegiate Schools of Business. As an accredited member of the AACS ... Read More
The D. Abbott Turner College of Business's business degree programs are professionally accredited through The Association to Advance Collegiate Schools of Business. As an accredited member of the AACSB international, our college offers business programs that achieve their distinction for high quality through an interdisciplinary curriculum providing students with a broad understanding of business and its role in society.
Read less
Accreditations