Master in Transmedia Business Communication
Home ›
Master ›
Master in Transmedia Business Communication
Program Description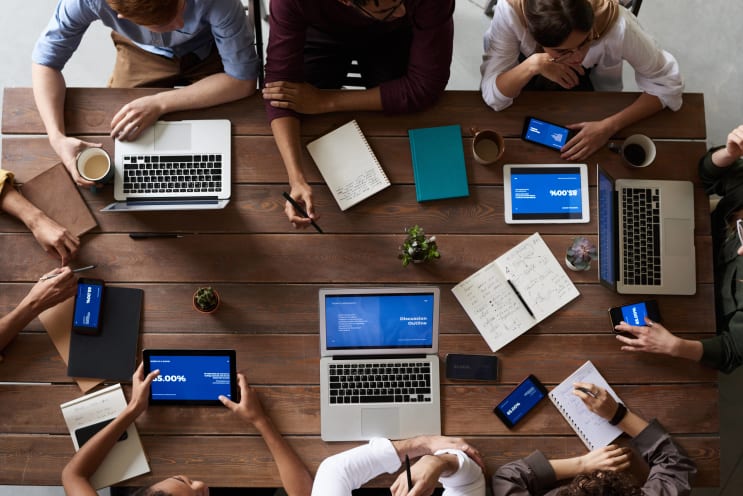 The digital world is present in the life of all companies, regardless of their size and segment. Consumers are ominichannel, relating to organizations in the most varied ways, all together and mixed. All other priority audiences are also interconnected and the real point of connection between them is business communication.
Companies that practice Integrated Marketing Communication - CIM, strategically uniting online and offline alternatives, achieve very significant gains in terms of effective results, optimization of budgets, expansion of reach and impacts, in addition to differentiation marketing and maximizing the productivity of the entire organization.
This is the essential proposal of this Master: to better enable the new CCO - Chief Communication Officers, so that they face the challenges of these times with clarity, so that they can see the Big Picture, but are able to act in a focused manner, directing communication to each of the stakeholders , making them feel unique.
In times of uncertain economy, the focus of all organizations is on doing more with less. Money is scarce, expectations for better results have grown, teams have become leaner, errors are less tolerated and the measurement of results is on the agenda of all executives.
CCOs need to be better prepared to navigate this ocean that is not always blue: often gray, sometimes red. In this Master, communication and marketing professionals will be challenged on two fronts: planning and creativity to find differentiated solutions in the face of the great digital transformation of the market; and that of the company's priority audiences, which are many, have numerous peculiarities and need to be impacted in a unique way in the midst of an "infoxication" epidemic.
Communication professionals who develop a more strategic vision of new ways of relating to the most diverse stakeholders of the organization stand out in the professional market because they manage to deliver more results, with controlled resources, demonstrating the return on investment (ROI) of all their actions and ensuring the strengthening of the enterprise's reputation.
Course objective
Throughout this Master, students will be prepared to:
Evaluate scenarios and plan integrated communication and marketing actions, knowing the psychological characteristics of each priority audience to be able to disseminate in all of them the essential concepts of the brand and generate perception of added value
Understand the reach of digital media to be able to use them more effectively, using the COPE - Create Once Publish Everywhere technique to optimize results also in other offline media, creating a company with unique image and speeches
Practice models to stimulate creativity, using methodologies to create differentiated communication alternatives with the market that combine, at the same time, efficiency with equitable investment to produce the expected results.
In an environment of constant collaboration, teachers and students will share knowledge to be immediately employed in companies and to develop the Applied Conclusion Project, based on a real situation whose communication and marketing planning will be developed based on all the contents seen in all Subjects.
Who is it for?
Professionals dedicated to building the institutional image and brand of products, who care for the reputation of companies and their relationships with the most diverse stakeholders
Communication and marketing professionals who deal with digital media and coordinate the company's online and offline interaction processes with the market
Responsible for managing teams, human resources, attracting, developing and retaining internal talents who need to deal with the challenges of bringing together different generations to form high-performance multidisciplinary and multicultural teams
Professionals responsible for advertising, institutional and market marketing, public relations, press, crisis management, institutional relations with the most diverse audiences, planning, creating, implementing and measuring the results of integrated and strategic communication actions
Entrepreneurs, consultants, managers of family businesses and professionals working in their own businesses
Companies, advertising and communication agencies, advisors and consultants who need to train their teams in the area of planning, scenario assessment, creation and management of relationships with audiences.
Why choose ESPM EAD?
Live classes
Only at ESPM, all digital classes in all disciplines are held live, with a scheduled day and time.
Academic experience
ESPM professors, as well as in our face-to-face courses, have academic experience and also in the executive environment.
Interaction with the teacher
During classes, students can interact with the teacher live on the platform, answering questions and actively participating in the class in real time, simply by activating their camera and microphone.
Customize your schedules
If you prefer or are unable to participate in the live broadcasts, you can still watch the recordings of all classes, which are available on the system for the duration of the course. Thus, you customize your class schedules according to the needs of your schedule.
All lessons are recorded
Even when participating in the live broadcast, the recordings of each class still remain available in the system for review or consultation by the student until the end of the course.
Assessments directly with teachers
All activities and assessments are applied directly by the teachers of each discipline, and not by monitors or intermediaries, a practice that is common in the market.
Distance education with proximity between teachers and the class?
ESPM does.
ESPM's EAD programs use the resources of the Canvas platform, building a modern and intuitive digital study and learning environment.
What you will learn
The subjects will be conducted by professors with professional and academic experience in the respective subjects, who will present the contents live via web conference, generating great interaction between professors and students with the discussion of cases, text analysis and relevant bibliographic indications.
Integrating Discipline
Planning and Creativity
Integrating discipline
Integrated Communication Planning
Digital universe of communications
Creative processes - how to communicate with differentiation
Storytelling in organizations
Socio-environmental and economic responsibility
Reputation management
Corporate events
Crisis prevention and management
Measurement of qualitative results
Measurement of quantitative results
Stakeholders
Integrating discipline
Internal Marketing and Communication
Communication management for different generations
Customer relations
Press relations
Market and investor relations
Government relations: lobby
Trade relations
Applied Completion Project (PCA)
CBT
Applied Completion Project (PCA)
When happens?
The web conference classes will be taught live on Mondays and Wednesdays, from 4/29/2020, from 7:30 pm to 9:30 pm, and allow for a more effective and real-time interaction between students and the teacher. If the student is not available to participate in the web conference at the specified time, the student can access the recording of the class later in the Virtual Learning Environment (VLE). Classes are available on the platform until the end of the course.
Tuesday
7:30 pm to 9:30 pm
Thursday
7:30 pm to 9:30 pm
How are the ratings on Live EAD ESPM?
Assessments and final grade in each discipline
The final grade of each discipline is obtained by carrying out the activities proposed by their respective teacher. These activities will be delivered online, through the virtual learning environment, Canvas.
To obtain approval in each discipline, the student must, at the end of the period, obtain a minimum final grade of 7.0 (seven) and not exceed the established limit of 25% (twenty-five percent) of absences per discipline. In ESPM's Live EAD, non-publication of the discipline's activities is considered missing.
Course Conclusion Paper (TCC) OR Applied Conclusion Project (PCA)
At the end of the course, the student must complete a Course Conclusion Work (TCC) or an Applied Conclusion Project (PCA), depending on the pedagogical model established by each course. This work will be submitted to an examining board composed by the coordinator and some teachers of the course in question.
For this, it is necessary for the student to attend one of the ESPM units, in São Paulo, Rio de Janeiro or Porto Alegre.
Last updated Aug 2020
About the School

Com mais de 65 anos de história, a ESPM é referência brasileira em comunicação, marketing e gestão no ensino superior, com DNA de inovação e tecnologia presente em todos os processos de aprendizagem, ... Read More
Com mais de 65 anos de história, a ESPM é referência brasileira em comunicação, marketing e gestão no ensino superior, com DNA de inovação e tecnologia presente em todos os processos de aprendizagem, formando profissionais preparados para o futuro.
Read less
São Paulo ,
São Paulo ,
São Paulo ,
Rio de Janeiro ,
Rio de Janeiro ,
Porto Alegre ,
Florianópolis
+ 6 More
Less