Program Description
PRESENTATION AND OBJECTIVES
With more than 500 million native speakers, Spanish is the second most used native language in the world, ahead of English and only surpassed by Mandarin. According to a study by Professor Manuel Ángel Vázquez Medel, in 2050, Spanish will be the most widespread mother tongue on the planet.
The United States already has 50 million citizens of Hispanic origin, a collective that represents 21% of primary school students. Hence, in secondary schools and universities in this country, 53% of students of foreign languages ​​choose Spanish. These evidences show the increasing projection of Spanish throughout the world and professional opportunities for those who want to teach it to people who do not have it as their mother tongue.
UNIBA launches its Master's Degree in Spanish as a Foreign Language, which prepares future professionals in the research and teaching of Spanish as a foreign language (ELE). The program provides a complete theoretical and practical training in the teaching of foreign languages ​​in general and of ELE in particular, and also forms the participants in the different areas of research linked to this area of ​​knowledge.
With this curriculum:
You will master the fundamental concepts in teaching and learning foreign languages ​​and you will be able to apply them to specific educational contexts.
You will know the didactic approaches of teaching Spanish as a foreign language (ELE) and you can put them into practice in various training programs.
You will be prepared to analyze and apply educational activities and develop them in the classroom, thus fostering new learning opportunities.
You will be able to elaborate research works in ELE learning and didactics.
You will know how to use tools that facilitate reflection on the own formative process, so as to be able to evaluate the teaching performance itself according to the demands of the educational context.
You will get an official master's degree and a training that will allow you to take a PhD program.
This title of Spanish teacher abroad will offer you the perfect opportunity to train at a distance in a profession of increasing demand.
ACCESS REQUIREMENTS
Recommended profile
This master's degree is especially aimed at graduates and graduates (or graduates with comparable foreign studies) in Philology, Translation and Pedagogy, or other graduates who want to reorient their professional career, whether Spanish or foreign. From its origin, the master has had a markedly international character and it has been studied by students from the five continents. It is intended that this diversity be maintained and allow to continue with the intercultural enrichment that represents working with groups of students from diverse backgrounds.
General requirements
According to the provisions of Article 16 of Royal Decree 1393/2007, of 29 October, to access the official master's degrees, one must be in possession of one of the following titles:
Spanish official university degree.
Title issued by a higher education institution in the EHEA that entitles the country of issue, to access official master's teachings.
Outside the EHEA title. In that case, the approval to a Spanish official university degree or preflight (without approval) by the University of Barcelona to be necessary if the studies completed are equivalent to the official Spanish university qualification and empower the studies completed in the country issuing the degree, access to official master studies. Acceptance into an official master does not, in any case, prior approval of title or recognition for purposes other than pursue a master's teaching.
Specific requirements
Be a graduate or graduated (or have a comparable foreign degree) in Philology, Linguistics, Translation, Pedagogy, Education or Modern Languages. Likewise, candidates from other degrees related to the area of ​​knowledge of the social and legal sciences (History, Law, Economics, etc.) will also be admitted, as their training enables them to teach Spanish own professional discourses.
Students who do not have Spanish as their mother tongue should be able to demonstrate a high level of oral and written competence in Spanish (equivalent to C1 or C2 level of the Common European Framework of Reference, CEFR), or to have the DELE Level C2, issued by the Instituto Cervantes.
It is recommended that you have at least level B2 of English (advanced level certificate from the official language schools or First Certificate in English of the University of Cambridge). Likewise, the domain of other foreign languages ​​will be valued.
For students not coming from Philology, Linguistics, Translation, Pedagogy, Education or Modern Languages ​​who want to reorient their professional activity towards the teaching of ELE, a training supplement of 10 ECTS is offered with two subjects (each of 5 ECTS): Introduction To the Teaching of Foreign Languages ​​and Introduction to Linguistics for Teachers of Foreign Languages.
In these complementary subjects, the fundamentals of the teaching of foreign languages ​​and of linguistics are worked on, in order to guarantee a minimum level of homogeneity in the initial knowledge of students of different profiles and coming from different areas.
SCHOLARSHIP AND HELP
In order to provide you access to your studies, UNIBA offers you various types of scholarships:
Academic merit scholarships
Own scholarships: awarded to students with good professional record by the admissions committee.
Scholarships and grants the Ministry of Education or other state government agencies.
At all times our educational advisors will inform you of the validity of each and can guide you on the needs and steps to follow when applying for any of these scholarships.
PROFESSIONAL OUTINGS
The Master's Degree of Professor of Spanish as a Foreign Language empowers you to work as:
Teacher of Spanish as a foreign language.
Designer or publisher of teaching materials related to Spanish as a foreign language.
Manager of language consulting centers.
Linguistic consultant.
Researcher in the field of the didactics of the language.
Specialist in the application of ICT to the teaching of Spanish as a foreign language.
This master's degree is a benchmark in employability and job insertion of the students that surpass it, thanks to the prestige of the participating universities.
Last updated Mar 2020
About the School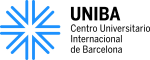 The International Center of Barcelona (UNIBA) is an institution attached to the University of Barcelona (UB) , created with the aim of offering a wide range of online degrees and master's degrees with ... Read More
The International Center of Barcelona (UNIBA) is an institution attached to the University of Barcelona (UB) , created with the aim of offering a wide range of online degrees and master's degrees with an international vocation.
Read less