Master Management in Engineering Management (MA)
Home ›
MA ›
Master Management in Engineering Management (MA)
Read more about this program on the institution's website
Program Description
IUBH University of Applied Sciences – Online: Scholarship Initiative: Save up to 80%!

IUBH Online wants to make it possible for anyone to take their chance in life. That is why they offer strong regional scholarships that vary in terms of cultural, social, educational or work experience background. All you have to do is to make use of the Scholarship Calculator on the school's website and wait for the student recruitment team to get back to you with your final result.

(Be aware that our scholarships are not available to students from Germany, Austria, and Switzerland)
Your door to the business world
In Engineering Management, you will deal with the areas of business administration, management, and leadership in scientifically and practically oriented modules. You will acquire important management know-how and your analytical thinking will be trained. You are familiar with the "Internet of Things" and are able to distinguish between the different areas of activity. You will develop a sound understanding of both general and engineering-related tasks in project management and become familiar with the basic concepts and processes of product development.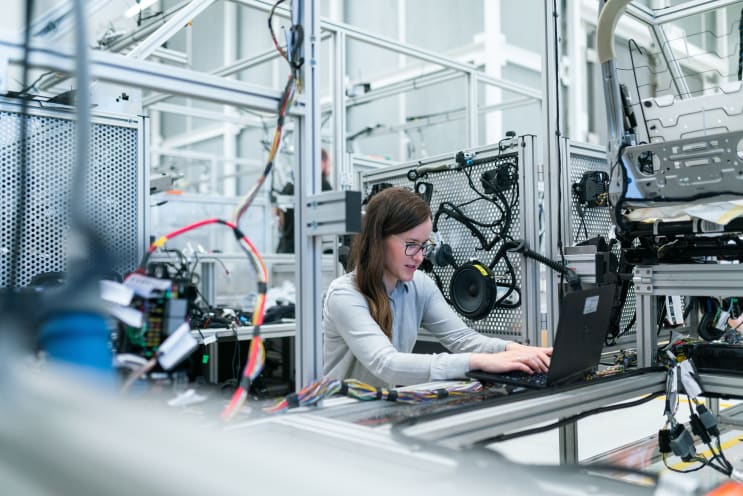 A short overview of your study
Degree: Master of Arts (MA)
Credits: 60 ECTS
Start of study: Anytime (no fixed start date or enrolment deadlines)*
*earliest start date: December 1st, 2020; minimum number of participants required
Study duration: Standard period of study: 12 months
Different time models possible
Study model: Online study including online exams 24/7
Programme Structure
The Master with a specialism in Engineering Management will prepare you for a career in the field of global financial markets and related areas.
You will deepen your knowledge in the areas of business management and leadership through academic and practice-oriented modules.
You will actively work on your soft skills such as communication skills and intercultural awareness.
You will develop skills in preparing and carrying out fiscal decisions on the international capital market.
You will learn to work with financing options on international capital markets as well as accounting in compliance with international standards.
You will obtain in-depth knowledge in the area of investment analysis and portfolio management to improve the fiscal performance of the business.
1st semester
2nd semester

Managing in a Global Economy
Strategic Management
Manufacturing Methods Industry 4.0 and Internet of Things
Advanced Research Methods
Operations and Information Management

Product Development and Design Thinking
Seminar: Managing People and Organisations
Master Thesis & Colloquium
IUBH Online Experiences | Interview with our student Tony from IUBH on Vimeo.
Eligibility Criteria
Academic Requirements:
Completed undergraduate study from a public or officially recognised university/higher education institution (240 ECTS).
If you have less than 240 ECTS on your university degree, begin your studies after having passed our admission test TASC.
A final grade of at least "Satisfactory" or grade C (as commonly used in the U.S and Canada).
Work Experience:
At least one-year work experience before the start of the IUBH Online Master programme (achieved after previous studies).
English Level:
Proof of English skills.
If English is your native language or you graduated from an English-speaking school/university, you do not have to prove your English skills.
Career Relevance
Just like German engineers themselves, German study programmes in engineering also enjoy a great reputation worldwide. As an Engineer Manager, you would understand high-level technical problems and be able to solve these problems using your knowledge of business management. That's why Engineer Managers are in high demand at the interface between technology and management. After your Master's, you will have excellent career prospects. You'll thrive anywhere that requires interdisciplinary and extensive knowledge in the field of technology and business.
Explore your options
The huge corporate demand for globally-oriented executives and IUBH's excellent reputation in academia and industry gives IUBH graduates huge leverage for a successful career, whether in their country of origin, in Germany or one of 25 Schengen countries covered by a post-study work permit.
Job chances with an online degree | IUBH Online from IUBH on Vimeo.
Last updated Jan 2021
About the School
You want to start an international career in Europe and search for a flexible, affordable way to reach this goal? Our online Master's and MBA programs offer you an international orientation with a foc ... Read More
You want to start an international career in Europe and search for a flexible, affordable way to reach this goal? Our online Master's and MBA programs offer you an international orientation with a focus on business and general management competencies.
Read less