Read more about this program on the institution's website
Program Description
Achieve a global perspective of the new economy and digital business
The speed of global innovation and the rapid evolution of technology is transforming the traditional business model and the companies' approach to market, operation, and management. In this scenario, the structure of companies will be refined together with the role of managers and professionals who must possess the hard and soft skills to succeed in the global business environment.
The Master of Science in Global Business Administration is a comprehensive program that provides a global perspective of the impact of digital technologies for companies' evolution, growth, and success and the knowledge, skills, and professional practice to operate in today's digital world. The program is specifically designed for graduate students and professionals who want to acquire a global perspective of business and a broad understanding of how to use technologies for improving traditional structures and creating new organizational models. Through a multidisciplinary curriculum that covers international business, global finance, digital transformation, and leadership, the master provides the skills to apply advanced business strategies in a global context, taking into consideration the risks associated with political, social, and environmental settings. Using the latest teaching methodologies like situational analysis, case studies, and simulations, the Master allows students to develop practical knowledge, critical thinking, and innovative problem-solving skills.
Objectives and learning outcomes
The Master aims to provide the knowledge and skills needed to face the challenges of modern business, offering the most advanced techniques in business management and leadership, online business, strategic marketing, and digital transformation. Through the program, students will gain the skills to:
Manage the different organization functional areas based on business objectives and strategies;
Develop leadership skills to manage multinational work- teams;
Understand how to redefine the organization's performance through digitization;
Manage international business activities and operations;
Engage effectively with stakeholders;
Analyze how new technologies and upcoming digital trends impact organizations
Understand how to develop and optimize a company's digital strategy
Analyze international Financial Markets;
Understand Global Corporate and Investment Banking principles;
Learn how to develop digital business solutions to boost profitability and minimize costs
Curriculum
The curriculum of the Master provides students with the necessary skills and tools to advance their careers and to improve their managerial and decision-making skills. Thanks to international faculty and business professionals with consolidated experience, the Master offers a global view of business strategies, international finance, information technology management and leadership, central issues for today's managers and executives. The theoretical classes are complemented with practical applications, interactive assessment, case studies, and simulations.
Key areas
Business Innovation
Globalization, digitization, and new technologies are transforming current markets and the economy. Innovation and disruption are future trends that require leaders able to expand their mindset and adopt new concepts and business models. Companies and leaders must be able to cultivate innovation in order to increase productivity, competitive advantage, and corporate value
Digital Business Models
The digital economy has generated new opportunities for companies that need to become "more digital', in order to capture value from innovation and enhance performance. Students will learn how to integrate digital technologies and strategies into traditional organizations and how to develop a successful digital transformation plan, based on the company's needs.
Global Finance and Risk Management
Key global financial issues, like financial risk and the operations of multinational companies, influence the way companies build their global business networks, their activities, and strategies. Companies leaders must be able to analyze the elements influencing foreign exchange rate risk and the factors that determine global and regional financial stability.
Leadership
The complexity of the global environment affects local, national, and international organizations, and leaders are required to expand their mindset according to future digital trends and innovation. Students of the Master develop a global managerial approach and analyze critical elements like passion and conflict resolution to become successful leaders in the global environment
Innovation Management
The internationalization and globalization of products and services are subject to competition and change. Students explore diverse managerial styles and discover how to develop a strategic view of the entire company to gain a competitive advantage. They learn how to identify the key drivers of innovation and plan the necessary change for the company
A practical career preparation to face the digital economy
Digital Business Transformation is affecting the global business and every industry and manager is required to be able to develop innovative products, services, processes, and models based on efficient managerial strategies. Graduates from the Master develop the competencies and skills to work in multinational companies, in a global business environment with a cross-cultural landscape. They acquire the professional skills to excel in strategic level positions such as:
Director of Business Development
Management Control Manager
Corporate Financial Analyst
Financial Director
International sale manager
Digital Transformation manager
Business Innovation Strategist
Business Intelligence Manager
A fully online study model
The Master can be attended completely online through the online platform "MIA University Campus" where you can find the video - classes recorded by the professors, the webinars in real-time when you have the opportunity to interact with your peers and instructors, the case studies and the other study and assessment material. The online study material includes:
Video-lessons and teaching material available on the online MIA platform accessible 24/7 from different devices (PC, smartphones, tablets)
Power-point presentations that summarize the main contents of the video-lessons available for download on the platform
In-depth contents about the main topics of the various modules
Articles and case studies on relevant topics related to the course
Interactive assessment, tests, and case studies to be solved by the students
Webinars in real-time and discussion forums
Final project work developed with the coordination of the Academic Director
Starting dates:
Spring Semester: January 7, 2021 – February 19, 2021
Summer semester: May 14, 2021
Tuition:
€ 3,900.00
Admissions:
Our admissions department is here to guide you through the admissions process. You can contact our admissions office at: admissions@maiuniversity.es to receive a full orientation about the program and the admissions policy and requirements.
Scholarship Program
The University scholarship program includes scholarships of 30% and 50%dedicated to qualified students. In order to apply for the scholarship, students are required to send the following documents to the admissions office at: admissions@miauniversity.es
Copy of ID
Copy of bachelor degree diploma
Curriculum Vitae
Scholarship application form
The University offers students the possibility to pay their tuition in 4 or 5 installments during the 12 months thanks to a personalized study plan.
Last updated Nov 2020
About the School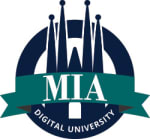 MIA – Digital University is an international business school specialized in Master and Certificate and Executive training program based on the use of innovative educational and technological tools. Th ... Read More
MIA – Digital University is an international business school specialized in Master and Certificate and Executive training program based on the use of innovative educational and technological tools. The University mission is to provide students with high-level professional skills to allow them to become future leaders, entrepreneurs, and managers. The Master, Certificate and Executive programs dedicated to young students, professionals and leaders have a strong international component to provide a comprehensive view of the global business, of the main emerging economic sectors and of the digital technologies and systems.
Read less