Program Description
The Global MBA is an intensive training program preparing students to work in an international environment. The Master is specifically designed for high achieving individuals who want to acquire a global perspective of business and finance and learn how to apply management strategies, ethics, and human resources in any size organization.
Through a multidisciplinary curriculum that covers international business, finance, law, and policy, the master provides the knowledge to apply advanced business strategy in a global context and the skills to manage the complex business, taking into consideration the business risks associated with political, social and environmental conditions. The program is focused on practical application and case studies, allowing students to develop critical thinking and deepen their skills through real-life scenarios.
Objectives
The Master has the objective of providing specialized training to face the challenges of modern business, presenting the most advanced techniques in business management and leadership. In particular, participants will acquire the skills to:
Understand the problems of the company with a global vision.
Manage the different functional areas based on business objectives and strategies.
Develop management skills and the ability to work in teams and manage work teams.
At the end of the program, graduates will be able to:
Develop innovative approaches to solve contemporary business problems.
Effectively communicate with teams and colleagues through different media.
Identify appropriate leadership styles.
Successfully manage and motivate people.
Manage activities and operations.
Engage effectively with stakeholders.
Career Opportunities
There are a number of opportunities a graduate with a Global MBA degree could consider pursuing ranging from consultant level roles to managerial roles and directorships.
Several of the roles you may consider include: international trade policy advisor, global management consultant, international sales manager, business development manager, and global marketing manager.
Graduates will develop specific skills useful for the following professional positions:
Responsible for general and industrial accounting
Management Control Manager
Corporate Financial Analyst
Head of internal audit and budget
Financial Area Director
Responsible Business Development
Program
The curriculum of the course provides students with the necessary skills and tools to advance their careers and to improve their managerial and decision-making skills. Thanks to international teachers and business professionals with a consolidated experience in administration and development, the Master offers a global view of business strategies, international finance principles, information technology management, leadership and human resources management, central issues for today's managers and executives. The theoretical classes are accompanied by practical application through case studies and simulations to ensure a comprehensive vision of business management.
The following courses are included in the Master:
MBA 510: Business Mathematics and Statistics
MBA 520: Managerial Accounting
MBA 530: International Business Administration
MBA 540: International Marketing
MBA 620: Global Finance System
MBA 630: Global Banking
MBA 640: Human Resources and Leadership
Project Work
Format
A fully online study model.
The Master can be attended completely online from your country through the online platform "MIA University Campus" where you can find the video – classes recorded by the professors, the webinars in real-time when you have the opportunity to interact with your peers and instructors, the case studies and the other study and assessment material. The online study material includes:
Video-lessons and teaching material available on the online MIA platform accessible 24/7 from different devices (PC, smartphones, tablets).
Power-point presentations that summarize the main contents of the video-lessons available for download on the platform.
In-depth content about the main topics of the various modules.
Articles and case studies on relevant topics related to the course.
Interactive assessment, tests, and case studies to be solved by the students.
Final project work developed with the coordination of the Academic Director.
Admission Process and Requirements
The Master is addressed to students and professionals holding a bachelor's degree.
The attendance of the Master is compatible with other enrollments in Bachelor, Master, Postgraduate Courses, Specialization Schools and Doctoral Programs, offered by other institutions.
| | |
| --- | --- |
| Duration | 12 months |
| Title | Master Global MBA |
| Cost | €3,900 |
| Language | English |
Scholarship and Financial Support
To apply for one of the scholarships offered by MIA Digital University it is necessary to send the following documents for evaluation of the scholarship committee:
Academic Degree and Program Access and Certified Notes/ Transcripts.
English language certificate. Applicants who do not have a language certificate of level B1 or B2 may take an exam offered free of charge by the University.
Updated curriculum vitae.
Copy of ID.
Cover letter describing the applicant's professional objectives (optional).
The University offers different payment installment plans based on the students' financial needs.
MIA Digital University Scholarship Program
MIA Digital University Scholarship Program includes a scholarship of 30% and 50% of the reduction of the total tuition of the Master programs to the most qualified and talented students.
In order to apply for the Master scholarship, students must send the following documents to admissions@miauniversity.es
Copy of ID
Copy of Bachelor degree and official transcripts
Curriculum Vitae/ Resume
Last updated Jun 2020
About the School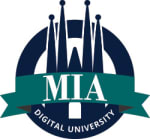 MIA – Digital University is an international business school specialized in Master and Certificate and Executive training program based on the use of innovative educational and technological tools. Th ... Read More
MIA – Digital University is an international business school specialized in Master and Certificate and Executive training program based on the use of innovative educational and technological tools. The University mission is to provide students with high-level professional skills to allow them to become future leaders, entrepreneurs, and managers. The Master, Certificate and Executive programs dedicated to young students, professionals and leaders have a strong international component to provide a comprehensive view of the global business, of the main emerging economic sectors and of the digital technologies and systems.
Read less