MSc in Renewable Energy Online
Program Description
Renewable energy plays an ever increasing role in worldwide energy supply. Experts are requested all over the world for the rearrangement of existing energy supply systems as well as for the development and implementation of new innovative and sustainable energy systems.
What are the main challenges for future energy supply? Which technologies are most relevant? What kind of knowledge and skills are specially required?
Those are the questions we asked international students and graduates from Renewable Energy Master programmes. Have a look at their answers and get an impression of our new Renewable Energy Online (REO) programme:
REO at a Glance:
The REO master's programme qualifies you in the field of renewable energy technologies, systems and sustainability. REO is aiming for engineers and natural scientists with a first university degree and at least one year of professional experience. It is an English-language, part-time study programme, which is especially suitable for students who are not able to study in Germany, e.g. due to job obligations or family duties.
The curriculum comprises 120 ECTS credits of mainly online study, including two on-campus periods. The regular study time is 7 semesters with a workload of approximately 20 hours per week. Due to its modular design, the REO curriculum can be adapted flexibly to your individual life situation.
Courses start every October, application is possible online from June through August.
After finalising the programme, you will be able to work as a Renewable Energy expert in a self-organised, interdisciplinary, problem-oriented, responsible and scientific manner, to present results in a structured format and to critically reflect on them. Prospective employers are e.g. companies, governments, academia and development cooperation organisations.
Curriculum
Curriculum Renewable Energy Online
The curriculum of the study programme consists of different types of modules: Core Modules, Technology Orientation Modules, System Orientation Modules and Social Science Orientation Modules. Some of the modules are mandatory and some are elective. On the one hand, we provide sound information in Renewable Energy, on the other hand, you are able to follow your individual interests.
Core Modules
The study programme contains four mandatory 'Core Modules' where you acquire the fundamental competencies in the most important fields of Renewable Energy.
Renewable Energy Basics (MANDATORY)
Renewable Energy Laboratories and Excursion (MANDATORY)
Introduction to Renewable Energy Resources and Systems (MANDATORY)
Simulation and Laboratory (MANDATORY)
Technology Orientation
The modules of the technology orientation provide the necessary fundamentals of wind energy, photovoltaics, energy storage and further renewable energy technologies. In order to further specialize in a selected technology, you can choose up to three elective modules in wind energy or photovoltaics.
Wind Energy Fundamentals and Wind Farm Design (MANDATORY)
Design and Simulation of Wind Turbines (ELECTIVE)
Fluid Dynamics (ELECTIVE)
Computational Fluid Dynamics (ELECTIVE)
Basics of Photovoltaics (MANDATORY)
Solar Resources and Systems (ELECTIVE)
Energy Storage (MANDATORY)
Selected Technologies of Renewable Energy (MANDATORY)
System Orientation
The modules of the "System Orientation" introduce you to the foundations of grid integration and decentralized electrification. You may choose one or two specialization modules in order to work on real-world projects with a focus on grid integration or off-grid electrification.
Grid-Connected and Off-Grid RE Systems (MANDATORY)
Off-Grid Electrification Project (ELECTIVE)
Grid Integration Project (ELECTIVE)
Social Science Orientation
The Social Science Orientation introduces you to social science and economic theories and methods in order to put Renewable Energy into a societal context and discuss the sustainability of Renewable Energy.
Energy and Society (MANDATORY)
Renewable Energy and Sustainability (MANDATORY)
Application
Application for the upcoming winter semester 2019/2020 is now open for international students! Please submit your application via uni-assist until 31 July 2019.
If you have a degree from a German university, please apply directly at the University of Oldenburg. In this case, application will be possible from May through September 2019.
The application process is divided into four steps:
Check the application requirements:

First academic degree (bachelor or adequate degree) from a university
Minimum one year of professional experience
English language level B2 according to

Submit your application online, including the following documents:


Certified Copies of diplomas and certificates
Proof of professional experience (e.g. working contract or certificate)
Proof of English language level (not required for native speakers or if you have a degree from an English-language programme)
If you have a degree from a German university, please submit your documents directly to the University of Oldenburg (possible from May 2019). If you completed your first studies outside Germany, please apply via uni-assist until 31 May 2019.
Please note that you need to provide certified English or German translations of your documents if the originals are in another language.

Selection process

Immediately after the application deadline, the Admission Committee examines the fulfillment of admission requirements. If you meet all requirements, you will be admitted to the programme.

Accept your study place and enroll at the university

After the Admission Committee has verified your application, you will be informed about the decision. Subsequently, you need to confirm that you accept your place and submit an application for enrollment to the Registrar's Office of the University of Oldenburg.
Fees
The master programme Renewable Energy Online consists of 16 modules. The fees are calculated per module and can be found in the table below. If you are eligible for the acknowledgment of competences based on your prior studies or practical experience, you may need fewer modules.
The module price contains:
Participation in the module
Access to the C3LLO learning platform and technical support
Study materials for the module
Intensive supervision of our teachers
Personal guidance by the management team
Access to university facilities, e.g. library
Execution of exams
Participation in on-campus periods including accommodation and catering
You only pay for your actual modules, the total fee is reduced by prior competences which are acknowledged in the form of modules. You may also reduce the fees by booking module packages according to the following scheme:
1 module: 1,250 EUR
3 modules (1 semester): 3,750 EUR / Package price: 3,500 EUR / Allowance: 6.7 %
6 modules (1 year): 7,500 EUR / Package price: 6,500 EUR / Allowance: 13.3 %
16 modules (complete course): 20,000 EUR / Package price: 16,000 EUR / Allowance: 20.0 %
In addition to the module fees, the University of Oldenburg raises a semester fee, which is currently 168.90 EUR.
PAYMENT OPTIONS
Flexible payment options make it easier for you to complete the master's program. In addition to the booking of individual modules, you may book module packages. You can choose the following payment methods:
You pay the fees by invoice. Each module is invoiced individually at the beginning and the fees are distributed over the duration of the study.
With the binding booking of module packages or the complete study program, you receive a price advantage. The fees for the package booking are to be paid with the first module.
C3LLO Online Learning Management System
The online learning management system C3LLO serves as a virtual campus for Renewable Energy Online. It enables a time-flexible and location-independent study programme. C3LLO has been developed at the C3L Center for Lifelong Learning at the University of Oldenburg and has since been used in a variety of educational programmes both inside and outside the university.
All online phases of Renewable Energy Online are supported by C3LLO. You can contact the teachers and other participants at any time, ask questions, work on assignments and participate in discussions. In addition, the system provides the study materials and supporting documents and supports the self-learning process through exercises and tasks.
C3LLO FEATURES
In addition to features such as discussion board and file storage, C3LLO provides optimal support for time-independent group work, tasks, online classroom, and easy management of exam results.
C3LLO is tailored to the needs of part-time students with a limited time budget. The learning process is optimally supported by a clear structure without disturbing elements. You can concentrate on the content and do not waste time with complicated technology.
TECHNICAL REQUIREMENTS
In order to participate in the master's program Renewable Energy Online, you need neither fancy technical equipment nor excellent computer skills. Sufficient is:
A computer or notebook with broadband internet (DSL)
Actual browser (eg Firefox or Chrome) with installed Flash player
Standard software, e.g. Word, PowerPoint
Headset
Before starting your master's programme, you will get access to the C3LLO online learning platform and become familiar with the technical requirements of the master's programme.
Last updated Sep 2019
About the School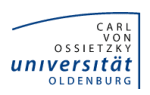 The Carl von Ossietzky University of Oldenburg was founded in 1973, making it one of Germany's young universities. Its goal is to find answers to the major challenges society faces in the 21st century ... Read More
The Carl von Ossietzky University of Oldenburg was founded in 1973, making it one of Germany's young universities. Its goal is to find answers to the major challenges society faces in the 21st century – through interdisciplinary, cutting-edge research.
Read less