MSc Behavioral Psychology and Organizational Psychology
Home ›
MSc ›
MSc Behavioral Psychology and Organizational Psychology
Read more about this program on the school's website
Program Description
| | | |
| --- | --- | --- |
| Science for experienced professionals without a first degree or without a Bachelor | Development of key competencies Master's degree through distance learning | Trends and research topics of the future Behavioral and organizational psychology |
| Imparting the necessary business and psychological knowledge to enable a comprehensive understanding and a strategic orientation towards tasks in the context of one's own professional activity as well as to acquire current and practice-oriented specialist knowledge and to transfer it to relevant questions of professional practice. | Students are enabled to act efficiently by deepening their knowledge of business psychology, further developing their communication and negotiation skills and expanding their own skills through the use of current approaches and methods. | Discussion of current research and application topics as well as questions about the topic "Future workplace" to strengthen your own analytical and argumentative skills and to develop a better understanding of how occupational psychology will develop in the future. |

Who is this Masters course designed for?
The master's degree is aimed at managers and decision-makers from the areas of social affairs, business and management as well as specialists from various areas who want to develop and expand their knowledge for the future and at the same time want to scientifically substantiate their profession.
Learning concept of the distance learning program
High practical relevance Innovative distance learning | Individual and professional student support
The learning concept of the MSc Behavioral and Organizational Psychology is characterized by its high relation to practical content as well as innovative teaching and learning methods. The design as a pure distance learning means the optimal alignment to the needs of the target group.
The combination of guided self-study, individual student support and e-learning units offers students the opportunity to study anywhere, anytime, based on their own professional requirements and needs.
The use of modern e-learning components guarantees students interactive learning, the clear presentation and discussion of abstract content. Interactive webinars and discussions in virtual space promote the integration of theoretical foundations and methods into professional practice. The use of a virtual tutorial in the form of an online learning platform enables flexible and network-like knowledge transfer, which can be optimally varied and adapted according to individual learning needs and progress.
The provision of the preserves of all interactive live offers such as webinars or online lectures as well as all learning material in electronic form facilitates the knowledge management and asynchronous learning for the students in a learning group with different professional framework conditions and freedom. In addition, this means easier and time-independent documentation and repetition of the course content.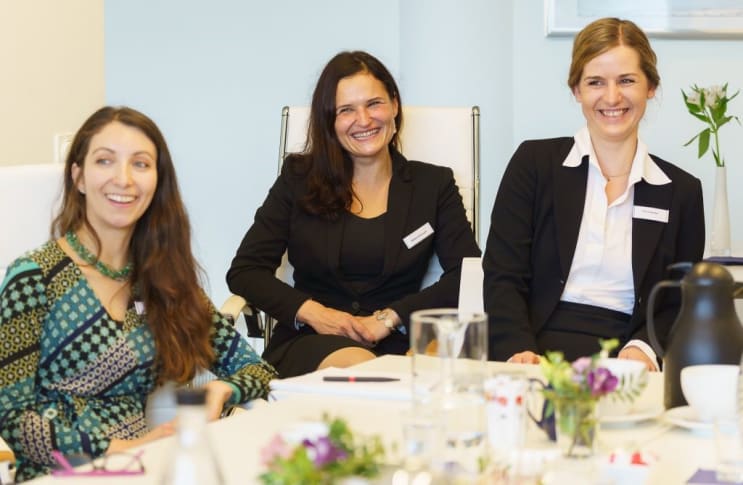 Training focus
The content and structure of the master's program support a practice-oriented understanding of behavioral psychology and organizational psychology. Based on the introduction to the basics of the course, occupational psychological content and skills are systematically imparted. The following modules aim to link the knowledge acquired in the previous module analytically in order to expand the understanding of the participants and prepare them for the following module.
Depending on professional requirements and areas of responsibility, the students develop a theoretical understanding and related skills in the field of industrial psychology.
focus
The content of the one-year master's program is based on the following seven priorities:
Basics of industrial psychology research

Fundamentals of scientific work, methodological skills
Qualified literature research
Critical handling of scientific publications
Source work with APA citation standards
Strategy from idea to concept
Surveys and evaluations
Empirical studies (with a focus on qualitative research)

Psychology of the individual: personality and intelligence
Personality traits and temperament
Skills and emotional intelligence
Professional capacity and motivation to perform
Basics of industrial psychology
History and contemporary trends in industrial psychology
Career paths in industrial psychology
Theories of industrial psychology
Tools: selection, evaluation, psychological tests in companies
Mental and physical well-being in the workplace
Job satisfaction, work commitment and performance
Stress and strain at work
Work-life balance
Prevention and interventions in healthy organizations (e.g. stress, bullying)
Social Psychology: Interpersonal Relationships and Group Dynamics
communication
Conflicts and conflict management
Workplace relationships
Group dynamics and teamwork
People and organizational management
Leadership: Theories, styles and strategies of leadership
Motivation theories and motivational techniques
Project and process management
Corporate culture
Personnel development: training and support
Corporate culture: socialization, promotion of corporate identity
Organizational development and change
Training focus of the master's program "MSc Behavioral and Organizational Psychology"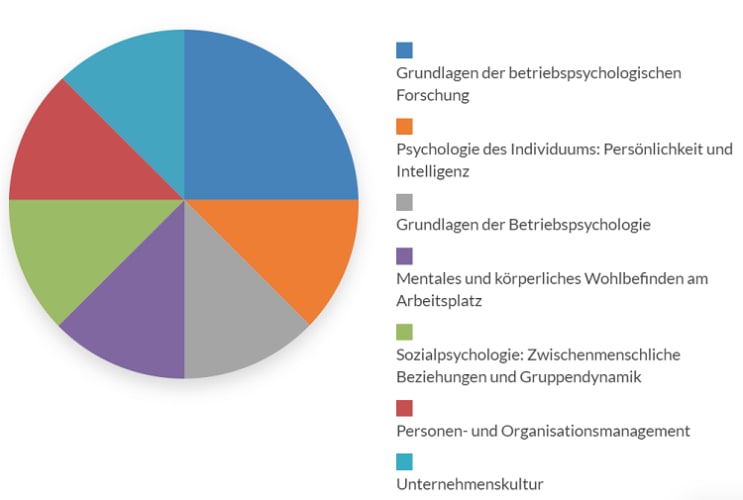 © Academic Institute for Psychology
entry requirements
First degree (at least Bachelor) from a recognized Austrian, German or comparable foreign university and at least one year of professional experience
or
Completed, qualified vocational training and at least six years of relevant professional experience - including at least one year with management or project management experience - are regarded as equivalent to the first university degree (without a first degree / without a Bachelor).
In addition, the following additional qualifications are desired: Knowledge in the field of psychology (e.g. clinical psychology, social psychology, business psychology), leadership, coaching, NLP, systemic counseling, interviewing.
All those interested, whether with or without a first degree, will be checked for their suitability for this master's degree in a 20-minute phone call. If you do not have a first academic degree, take a written admission test and a short telephone entrance exam.
costs
Tuition fee including tuition fee 794.88 euros per month (exempt from VAT) x 12 months. Please note that there are no travel and accommodation costs, since presences take place exclusively online.
ALP GmbH does not offer scholarships.
ALP GmbH cannot advise on country-specific funding opportunities.
Further information is available on our website www.alp-lehrinstitut.de and in our ALP portal: https://portal.akademisches-lehrinstitut-psychologie.de/register
Last updated Apr 2020
About the School

The ALP Akademisches Lehrinstitut für Psychologie GmbH offers modern, creative and innovative distance learning courses and further education in the field of psychology. And this for more than 14 year ... Read More
The ALP Akademisches Lehrinstitut für Psychologie GmbH offers modern, creative and innovative distance learning courses and further education in the field of psychology. And this for more than 14 years. Online Master's programs with practical relevance and skilful didactics. Exciting, scientific and practice-oriented at the same time. In exceptional cases, professionals have the opportunity to be admitted to the Master's programs without a first degree (without a Bachelor's degree).
Read less