MS in Digital Marketing and media
Home ›
MSc ›
MS in Digital Marketing and media
Read more about this program on the school's website
Program Description
During the past decade, digital marketing and media has shifted from a niche skill set to mandatory domain of competence for marketing professionals. With over 2 billion people on social media worldwide and Google being responsible for 96 percent of all smartphone search traffic, it seems the marketing landscape is quickly turning digital. This transformation is creating exciting, well-paying careers for marketers who possess in-demand digital marketing skills. In New York City alone, there are tens of thousands of current job openings in digital and social media, and more than 25,000 positions in marketing and marketing analytics.
To prepare students for careers in these industries, the program draws from media and design, communications, social science, and information systems fields. Students will complete a project-based curriculum designed to develop strategic thinkers, doers, and most importantly, the marketers of tomorrow.
In this program, students will:
Master social media marketing, SEM, SEO, mobile, email, content and video marketing methods
Create data-driven insights and KPIs using the latest tools and techniques in marketing analytics such as Google Trends, Google Analytics, R, and Tableau
Work on projects for real startups through the YU Innovation Lab
Learn the intricacies of marketing management and working with vendors
Study with the industry-leading professors and build a professional network in New York City
Scholarships are available.
Curriculum
The flexible 30-credit program is designed to allow students to work while completing their degree with online and on-campus course options. Students have the freedom to take only courses which interest them and create their own path within the program.
Degree Requirements
Students can choose from two tracks:
Digital and Social Strategies
Marketing Analytics
All students take six core courses (18 credits), including an individualized, project-based capstone course through the YU Innovation Lab:
Core Courses
Marketing Management and Strategy
Consumer Research Methods
Communications
Brand Management
Consumer Behavior and Customer Relationship Management
Capstone
Digital and Social Strategies Track Electives
Applied Social Media
Digital Storytelling
Web Design and User Experience
Web Analytics and SEO
Special Topics
Independent Study
Internship
Marketing Analytics Track Electives
Structured Data Management
Predictive Analytics
Visual Design and Storytelling
Web Analytics and SEO
Special Topics
Independent Study
Internship
Who Should Apply
The masters in Digital Marketing and Media is ideal for those seeking to gain mastery over marketing principles and the skills to apply them to marketing strategy.
Our marketing master's opens doors for early and mid-career marketers, recent graduates, and career changers seeking to become leaders in marketing management. Students come from a range of backgrounds including, but not limited to, graphic design, social media, journalism, photography, and video production.
Careers
Graduates of the program will be prepared for careers such as
Marketing Director,

Creative Director,

Digital Marketing Manager,

SEO/SEM Manager,

Sales Manager,

Brand Manager,

Product Development Manager,

Public Relations Manager,

Market Research Analyst,

and more.
Program Director
Maria Blekher, MBA, Ph.D., Director of MS in Marketing
Part of the Katz founding team, Dr. Blekher holds an MBA and a Ph.D. in Marketing from the Ben-Gurion University of the Negev in Israel. Dr. Blekher believes that knowledge has the power to create change and should be used and hands on. She developed the unique course Business in the Israeli Environment for the Sy Syms School of Business where she also teaches Principles of Marketing and Marketing Research. She has also taught in the departments of Management, Business Administration, and Industrial Engineering Management at both the graduate and undergraduate level at Ben-Gurion University. Dr. Blekher is the founder of MadeInIsrael.Info—an online educational platform that connects the American Jewish community to Israel by providing information about Israeli business and brands.
Admissions
Successful candidates for the online MS in Digital Marketing and Media program must possess a bachelor's degree from an accredited college or university. Applicants must complete the online application and submit the following:
Official transcripts from all universities attended

Personal Statement describing your goals and your commitment to contribute to and complete the MS program

Two academic or professional recommendation letters

TOEFL scores (for non-native speakers)
Last updated Oct 2019
About the School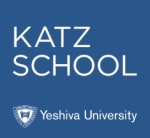 The Katz School at Yeshiva University gives students the opportunity to further their intellectual and professional pursuits and become a part of one of U.S. News and World Report's top 80 universitie ... Read More
The Katz School at Yeshiva University gives students the opportunity to further their intellectual and professional pursuits and become a part of one of U.S. News and World Report's top 80 universities in the United States.
Read less