MBA in International Logistics & Trade
Home ›
MBA ›
MBA in International Logistics & Trade
Program Description
The online MBA course in International Logistics and Trade is a part-time programme from the Wismar University of Applied Sciences: Technology, Business, and Design (Germany).
Trade and logistics are among the largest economic sectors worldwide and highly complex. Business models and value chains are currently experiencing rapid change and digitization is creating new opportunities for mobility. Networks are becoming more intensive, while markets and trade flows are shifting. In addition, modern logistics has to cope with new challenges due to the collapse in the global world order. Climate change is putting the logistics industry under considerable pressure to innovate. Anyone who wants to enter into management here needs years of industry experience and sound specialist knowledge.
The part-time course MBA Logistics and Trade prepares you in an optimally way for the next career steps in the logistics industry. It is international in its alignment, it sits at the interface between trade and logistics, it is in English and can be studied worldwide. Via the myWINGS online campus and the study app, for the first time, professionals for example from Europe, Asia, South Africa, and Latin America can study together in one study group.
Internationally experienced professors and lecturers from Germany, Austria, Italy, and India convey the teaching content via interactive video lectures and live tutorials. The attendance seminars also offer you the opportunity to expand your skills and your personal network. bremenports provides practical relevance. As the infrastructure manager of the global ports of Bremen and Bremerhaven, bremenports brings its first-hand expertise into teaching.
"Together with WINGS, a renowned distance learning provider, we have designed the first internationally oriented part-time courses for the logistics industry."
Robert Howe - Managing Director at bremenports
Your advantages at a glance
International university degree "Master of Business Administration (MBA)"
Part-time programme for professionals (mainly online)
Flexible and practical
In English and available worldwide
Multimedia video lectures (on demand)
Study app, learning platform, and live tutorials
Access to online libraries
Personal exchange and networking through attendance seminars in Berlin, Copenhagen, and Barcelona
Professional partner Bremenports GmbH & Co. KG
An international team of lecturers
Exclusive study groups and personal support

System Accreditation
Like all of our distance learning courses, the MBA International Logistics and Trade is integrated into the processes of the internal quality management system for teaching and studies at Wismar University of Applied Sciences.
Career Options
Trade and logistics, the industry of the future: The job prospects for highly qualified specialists and managers are better than ever. Here, personalities are sought who will actively accompany the upcoming changes shaping the industry. With the MBA International Logistics and Trade, you acquire the skills to recognize current global trends, translate these into successful corporate strategies, and to shape change. Our MBA programme provides you with specialized knowledge to enable you to respond to tomorrow's challenges of international trade and logistics in a targeted and successful manner.
If you are currently working as:
Business Development Manager
Supply Chain Manager
Key Account Manager Logistics and Trade
Category Manager
Organisational Development Manager
Manager of Strategic and International Affairs
Controller
Project manager
Procurement and Purchasing Manager
this online MBA programme might be very interesting and challenging for you and for your further career in the fields of international logistics and trade management.
Learn all about Global Trade, Society and the Environment, International General & Strategic Management, International Economics, Trade Finance, International Supply Chain Management, Data Analytics and Statistics in Information Systems, Business Processes, and New Business Models, Transition and Change Management.
Well-founded economic knowledge meets expertise that has been tried and tested in practice: The special focus of the MBA rests on the most important trend topics of the industry. Terms such as dematerialization, digitization, and political defragmentation as well as sustainability are placed in a corporate-economic context. Learn more about the complex inter-dependencies and expand your methodological and leadership skills. Besides economic thinking, controlling, project, and process management, today's transformation processes also require creativity, innovation, and agility.
Upon successful completion, you will receive the international university degree "Master of Business Administration (MBA)" from the Hochschule Wismar, University of Applied Sciences, Technology, Business, and Design. This will equip you for the international market and qualify you for a demanding management role. Anyone studying internationally today has the very best prospects of making a career in one of the world's largest industries.
Transportation routes
Trade - global value chains
Intermodal freight transport
Airfreight
Shipping
Sectors
Trade
Freight forwarding
Shipping lines
Terminal operators
Logistics companies
Freight forwarding
Ports and airports
Curriculum
The study modules and master thesis are evaluated according to international standards. A total of 90 credits (ECTS) is awarded. The study programme includes 15 modules over 4 semesters. Each semester concludes with a project workshop designed to summarise and apply the learned content. For students who need to gain 120 credits, we offer an optional semester with 30 additional credits.
The programme is taught in English. Throughout the programme, you are introduced to scenarios from your professional environment, identifying problems from the operational environment, and develop scientifically-based solutions. For further information about the content of the modules or qualification objectives please check the appropriate module in the next chapter.
Regular
| | | | |
| --- | --- | --- | --- |
| 1st Semester | Credits (ECTS) | 2nd Semester | Credits (ECTS) |
| International General and Strategic Management | 4 | Data Analytics and Statistics in Information Systems | 4 |
| International Economics | 4 | International Contract and Trade Law | 4 |
| Trade Finance | 4 | Transition and Change Management | 4 |
| International Supply Chain Management | 4 | Port Organisation and Management | 4 |
| Global Trade, the Society and the Environment | 4 | Digitalization, Business Processes, and New Business Models | 4 |
| 3rd Semester | Credits (ECTS) | 4th Semester | Credits (ECTS) |
| Academic Research and Writing | 4 | Master thesis | 30 |
| International Tax and Customs Strategy | 4 | | |
| Public Relations and Stakeholder Management | 4 | | |
| Green Shipping and Sustainable Logistics | 4 | | |
| Leadership and Innovation | 4 | | |
Credits (ECTS) in Total: 90
Optional
| | |
| --- | --- |
| Additional Modules | Credits (ECTS) |
| Intercultural Studies | 6 |
| Business Communication | 6 |
| Business Simulation | 4 |
| Transfer Project | 10 |
| Excursion | 4 |
Bachelor graduates with 180 credit points have the opportunity to acquire a further 30 credits in order to be admitted in an additional semester.
Credits (ECTS) in Total >> regular + optional: 120
For more information, please contact your course coordinator
Study Concept
With our flexible part-time MBA programme International Logistics and Trade, we offer you high-quality academic education using state-of-the-art multimedia communication and e-learning tools.
Our professors at Wismar University and the lecturers from the business world design and lead your courses and thus guarantee the highest academic quality.
Examinations in online modules
You can choose from several examination days per semester. The examination days take place exclusively at weekends. You can take your examinations in the online modules flexibly at one of our 16 examination locations, or worldwide at Goethe Institutes, partner universities, embassies, or public institutions. If required, you are also allowed to complete the exams at other locations.
Workshops (on-site)
Your workshops will take place on one weekend per semester.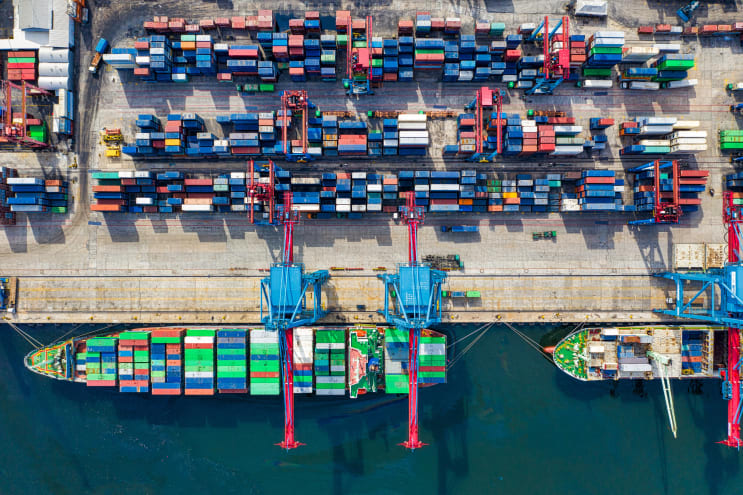 Admission requirements
We welcome applications from students of all nationalities. Given its specific character, the programme is addressed to employees and interested parties of the international economy and logistics.
To be admitted to the part-time MBA programme International Logistics & Trade, the following requirements must be fulfilled: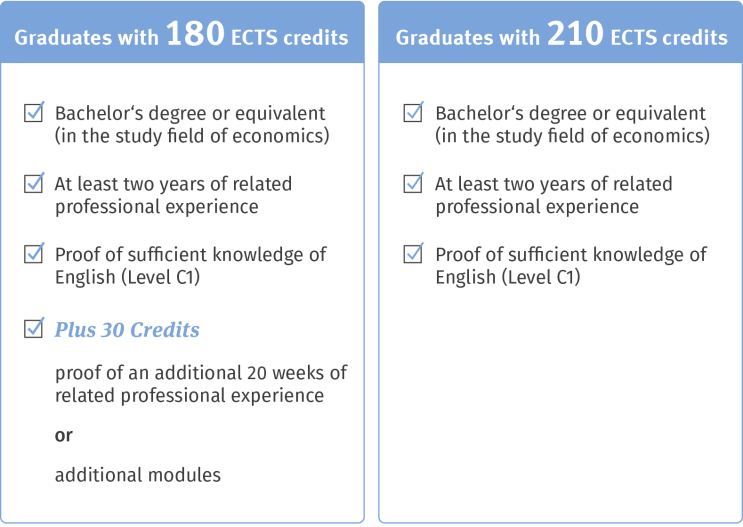 Proof of appropriate English knowledge
Applicants whose­ native language is not English have to demonstrate, through appropriate proficiency examination, that they can complete­ their studies in English, e. g. TOEFL test with a minimum certification of level C1.
We would be happy to check your individual admission requirements against the background of your personal situation.
All documents need to be written in English or German.
Fees and Financing
The tuition fee of EUR 2,950 EUR* per semester includes all services related to your part-time MBA course International Logistics & Trade:
Comprehensive study material (scripts, specialist literature)
E-learning platform myWINGS & study app
Workshops in Berlin, Copenhagen, and Barcelona (including catering)
Examinations in the online modules
Access to online libraries
Personal study support
Upon request, we can offer you payment by installments.
*Introductory offer for the winter semester 2020/21
Private Financing
Our distance learning course is designed to meet the needs of professionals. So you can complete the distance learning course alongside your job and maintain your financial leeway. The state supports your further education through individual tax relief. Depending on your personal income and your professional situation, you may be able to deduct the costs of your distance learning as tax-deductible income-related expenses or special expenses and thus be partially reimbursed for them. Please contact your tax advisor or your responsible tax office for sound advice.
Discount for Alumni
Graduates of WINGS receive a 10% reduction on the semester or course fees for all online and distance learning courses and further education.
German scholarship for distance learning students
The German scholarship is granted independent of income, e.g. in addition to BAföG support. The university at which the student is studying decides on the award, which takes into account not only good grades but also social commitment, special personal achievements, and the social and family situation. As a WINGS distance learning student, you can apply for the Germany scholarship of Wismar University of Applied Sciences. You can find more information on our page German scholarship.
Financing by the Employer
Many companies support further training of their employees by giving them a leave of absence or financial support. Within the framework of individual agreements, there is the possibility of integrating your qualification goal into the personnel development concept. Furthermore, for members of the Bundeswehr, funding by the BFD is possible.
Further financing and funding opportunities
You can learn more about this in our Financing guide for distance learning with the following contents:
Save tax by distance learning (special expenses, advertising costs)
Cross-border grants (BAföG, education premium, education loan, scholarships)
Country-specific subsidies (education check, qualification check, further education check)
Support for temporary soldiers
Personal study counseling
Last updated Jul 2020
About the School

WINGS – Wismar International Graduation Services – a subsidiary company of Wismar University (Germany) - offers part-time programs and certified further education for professionals. The study programs ... Read More
WINGS – Wismar International Graduation Services – a subsidiary company of Wismar University (Germany) - offers part-time programs and certified further education for professionals. The study programs are offered in the fields of economy, technology, and design through which you can gain a higher public education degree such as a Bachelor's, Diploma, or Masters. WINGS was built upon this and was set up in 2004. The primary tasks are to develop, organize, and market part-time and further educational programs under the academic expertise of Wismar University.
Read less