Read more about this program on the school's website
Program Description
IUBH Corona Initiative - Study 100% Online - 66% Scholarship guaranteed

In addition to the 85% scholarship for students outside the EU, all EU students (including England) will now also be offered a scholarship of 66%. Scholarships are not available to students from Germany, Austria, and Switzerland at the current time.
MBA in IT Management
The bridge between management and technology.
Your door to the business world
Information is the most important capital for businesses. But who decides what information is valuable? How do you get the best out of this information? And which technology can be useful? These are the questions answered by the IT Management specialists.
In our IT Management MBA, you will learn about the development and management of IT infrastructures, international project management concepts, and the implementation of IT services for internal stakeholders and clients. You will also learn the basics of software engineering and investigate topics such as IT compliance, data protection, and information security. In addition to expert know-how, you will deepen your knowledge in the area of general management.
A short overview of your study
Degree: Master of Business Administration (MBA)
Credits: 90 ECTS
Start of study: Anytime (no fixed start date or enrolment deadlines)
Study duration: a standard period of study: 18 months. Different time models possible
Study model: Online study including online exams 24/7
Post-study work option: 18 months post-study work visa, EU Blue card
Fees: starting from 439 euros per month* (with up to 13.000€ scholarships for non-EU students only). Scholarships are not available to students from Germany, Austria, and Switzerland at the current time.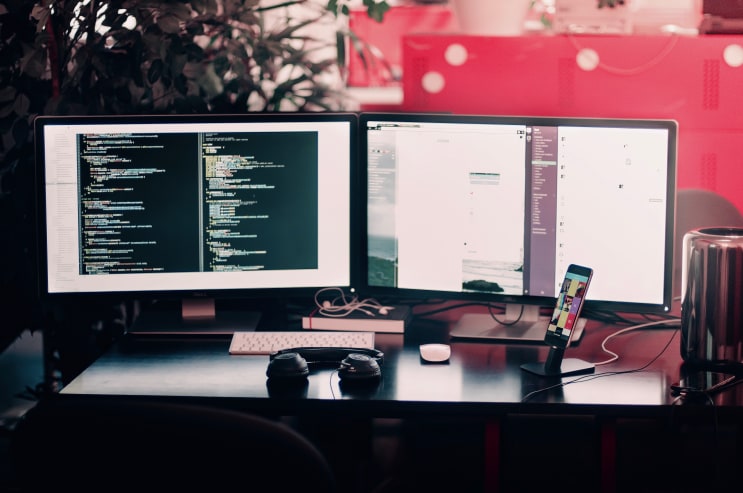 Let's get started
Apply
Secure your place at IUBH easily and without obligation using our form**. We'll then send you your study agreement. Do you want to save time and costs? Have your previous classes recognized!
Sign your study agreement and officially enroll
Send us your signed study agreement and supporting documents. After we've checked everything you will be officially enrolled.
Start studying
Begin your studies – flexible and structured with individual and small group support.
**All students are required to post their original, notarized, supporting documents such as degree certificates via post to our Berlin Campus. After the preliminary acceptance letter, students will have two months to send all their documents.
Why it's worth studying at IUBH
Study online & flexible
Wherever, whenever: With our digital learning materials and our on-demand online exams, we bring the lecture hall to your home.
Develop your international career
Our courses are taught in English, the course contents are tailored to work in an international environment.
Triple financial advantage
Save on tuition, profit from lower living expenses, and be able to work alongside your study.
Program Structure
The MBA with a specialism in IT Management will give you general management know-how and develop your individual methodical expertise:
You will deepen your knowledge in the areas of business management and leadership through academic and practice-oriented modules.
You will actively work on your soft skills such as communication skills and intercultural awareness.
You will receive an insight into the concepts of IT business management and information security.
You will learn about the art of deriving IT strategies from existing business processes.
You will investigate how important IT services can be implemented across various employees, departments, processes, and technologies.
Course Overview
1st semester
Leadership 5 ECTS
Innovation and Entrepreneurship 5 ECTS
International Marketing 5 ECTS
Performance Measurement 5 ECTS
Financial Management 5 ECTS
Managerial Economics 5 ECTS
2nd semester
Strategic Management 5 ECTS
Change Management 5 ECTS
Managing in a Global Economy 5 ECTS
Elective A - Introduction & Specialization 10 ECTS
Elective B - Introduction 5 ECTS
3rd semester
Elective B - Specialization 5 ECTS
Capstone Project 25 ECTS
Study Fees
The investment is worth it: your career perspectives
Europe, especially Germany, is in high demand for skilled professionals, which creates enormous career opportunities for you: Eager to attract immigrants to the country to offset a shortage of skilled labor due to demographic changes, the German government wants to attract well-educated immigrants, especially from technical fields such as IT, Engineering and Natural Sciences.
Distance Learning - 90 ECTS
Full-time: 844€/month
15.990€ Total fees*: 18 months
Part-time: 439€/month
16.605€ Total fees*: 36 months
Total fees without a scholarship. Scholarships are available for EU and international students (excluding the DACH region).
Your funding options
Studying at IUBH should be possible for anyone who is interested and money should not get in the way of education. That's why we support motivated and gifted applicants with high potential with a range of scholarships for Non-EU students only.
Scholarships available:
Women in Leadership & Management
STEM/MINT Professionals
Future Entrepreneur
Academic
Online Learner
Admission
Prerequisites for admission to the Master of Business Administration are:
Completed undergraduate study (210 ECTS for the 60 ECTS variants, 180 ECTS for the 90 ECTS variants) from a public or officially recognized university/higher education institution
Degree certification of at least "Befriedigend" [lower second equivalent]
Proof of a minimum of two years of relevant work experience by the end of the study program
Proof of English skills for non-native speakers via TOEFL, IELTS, or Duolingo before commencing study:

TOEFL (minimum 80 points, within the last 2 years)
IELTS (minimum Level 6, within the last 2 years)
Duolingo English test (minimum 60 %, within the last 2 years): this can be taken anywhere at any time using your smartphone and costs $49. You can find out more information about the Duolingo test from our student advisory team.
Career Relevance
As IT manager you have one of the top in-demand positions that industry, public sector, and government have to offer. Whether you deal with information management in a department or with data center management in the worldwide operating enterprise, this fascinating role gives you the chance to gain unique insights into almost any domain of international organizations. With their in-depth entrepreneurial and management skills, IT management postgraduates have excellent prospects in a wide range of careers, such as technology management, IT consulting, change or project management, and business analysis.
Explore your options
Business consultancies and IT service providers, above all those with international business activities today already prefer to employ graduates from IUBH.
Last updated Jun 2020
Keystone scholarship
Discover the options our scholarship can give you
About the School

You want to start an international career in Europe and search for a flexible, affordable way to reach this goal? Our online Master's and MBA programs offer you an international orientation with a foc ... Read More
You want to start an international career in Europe and search for a flexible, affordable way to reach this goal? Our online Master's and MBA programs offer you an international orientation with a focus on business and general management competencies.
Read less