MBA in Finance & Accounting
Home ›
MBA ›
MBA in Finance & Accounting
Read more about this program on the institution's website
Program Description
IUBH University of Applied Sciences – Online: Scholarship Initiative: Save up to 80%!

IUBH Online wants to make it possible for anyone to take their chance in life. That is why they offer strong regional scholarships that vary in terms of cultural, social, educational or work experience background. All you have to do is to make use of the Scholarship Calculator on the school's website and wait for the student recruitment team to get back to you with your final result.

(Be aware that our scholarships are not available to students from Germany, Austria, and Switzerland)
MBA in Finance & Accounting
Your international career in finance.
Your door to the business world
Which projects are worth investing in? What is the actual value of a company? What instruments are available to measure the value of a company and assess financial markets? How can one ensure an optimal balance between the competing goals of liquidity, safety, yield, and growth?
Our MBA programme with a specialisation in Finance & Accounting offers answers to these and other complex questions on the topic of financing and investing. Upon completion of this programme, you will have a deep understanding of the capital structures of a corporation and have an awareness of important considerations when investing and undertaking necessary financing.
A short overview of your study
Degree: Master of Business Administration (MBA)
Credits: 90 ECTS
Start of study: Anytime (no fixed start date or enrolment deadlines)
Study duration: a Standard period of study: 18 months. Different time models possible
Study model: Online study including online exams 24/7
Post-study work option: 18 months post-study work visa, EU Blue card
Fees: starting from 533 euros per month* (with up to 13.000€ scholarships for non-EU students only). Scholarships are not available to students from Germany, Austria, and Switzerland at the current time.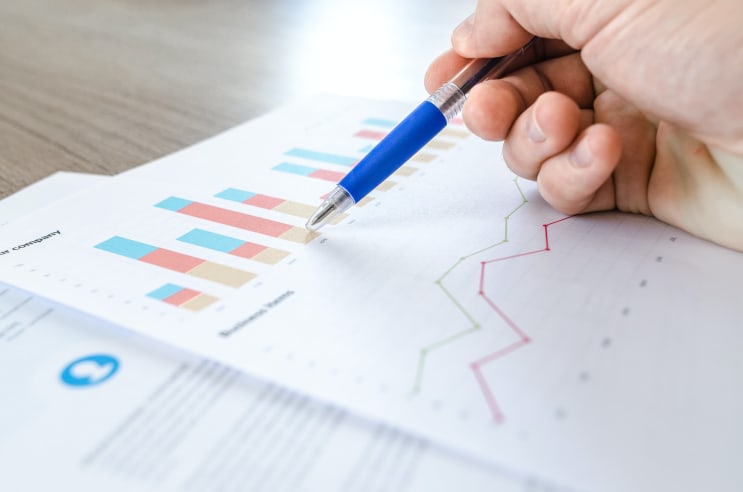 Let's get started
Apply
Secure your place at IUBH easily and without obligation using our form**. We'll then send you your study agreement. Do you want to save time and costs? Have your previous classes recognised!
Sign your study agreement and officially enrol
Send us your signed study agreement and supporting documents. After we've checked everything you will be officially enrolled.
Start studying
Begin your studies – flexible and structured with individual and small group support.
*All students are required to post their original, notarised, supporting documents such as degree certificates via post to our Berlin Campus. After the preliminary acceptance letter, students will have two months to send all their documents.
Why it's worth studying at IUBH
Study online & flexible
Wherever, whenever: With our digital learning materials and our on-demand online exams, we bring the lecture hall to your home.
Develop your international career
Our courses are taught in English, the course contents are tailored to work in an international environment.
Triple financial advantage
Save on tuition, profit from lower living expenses, and be able to work alongside your study.
Programme Structure
The MBA with a specialism in Finance & Accounting will prepare you for a career in the field of global financial markets and related areas.
You will deepen your knowledge in the areas of business management and leadership through academic and practice-oriented modules.
You will actively work on your soft skills such as communication skills and intercultural awareness.
You will develop skills in preparing and carrying out fiscal decisions on the international capital market.
You will learn to work with financing options on international capital markets as well as accounting in compliance with international standards.
You will obtain in-depth knowledge in the area of investment analysis and portfolio management to improve the financial performance of businesses.
Course Overview
1st semester
Leadership
Innovation and Entrepreneurship
International Marketing
Performance Measurement
Corporate Finance
Managerial Economics
2nd semester
Strategic Management
Business Ethics and Corporate Governance
Operations and Information Management
Elective A - Introduction: Advanced Corporate Finance
Elective A - Specialisation: Investment Analysis and Portfolio Management
Elective B - Introduction: advanced management Accounting & Control
3rd semester
Elective B - Specialisation: Current Issus in Accounting
Capstone Project
Time model
You can complete your MBA study in one and a half or three years. Study over a longer period of time means a reduced weekly workload. Study over three years is particularly suitable for those who already have a large workload or those who would like to reduce the monthly costs.
Admission
Academic Requirements:
Completed undergraduate study from a public or officially recognised university/higher education institution (180 ECTS for 1.5 years MBA and 240 ECTS for 1 year MBA).
A final grade of at least "Satisfactory" or grade C (as commonly used in the U.S and Canada).
Work Experience:
At least one-year work experience before the start of the IUBH Online Master programme (achieved after previous studies).
Plus: At least two years of work experience when you want to graduate.
English Level:
Proof of English skills.
If English is your native language or you graduated from an English-speaking school/university, you do not have to prove your English skills.
Career Relevance
Whether you want a career as a risk manager for an international sporting goods manufacturer, a management consultant in the financial service of a global car manufacturer, in financial controlling for one of the world's largest consultancies or as a compliance officer: a degree in Finance & Accounting helps you become an expert in financial planning and risk management, making you a valuable employee in a forward-looking industry.
Explore your options
The huge corporate demand for globally-oriented executives and IUBH's excellent reputation in academia and industry gives IUBH graduates huge leverage for a successful career, whether in their country of origin, in Germany, or one of 26 Schengen countries covered by a post-study work permit.
Last updated Nov 2020
About the School
You want to start an international career in Europe and search for a flexible, affordable way to reach this goal? Our online Master's and MBA programs offer you an international orientation with a foc ... Read More
You want to start an international career in Europe and search for a flexible, affordable way to reach this goal? Our online Master's and MBA programs offer you an international orientation with a focus on business and general management competencies.
Read less