MBA Specialty Digital Marketing and Sales
Home ›
MBA ›
MBA Specialty Digital Marketing and Sales
Program Description

MBA - Digital Marketing and Sales: general information
The MBA specialty Digital Marketing and Sales of EUschool is a high level professional training that provides the knowledge and the fundamental tools for the direction and management of business in an international business environment marked by Digital Transformation and Internet.
The MBA Online - Master in Business Administration and Management offers a global vision of business management based on detailed knowledge of cross-cutting areas common to the entire organization, such as strategic management, human resources, finance, marketing and sales . The Specialty in Digital Marketing and Online Sales is an essential complement for those managers who want to be in line with the new digital business models , in which innovation, differentiation and added value are essential to attract and retain the customer.
A manager, in addition to defining and setting policies and business strategies, must be able to implement online campaigns (communication, promotion and loyalty), master the necessary analytical means to track and measure the effectiveness of campaigns, establish a online sales and commercial plan , through the control of all the resources offered by the network for consumer knowledge and segmentation .
Online MBA: transversal subjects
Strategic management
Commercial and Marketing Management
Resource Address
Financial management

Introduction to strategic management
Strategy and strategic analysis
Selection of strategy in organizations
Preparation and implementation of strategic plans
Change management

Marketing and the marketing process
Strategic planning and market research
The Marketing Mix
Operational marketing tactics
Structure of the marketing plan and business plan

Organizational and Human Resources Bases
The strategic direction of Human Resources
Attraction, selection and development of talent
Performance management and compensation
Conciliation, diversity and inclusion

Financial planning
Operational finance
Structural finance and investment decisions
Risk analysis
Financial management
Specialty in Digital Marketing and Sales: Practical Approach
The online MBA in Digital Marketing and Sales of EUschool is taught by experts and active professionals from the world of digital business and Digital Marketing, who transfer their knowledge and experiences directly to students.
Throughout the online MBA , in the hands of renowned professionals, you will learn to create and manage an online store, position the company's website in search engines (SEO / SEM), design a social media plan and measure and analyze (with tools of web analytics like Google AdWords ) constantly results, among many other practical aspects.
New business models require a digital technological base! It's time to specialize with the MBA specialty Digital Marketing and Sales !
Digital environment
Customer Acquisition and Web Analytics
Social media
Digital Strategy and Marketing Plan

Introduction to the web The digital user
Creation and optimization of a web
Electronic commerce
Mobile Marketing
APPs and Geolocation strategy

Search engine strategy: SEO
Programmatic purchase
Email Marketing and Affiliation Marketing
Google Ads
Google Analytics

Management of social networks
Social analytics
Social network management tools
Community Manager functions
Campaigns in social networks
Social CRM

Brand creation and digital Branding
Digital sales tools
Digital Marketing Plan
Advanced Digital Marketing Plan
Online MBA with internships in companies
The online MBA in Digital Marketing and Sales offers a real opportunity to study an online MBA with internships in companies . All students of EUschool, including those outside Spain, can benefit from a period of international internships , from one to six months, in important companies and organizations based in Madrid.
International internships, or international internships, represent an excellent opportunity to apply the knowledge acquired during the online MBA , to know in first person the demands of the job, as well as to find a way into the labor market. For international students, the practices offer the experience of living and discovering Madrid, as well as seeing, from within, the ways of doing business in Spain.
Did you think that an online MBA with international internships was not possible? At EUschool we offer you this ideal complement for your training. From the Department of International Internships, we select the companies that best suit your area of work, with the aim of ensuring that the practical period is as profitable as possible for your professional career. Study an MBA specialization in Digital Marketing and Sales and do internships in marketing departments, sales departments or digital marketing agencies!
Modality and Methodology
Modality is online, with the option of an International Face-to-Face Week in Madrid.
The classes, with an eminently practical orientation, are followed through a virtual platform, with live online videoconferences. These classes are taught on Saturdays, being recorded for students who do not participate directly and want to follow the schedule at another time.
Throughout the week, students deepen their knowledge, applying it to their professional environment through the realization of exercises, case studies and forum.
Next editions
September 2020 to March 2021
Transversal subjects of MBA
March to September 2021
Specialty Classes Project Management
27 to July 31, 2020
Option to participate in the International Week in Madrid
Price and Scholarships
Payment Methods:
Course price: € 3,590
Reservation of registration: € 500 (Included in the total price)
10% discount for single payment
Possibility of split payment
EUschool is born with the vocation to offer quality training at affordable prices and we do not want the price to be an obstacle. You can request information about our aid in the mail: becas@euschool.es
Admission Process and Requirements
Students who wish to take the Master's degree should follow the following process:
Admission request:
Sending the registration form accompanied by the following documentation:

DNI, Passport or Residence Card.
Title of the studies carried out that of access to University Master's studies.
Authorization of data processing.
* For students who do not have a university degree, it is necessary to send a letter certifying professional experience.

Personal interview
Evaluation of the admissions committee: The candidate will be informed in writing of his admission.
Enrollment: Once the candidate has been admitted, he / she must make the reservation of the place, through the payment of tuition reservation.
International Week
Optional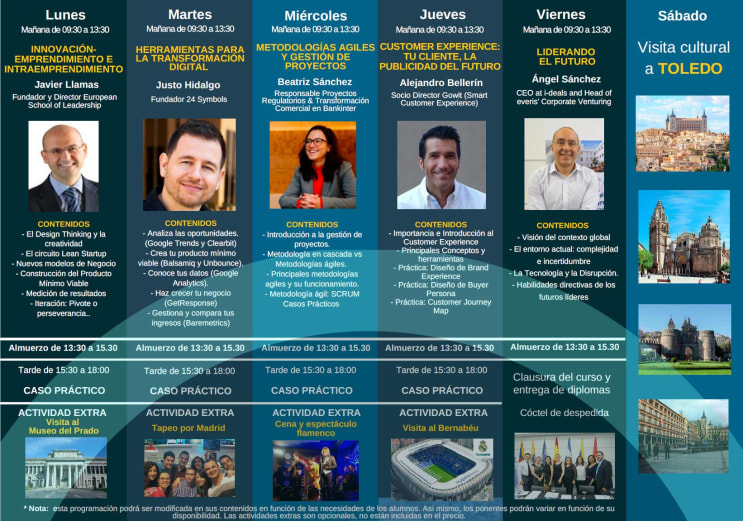 | | | | | | |
| --- | --- | --- | --- | --- | --- |
| Place | Dates | Schedule | Methodology | Title | Price |
| Headquarters EUschool Madrid | 27 to July 31, 2020 | From 9:30 to 13:00 and from 3:00 to 6:30 | On-site: Workshops and tools that are totally practical | Diploma of assistance | € 795 (Travel and accommodation not included, lunch included) |
Last updated Mar 2020
About the School
EUschool, es una Escuela de Negocios, con sede en Madrid, cuyo objetivo es ofrecer una formación internacional de calidad a precios accesibles.
EUschool, es una Escuela de Negocios, con sede en Madrid, cuyo objetivo es ofrecer una formación internacional de calidad a precios accesibles.
Read less