MBA Specialization in General Management
Home ›
MBA ›
MBA Specialization in General Management
Program Description
This MBA in General Management trains high level executives capable of making decisions in complex and changing environments , through an integrating vision and in-depth study of the different areas of the company and thanks to the development and implementation of knowledge, skills and aptitudes.
Double Degree Summa University
Thanks to the agreement between the European Graduate Institute and Summa University, you can study your graduate degree by obtaining an American Dual Degree with this program. The recognition and merit of both institutions offer a prestigious formation at an international level .
Why choose this MBA?
The learning methodology is based on the "case method", video classes, virtual classroom sessions and interactive exercises. In addition, the cloister is made up of professionals from the business world.
Because through the continuous resolution of practical cases you receive effective training to make sound decisions, assessing the risks and the scope of your actions.
Because you will be able to participate in a Simulation like closing of your Program, in which, in group, you will try to give the maximum profitability to the shareholders taking correct decisions for a fictitious company.
Because it will allow you to develop fundamental faculties for a manager such as the ability to analyze, organize or work in a team, leadership and negotiation skills.
Because it will give you a global vision of the company, which will allow you to design a comprehensive strategy in which all the decisive business areas are involved.
Program
Effective People Management (4 ECTS)
Strategic Marketing (3 ECTS)
Financial Accounting for Management (4 ECTS)
Strategic Communication (4 ECTS)
Financial and Investment Analysis: Business Valuation (3.5 ECTS)
Analysis of Costs in Decision Making (3 ECTS)
Commercial Management: Sales Management and Planning (3 ECTS)
Analysis of the Economic Environment (3.5 ECTS)
Strategic Management: Search for Competitive Excellence (4 ECTS)
Process Management (4 ECTS)
Business Financing (3 ECTS)
Management Instruments (3 ECTS)
Entrepreneurship and Business Plan (3 ECTS)
End of program project: Business Management Simulator (15 ECTS)
Proximity and personalization
The contact of students, teachers and tutors is continuous through the virtual platform, it will also have:
Total availability of materials 24 hours a day, 7 days a week.
Raising doubts at any time of the day.
Continuous communication through the discussion forums.
Thanks to this and the structure of the contents, the evaluation of the programs is fundamentally practical.
Testimonial
"My time in the MBA Program in General Management of the IEP has been rewarding and of great support for my professional and business life. The courses and tools provided by the IEP are dynamic and practical, which in my case, are serving me in the different management as a manager. " Juan Mundaca
Study aid - Financing
The Institute has a scholarship program that can cover up to 65% of the cost of tuition . In each call a limited number of scholarships are offered based on the personal, professional or economic situation of the candidates.
There are also special financing conditions, in order to help students to assume the cost of the course through a system of deferred payments.
Last updated Mar 2020
About the School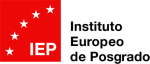 Based in Spain, the Instituto Europeo de Posgrado is a Business School that offers a wide range of Online MBA and Masters designed to meet the requirements of its students. Over 1 million hours of cla ... Read More
Based in Spain, the Instituto Europeo de Posgrado is a Business School that offers a wide range of Online MBA and Masters designed to meet the requirements of its students. Over 1 million hours of classes are given each year through its on-line platform to students from different countries by teachers of the most prestigious Universities and Business Schools. The On-line Campus allows both teachers and students to...
Read less