MBA, Masters, Medical, Legal, Nursing & Graduate School Admissions Consulting Program
Home ›
Courses ›
Nursing ›
MBA, Masters, Medical, Legal, Nursing & Graduate School Admissions Consulting Program
Read more about this program on the institution's website
Program Description
Are you thinking about or currently applying for an MBA?
Are you thinking about or currently applying to graduate school? (arts and sciences, accounting, architectural, law, medical, nursing programs, etc.)
Sign up here for a free, brief consultation to learn more about Grace Education and how we can help you on your path to academic and professional success.
Introduction
Grace Education offers digital, personalized, comprehensive professional admissions consulting and entry examination preparatory services to guide students through all phases of the college, MBA, masters, and graduate school admissions process (arts and sciences, accounting, architectural, engineering, law, medical, nursing programs, etc.) for nearly a decade.
With a 97% student admission success rate since its founding in 2012, Grace Education has helped hundreds of applicants gain admission to prestigious graduate school programs at Harvard, Yale, Stanford, Columbia, and MIT to name a few.
At Grace Education, we are more than a traditional one-time, single-service admissions consulting agency. Unlike no other admission consultancy, our consultants, and professionals from Harvard and other world-renown, international institutions continue to be present for our students long after they gain school admission. We are one of a few to offer formal professional career development, leadership coaching, and employment placement services. We have successfully placed candidates with promising start-ups, rising mid-level companies, and major fortune five-hundred enterprises including Apple, Google, Microsoft, and others.
Every academic choice and decision thereafter affect a student's future professional career. Our mission is to guide and coach students over their entire lives as they navigate their individual academic and professional progression.
Why Go with Grace Education Graduate Admissions Counseling?
Grace Education guarantees you that its team of experienced admissions coaches from Harvard and other prestigious institutions will provide the following services: An objective and critical review of your academic and professional profile.
Collaborative one-on-one brainstorming and step-by-step strategy design and execution with a personal coach for every aspect of your application.
Extensive and complete editing of your entire application to ensure that it is clear, excellent, grammar-error-free, and convincing. And more importantly, that it exemplifies your best you to admission committees.
Interview coaching, simulations, and constructive feedback to help you best communicate your academic talents, professional achievements, career objectives with clarity and poignancy to admission committees.
Future career management, leadership training, and employment placement advisory.
Testimonials
"Grace Education, simply put, is amazing! I had applied to business school previously and had been rejected across the board. Needless to say, I was filled with anxiety and doubt about reapplying. I had a million questions and concerns, and my consultant was always extremely responsive and honest. From the very start, she helped erase my doubt, reassuring me step by step with her combination of in-depth knowledge specific to each program and dedicated interest in helping me succeed. From recommendations to essays, she provided assistance to strengthen all aspects of my applications. She reinforced my goals and helped me focus on telling my story in a way that jumped off the page. When it came time to hit send again I felt confident that I had submitted my best possible applications." David, USA
"I would love to mention how pleased I was with Grace Education's law school admission consulting services.
Let me think through the points:
speedy essay edits, holidays did not interrupt the service
helping me to build my entrepreneurial brand
my consultant took the time to learn about my personality and helped me to pick "perfect fit" schools for me and talked me out of applying to schools which are not a good fit
helping me to build my confidence and encouraged to apply to the Big 4, while I was thinking to apply only to one of them
my consultant was a true mentor to me, who not only provided excellent service but also cultivated a true leader in me and changed my thought process to that of a leader." Nicole, USA
Last updated Oct 2020
About the School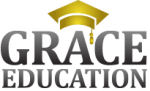 Admissions consulting, university entrance exam preparation, employment placement services, career management & leadership training for the long run.
Admissions consulting, university entrance exam preparation, employment placement services, career management & leadership training for the long run.
Read less