MBA Digital Marketing with Specialty in E-commerce or Sales
Home ›
MBA ›
MBA Digital Marketing with Specialty in E-commerce or Sales
Program Description
This MBA enables you to acquire a global and integrative vision of business management, through the treatment of different business areas at the same time that you study in-depth materials of Digital Marketing. In addition, it allows you to specialize in Sales or e-Commerce.
Double Degree Summa University
Thanks to the agreement between the European Graduate Institute and Summa University, you can study your graduate degree by obtaining an American Dual Degree with this program. The recognition and merit of both institutions offer a prestigious formation at an international level .
Why choose this MBA?
You will become a quoted professional, qualified to occupy managerial or intermediate positions, of Digital Marketing, learning, in a practical way and with the latest multimedia news, the strategies, techniques and tools of the online environment.
Because it will allow you to successfully face the challenge of digital transformation in organizations.
Because it will give you a global vision of the company and Digital Marketing, allowing you to understand the importance of this area in achieving the strategic objectives of the organization.
Because you will delve into the latest online marketing tools and trends and their commercial implications, through live sessions with expert speakers on innovative topics such as digital customer management, Big Data, Blockchain or recommendation models in e-Commerce.
Because, as the protagonist of your training, you can choose the itinerary in e-Commerce or in Sales, giving a stamp of value to your degree, and obtaining an additional diploma depending on the specialty chosen.
Because you will be trained by an expert-trainer selected by Google to obtain the Google AdWords Certification (Shopping Advertising).
Program
Common subjects
Leadership of Highly Efficient Teams
Digital Marketing
Inbound Marketing, Digital Advertising and Social Media Marketing
The CRM and the acquisition and management of clients. From e-mail marketing to affiliation
Mobile Marketing
Finance for business decision making
Positioning in search engines. Google Adwords SEO, SEM and PPC
Analytics, Data and Digital Research
Strategic Management: The Quest for Competitive Excellence
Entrepreneurship and Business Plan
TFM. Google Shopping Certification
Sales Itinerary
Digital Sales Collaborative economy and strategic alliances
Distribution Channels: Omni-channel
The Challenges of Commercial Management in the Digital Society: Sales Management and Planning
Trends and Challenges in Marketing and Sales - Lecture Series
E-Commerce itinerary
e-Commerce: Current situation and trends. Design and Marketing
Platforms, models and management of an e-Commerce
Business Intelligence and Analytics applied to e-Commerce
Trends and Challenges in e-Commerce - Cycle of Conferences
Proximity and personalization
The contact of students, teachers and tutors is continuous through the virtual platform, it will also have:
Total availability of materials 24 hours a day, 7 days a week.
Raising doubts at any time of the day.
Continuous communication through the discussion forums.
Thanks to this and the structure of the contents, the evaluation of the programs is fundamentally practical.
Testimonial
"Despite being online, my tutor was aware of my academic and training needs at all times, so I am very satisfied, and the methodology implemented serves remarkably to incorporate students in an unconventional pace of study. Each of the course modules in their case studies served to understand all the concepts and their application in the daily work of my profession. " Jimena Martínez Alvarado
Study aid - Financing
The Institute has a scholarship program that can cover up to 65% of the cost of tuition . In each call a limited number of scholarships are offered based on the personal, professional or economic situation of the candidates.
There are also special financing conditions, in order to help students to assume the cost of the course through a system of deferred payments.
Last updated Mar 2020
About the School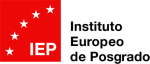 Based in Spain, the Instituto Europeo de Posgrado is a Business School that offers a wide range of Online MBA and Masters designed to meet the requirements of its students. Over 1 million hours of cla ... Read More
Based in Spain, the Instituto Europeo de Posgrado is a Business School that offers a wide range of Online MBA and Masters designed to meet the requirements of its students. Over 1 million hours of classes are given each year through its on-line platform to students from different countries by teachers of the most prestigious Universities and Business Schools. The On-line Campus allows both teachers and students to...
Read less