MBA Advanced Entry Route
Home ›
MBA ›
MBA Advanced Entry Route
Program Description
The Cardiff Metropolitan University MBA Advanced Entry Route is a package consisting of two parts. The first part consists of the postgraduate Level 7 Diploma in Business Management. When you pass this, you can progress to the second part which is the Cardiff Metropolitan University Advanced Entry MBA. Thus, you gain a UK professional qualification part way through your studies and an MBA from a UK university on completion. You study at your own pace either online or through blended learning which combines classroom work with flexible online study.
The Postgraduate Level 7 Diploma in Business Management is awarded by Learning Resource Network (LRN) an Ofqual (UK Government regulator) recognised Awarding Organisation for qualifications.
Please note that the MBA certificate is exactly the same certificate as the equivalent MBA taught full time on campus in Cardiff, and does not mention the mode of delivery.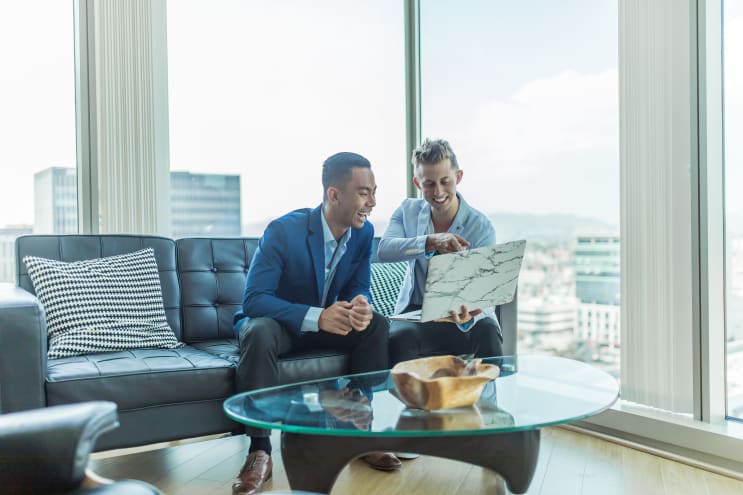 Content
Part one (LRN Level 7 Diploma) units:
Business strategy, management and planning
Financial resources and performance management
Leadership, change and people management
Corporate strategy, governance and ethics
Research methodology and its application to marketing
Part two (Cardiff Metropolitan University MBA) units:
Research Methods
Dissertation
Entry requirements
You must comply with the entry requirements for the Diploma and then for the MBA. The Diploma must be passed first before you can progress to the MBA:
Diploma
You must have one of the following:
a first degree in business, the management or related subjects from a UK university
a UK level 6 qualification, for example, a Diploma in Management
other equivalent international qualifications
at least five years extensive relevant work experience (paid and/or unpaid) with levels of responsibility, participation and/or achievement of a range of relevant professional qualifications
You must also have an appropriate standard of English to enable you to access relevant resources and complete the unit assignments and so you should have a speaking, listening, reading and writing ability at CEFR Level B2 (or equivalent).
MBA
For the MBA Advanced Entry Route you will be required to have all of the following:
The LRN Level 7 Diploma in Business Management (or UK equivalent)
An undergraduate qualification equivalent to UK Bachelors 2:2 or higher, or five years' work experience may be considered for candidates not meeting this requirement
High School Certificate
A Statement of Purpose
Two letters of Reference/Recommendation
A secure English language test such as IELTS 6.0 (with 5.5 in all modules) or equivalent
A copy of your passport (and all UK visas where applicable)
In addition to the above requirements, you will be required to take a Skype Interview with the Programme Director.
What is included?
Everything you need to study for both parts is supplied. There are no additional requirements or fees.
All Cardiff Metropolitan University, LRN registration/assessment and iQualify UK tuition fees are included. You are responsible for your travel to/from, accommodation and subsistence in the UK for your study on campus in Cardiff and for the graduation ceremony, along with obtaining the necessary UK short-term student visa (also known as short-term study visa).
Aims
The Cardiff Metropolitan University MBA will provide you with the knowledge and skills you need to successfully manage a major organisation in any industry sector.
How do I study and how long does it take?
The Diploma is taught through iQualify UK's online Teaching Zone, through a mixture of recorded and live lectures coupled with essential reading texts and exercises to support your studies.
The Cardiff Metropolitan University MBA advanced entry route is taught on campus in Cardiff in a five-day block for the research methods unit (with subsequent follow-ups online) and your dissertation is completed online in your home country.
You will have a personal tutor from iQualify UK for the Diploma part and from Cardiff Metropolitan University for the MBA part. They will support you in your studies and you can contact them if you have any questions.
The two stages combined will normally take you from 12 to 18 months to complete. The Diploma part can be started anytime and should normally be completed within one year, although it can be quicker or longer depending on your commitment to your studies. You must successfully complete and pass the Diploma before you can start the MBA part. The MBA part would take an average of seven months to complete.
How is it assessed?
Diploma
Each of the five units are assessed by a 3,500 word written assignment. These can be submitted anytime at one of the four marking windows throughout the year.
MBA
The MBA is assessed by a dissertation.
Last updated Nov 2020
About the School

iQualify UK is a UK registered organisation which was founded to provide the best in education through courses and qualifications for those previously excluded on grounds of finance or the need to wor ... Read More
iQualify UK is a UK registered organisation which was founded to provide the best in education through courses and qualifications for those previously excluded on grounds of finance or the need to work rather than study.
Read less