M.Sc. Business Management - HR and Change Management
Home ›
MSc ›
M.Sc. Business Management - HR and Change Management
Program Description
Next Intake: November 13, 2020
Introduction Session: November 13, 2020
Language: English
ECTS: 120
Type of Study: Online
Degree: Master of Science (M.Sc.)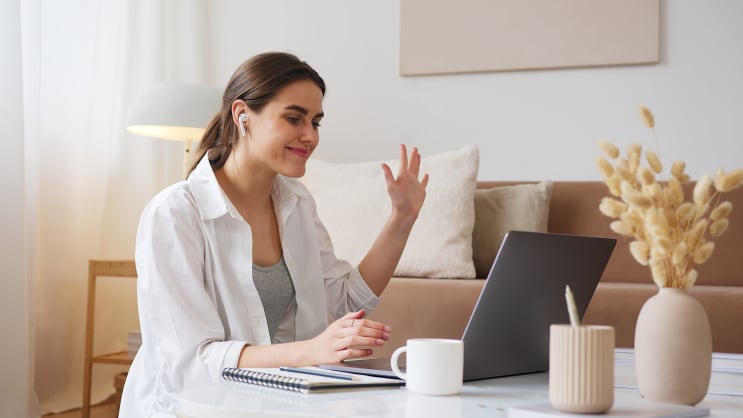 Artem Podrez / Pexels
Program Description
This program imparts essential skills in business management. Additionally, the program is designed to cover the increasing demands on HR functions and change management. The most critical specialist knowledge, concepts, and instruments are imparted for the essential skills in business management, HR functions, and change management.
After completing this course, you can independently develop and implement business-oriented solutions in general and HR and change management strategies and concepts in particular. In combination with the strong basic knowledge learned from the business foundation modules, students develop a deep understanding of how to create business and customer-oriented HR and change designs.
Furthermore, with the intensive training on critical thinking skills, you will know how to analyze various success factors and possible pitfalls in Business, HR, and Change Management. In this background, you can contribute to concepts, decisions, and implementation in your company.
Detailed program information can be found on the course webpage:
https://www.steinbeis-iec.de/en/studies/online-master-programs/m-sc-business-management-hr-and-change-management-online/
Future Prospectives
Our practice-oriented approach will allow you to develop the necessary skills and qualification to become successful in:
Business Management
HR Management
Project Management
Consulting
Coaching
The Modules
Foundation Modules
Economics, Politics and Society
Strategic Management
Marketing
Innovation Project
Business Organization
Leadership and Communication
Project Management
Research & Science Project
Philosophy of Science and Research Methods
Advanced Statistics
Specialization Modules
Strategies of HR Management
Workforce Management
Value-driven HR Management
Change Management
Organizational and Decision Making Techniques
Team Development and Conflict Management
Organizational Consulting and Organizational Development
Psychological Aspects of Change in Organization
Study Structure
You start your studies whenever you want
Thanks to the unique curricular concept of our program with flexible entry opportunity, you can start your studies any time which suits you the best. All modules and additional sessions are arranged following your start. Direct your studies like never before.
Do it your way now, Online
Once admitted and enrolled, each student receives access to the exclusive learning solutions designed precisely for this master's degree course to secure academic success. For each module, every student gets detailed specialized literature and materials which should be processed before the LIVE online classes. No fixed venues and no travel and living expenses needed for that.
Take an exam at your pace whenever it suits you
Once you have completed the recorded online classes for a specific module, you are given up to 6 weeks for further studies and completion of an exam online. You start an exam anytime you like and are given up to 2 hours to undertake it.
Stay supervised on your path to a degree
During insightful and research-oriented group study days, you remain assisted throughout your studies. Do you have specific questions? Just contact a lecturer you need and register for his/her specialized coaching session.
Your Transfer Project
During your studies, you will be working on a transfer project in the field of your choice. Do precisely what intrigues and motivates you and implement the theory of modules delivered straightforward into practice or your area of work.
Your Final Exam in Master of Science
Stand for your ideas and thoughts. The final exam covers the presentation and defense of your master's thesis.
Tuition Fees
The tuition fees are 6,940 EUR in total. You can also choose to pay monthly
The tuition fees cover access to the INSIDER online learning solution, teaching materials available via the e-learning platform Moodle, access to the online libraries, professional coaching during the student project as well as the access to IEC-Alumni organization.
In addition to the tuition fees, there is also a one-time admission fee of 250 EUR.
Application Requirements
Application to the course is open to anyone who can present a first university degree or an equivalent degree that covered courses in economics, mathematics, and statistics (a pre-course can also demonstrate this).
To apply to this Master's program, please submit the following documents:
Signed latest updated CV
Letter of Intent
University Certificate with Transcript of Records (min. Bachelor's degree or equivalent
Proof of English proficiency (IELTS 5.5 / CEFR - B2 / TOEFL Paper-Based 547 / TOEFL Internet-Based 78)
Your academic profile and working experience will be assessed in detail during 2 application interviews. To ensure that your application is processed as quickly as possible, all documents that are originally not in the German or English language should be translated to German or English by a sworn translator and sent in PDF format.
A language proficiency certificate can be submitted upon admission if necessary. However, please note that you cannot be enrolled unless all documents required have been completely submitted.
The application and admission procedures consist of 4 steps which might take up to 3-6 weeks to process:
Submit your application via the online application form or via email. No deadlines to consider.
Participate in 2 application interviews which aim at assessing your profile and capabilities for the course
If admitted, confirm the admission by submitting the completed admission documents by the submission deadline provided
Once the first installment is paid, you are automatically enrolled in the course starting from the date of your choice
You can send these documents to Studentinfo@Steinbeis-IEC.de or via our Online Application Form.
We offer this Master's program with an open-enrollment system, which enables you to start your studies any time you like.
Last updated Aug 2020
About the School
With innovative and transfer oriented study as well as certificate programmes the Institute of Executive Capabilities (IEC) strengthens the capability of employees and executives to handle increasing ... Read More
With innovative and transfer oriented study as well as certificate programmes the Institute of Executive Capabilities (IEC) strengthens the capability of employees and executives to handle increasing performance requirements based on future oriented competences, mindsets and practices.
Read less