Master in Risk Management Specialization in Finance
Program Description
The Master in Financial Risk Management is an online master that allows you to obtain your own degree with international validity. The program enables to exercise the function of risk manager in a financial institution, master the reference regulations and learn about international financial markets.
This online master's degree is geared towards the growing demand for qualified experts in the measurement and risk management of financial institutions. The study plan delves into credit, market and liquidity risks. In addition, it transmits knowledge about interest rate risks and non-financial risks.
The Master in Financial Risk Management also offers a differentiating approach, focused on knowledge of International Financial Interpretation Standards and on developing skills for financial analysis. The training does not require a previous specialization, since it contains all the necessary knowledge for it.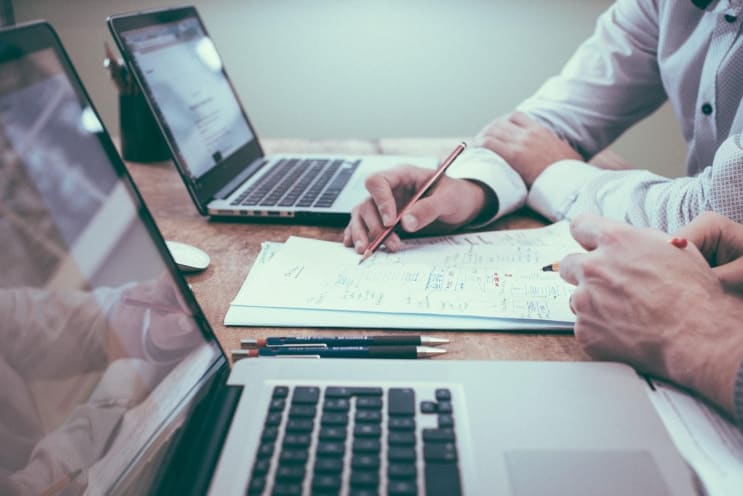 Helloquence / Unsplash
Curriculum
Course 1. Financial statements in the Company.
Introduction to the Financial Statement.
Balance.
Profit and loss accounts.
Amortization.
Course 2. Financial and budgetary management.
Treasury.
Introduction to Financial Risk Management.
Operation of the Financial Markets.
Budget management.
Course 3. Credit, Market and Liquidity Risks.
Regulatory framework. General Banking and Insurance Law.
Credit risk.
Market risk.
Liquidity risk.
Course 4. Cash Management.
The Treasury Department.
The treasury budget.
Operating Flow of Funds.
Bank Negotiation
Course 5. Analysis and Corporate Finance.
Financial analysis: Analysis techniques and standards.
Finance: Budget and Investments.
Sources of financing: Bank financing. Participatory loans, etc.
Company valuation. Classic Methods New economy methods.
Course 6. International Economics and Finance.
International Economic Context.
Economic situation in Latin America.
Means of collection and payment.
Currency Markets.
Course 7. Risks in the Financial Departments.
Balance risk.
Interest rate risks. Interest rates and yield curve.
Introduction to non-financial risks.
Extra-financial information and climate change.
Course 8. IFRS: International Financial Interpretation Standards.
Introduction to International Financial Interpretation Standards IFRS.
Conceptual framework.
IFRS. First-time adoption of the International Interpretation Standard
Financial.
IFRS for SMEs, main aspects and differences on Full IFRS.
Course 9. Master thesis
Why study this master?
The Master in Financial Risks is a higher education academic program that guarantees a differentiating specialization. The program combines the focus on Risk Management with the mastery of the concepts of Financial Management.
All the contents of the training program are taught by expert and active professors in large companies of reputation in the Spanish business risk sector, among others: AGERS, REPSOL, BBVA, SANTANDER or CAIXABANK. It is an ideal online master's degree for business finance and control professionals who require specializing in risks.
The online methodology of the Master in Financial Risks allows the reconciliation of the student's work and family life with their training.
What will I learn?
Upon completion of the Master in Financial Risks you will be able to:
Master the main banking and insurance regulations.
Integrally manage the financial and non-financial risks of a company.
Prepare risk mitigation plans in financial entities.
Know in depth the principles of Basel III.
Know the international regulatory framework and its impact on risk management in companies.
Who is it for?
The online master specialized in Financial Risks is especially aimed at:
Engineers, international auditors, financial analysts, insurance managers.
Professionals of finance and control of the company that require specializing in risks.
Employees of regulatory entities, central banks and supervisors seeking to promote.
Consultants interested in mastering the risks of financial products.
Graduates who want to dominate the financial field of their company and be able to manage said departments
Last updated Apr 2020
About the School

EALDE Business School nace con vocación de aprovechar al máximo las posibilidades que Internet y las nuevas tecnologías brindan a la enseñanza. Ofrece a sus alumnos la posibilidad de cursar, desde el ... Read More
EALDE Business School nace con vocación de aprovechar al máximo las posibilidades que Internet y las nuevas tecnologías brindan a la enseñanza. Ofrece a sus alumnos la posibilidad de cursar, desde el lugar en el que se encuentren, estudios de posgrado en materia de gestión de empresas de la misma forma que harían si los cursos se siguiesen presencialmente en una escuela tradicional.
Read less