Interior Decorator Course- Accredited Diploma Course (Online)
Home ›
Interior Decorator Course- Accredited Diploma Course (Online)
Program Description
You could be working in the residential interior design industry 1 year from now!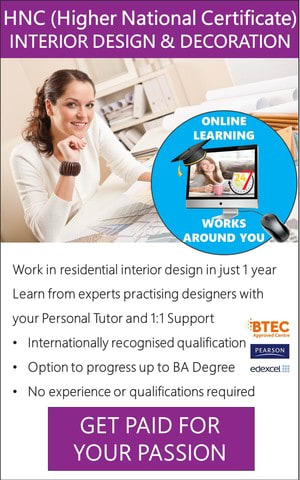 This fully accredited Interior Decorator Course will give you the practical skills, knowledge and confidence to enter the interior design industry at a professional level in as little as one year. This is an internationally recognised qualification in its right (120 UK University Credits/32 US Semester credits) and it also forms stage 1 of our HND (equivalent to Foundation/Associate degree) so you can progress even further if you want…
For example, if you want to become a fully licensed Interior Designer so you can design residential and commercial interiors and join professional Interior Design associations then you may continue straight onto Stage 2 of our HND course immediately after completing the HNC. You will be able to get a full HND qualification with just 1 year of additional study. What's more, after the HND you may continue even further and do a "top-up" course so you can get a full BA Degree of Interior Design. Our course structure is designed for maximum reward and maximum flexibility and the best thing is that you can start this Interior Decorator Course today with no previous experience or qualifications…
What's the difference between an Interior Decorator and an Interior Designer?
To answer this as briefly as possible - interior decorators differ from interior designers because they make EXISTING INTERIOR SPACES beautiful by selecting all interior finishes and furnishings (ie. the interior decoration). An interior decorator course won't teach you how to remodel or renovate the building structure because that falls under the remit of an interior designer.
This interior decorating course will teach you how to select appropriate colour and style details, so you can create interior schemes that are beautiful and congruent. You'll gain a thorough understanding of the elements of style and design, so you can successfully deconstruct and reconstruct any style effectively, making changes and adaptations to reflect the individual preferences of your client. Developing these skills play a significant part in this interior decorator course and you'll also learn the fundamentals of interior design in-depth. This includes technical skills that will enable you to communicate your interior design ideas professionally such as:
Mood/concept & sample boards – visually communicate your design concepts to clients & colleagues in a way that is professional and sells your ideas
Technical drawings - produce professional architectural drawings manually / by hand and using CAD (Computer Aided Design)
Space planning – use scaled drawings to plan interior spaces that function as well as they look
Specifications – create clear instructions for contractors so your design ideas can be executed as you envision
SEE WHAT YOU WILL LEARN
Watch our video for more details of the course curriculum and so you can actually SEE what you will learn on this course
When you complete this interior decorator course you'll be ready and confident to enter the interior design industry and you'll also have an amazing design portfolio so you can show clients and employers what you can do for them. This will help you to will help you to stand out from the competition so you can get work easily and increase your earning potential.
Get our prospectus now for full details of all our Interior Design courses and see what you can achieve….
Last updated Jun 2020
About the School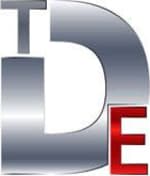 The Design Ecademy is the brainchild of Maria Flynn, an innovative interior architect/design consultant who specialises in colour & design psychology. Maria's designs have been showcased in severa ... Read More
The Design Ecademy is the brainchild of Maria Flynn, an innovative interior architect/design consultant who specialises in colour & design psychology. Maria's designs have been showcased in several of Europe's leading magazines and newspapers, she is the author of "Colour Your World" [Rotovision 2001] and she has been featured on TV and radio in the UK and Ireland, where she was the resident "Design Expert" for 6 months (TV3). Maria has also been involved in training and education for over 20 years and she is particularly passionate about Adult Education and E-Learning.
Read less