Foundations of Human Resources Certificate
Home ›
Foundations of Human Resources Certificate
Program Description
Understanding the ways that cultural and communication changes impact the work environment is crucial to maintaining employee relations and engaging new ones. With these changes also come changes in legal requirements and guidelines and new approaches to handling and balancing all of them. As a working professional, you have little space for which to not only learn these new requirements and landscapes but quickly implement them in a seamless and legitimate way. Use this focused program to keep advocating for employees while meeting new expectations of your employer.
Stay abreast of best practices in human resources essentials while learning about methods to readjust to external and internal factors affecting the employee and employer. Review the recruitment process, from developing a job description to distributing new hire paperwork. Learn about approaches to candidate selection, including conducting tests, doing background checks, collecting references, and organizing an offer. Understand new legal aspects affecting recruitment and selection. Explore global issues around retention, employee training and support, and turnover minimization. Apply your lessons immediately in your position for quick adaptation to the changing expectations around your duties.
Designed For
Human resources managers, lead supervisors, staffing agencies and consultants, and operations managers.
Professionals with human resources-related duties.
Professionals moving into a management-level position.
What You'll Learn
Strategies for effective human resources management, such as balancing employee needs with external factors like the economy and demographics.
Best practices and new issues related to the recruitment process, including preparing a job description and interviewing candidates.
Analysis of legal issues involved in recruitment, such as equal opportunity guidelines.
Review of issues relating to retention, employee training and support, and "fit".
What You Can Do With This Program
Positions are available in a variety of industries and can include self-employment, firms, government, or nonprofit organizations. Jobs might include:
Human resources specialists
Human resources assistants
Operations supervisors and managers
Equal opportunity representatives and officers
Operations managers
Supervisors and managers


Real People. Real Results.
"My experience at UCR Extension was great. My instructors worked in the industry, not just academics, and were able to share real-world scenarios for the assignments we were learning and participating in. I took real-time experiences back to the office, and implemented the new knowledge immediately."
Tracy Trettin
Administrative Operations Manager
UCR School of Medicine
Riverside, CA
Certificate Courses
Our certificate programs are designed to be flexible, allowing you the option to take just a few courses or to earn the complete certificate. If choosing to complete the certificate, we recommend you get the most out of your experience by following the suggested completion path below.
Quarter 1
Human Resources Management 3 units
Employee Recruitment, Selection, and Retention 3 units
Instructor Spotlight
"Supporting individuals in keeping pace with the changing requirements of the modern work environment is at our core. Collaboration, partnership, and community drive us to provide accessible, affordable education, and training for working adults. Whether you are an individual looking to advance your career, or an organizational leader interested in investing in your workforce, we are here for you."
Kasey Wilson, Ed.D.
Director of Professional Programs
UCR Extension
Riverside, CA
Last updated Oct 2020
About the School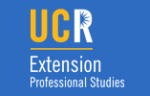 The International Education Programs (IEP) at the University of California, Riverside (UCR), has been providing English as a Second Language (ESL), academic, and professional programs since 1975. Our ... Read More
The International Education Programs (IEP) at the University of California, Riverside (UCR), has been providing English as a Second Language (ESL), academic, and professional programs since 1975. Our curriculum is continually evaluated and updated to ensure the best U.S. learning experience. Every year, students graduate from our programs and continue into exciting international careers, and/or pursue further academic study.
Read less