Executive MBA in Marketing Management
Home ›
EMBA ›
Executive MBA in Marketing Management
Read more about this program on the institution's website
Program Description
Executive MBA in Marketing Management - Online
Delivered in conjunction with our collaborative partner, the University of Gibraltar.
Key Facts
Awarding University
University of Gibraltar

Duration
18 months

Commitment
20 hours/per week

Format
100% online

Class Size
15 - 20

Career Stage
Middle Management

Application Deadline
5th February 2021 (For March 2021 start)

Fees
£7500
Marketing is like a living organism, it never stops evolving. It's, therefore, crucial to develop your understanding of marketing in this contemporary and dynamic world - without putting a pause on your career.
The Programme is delivered entirely online and designed to develop knowledge and practice-based understandings of the practice of marketing management in a contemporary and dynamic world. It familiarises students with both fundamental and emerging themes, concepts and practices related to the development and delivery of appropriate marketing dynamics to given organisations. It will you with a critical appreciation of the key areas of marketing management and its interactions with society at an executive level.
Why Study an Executive MBA in Marketing Management?
Our Executive MBA in Marketing Management is designed for mid-level managers, executives and business leaders who want to stay on top of their game and stand out from their peers. If you want to improve your knowledge, open the doors to new opportunities and maximise your earning potential, this is the course for you.
Transform Your Career
45% of students who successfully complete an EMBA receive a pay rise.
Opportunity to move into a higher-level post within your current employment or professional area.
Set up your own business and venture into self-employment.
Increase Your Confidence
Step up and stand out by demonstrating to employers your capability and self-motivation to learn at a higher level.
Stay at the top of your game by gaining a deeper understanding of management and business.
Boost Your Knowledge
Across the board - Intellectual skills, Practical skills, Transferable skills.
Advance your existing leadership, industry and management experience in the context of business management.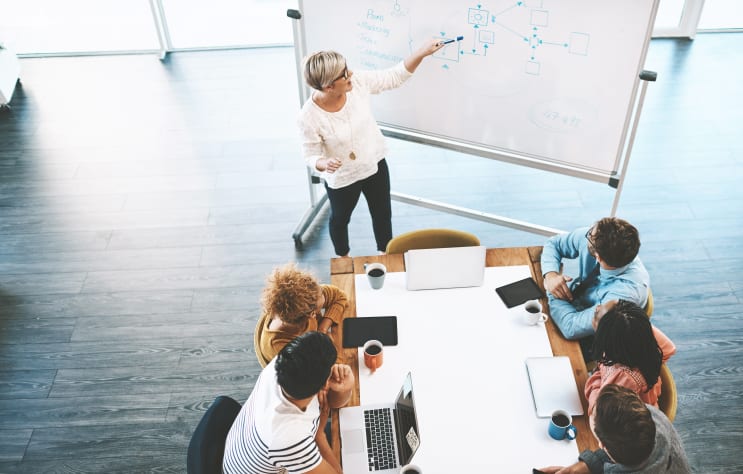 Who is an Executive MBA in for?
The Executive MBA in Marketing Management offers emerging/aspiring executives and senior managers with a scheme of study that develops their academic, critical, reflective and practical understanding of managing complex organisations in a rapidly evolving contemporary global business environment. Subsequently, the programme aims to develop students' capacity to apply the knowledge and skills acquired to help them develop their career and take up successful marketing managerial and leadership positions in the future.
We like students who challenge the status quo, who wake up ambitious and love working with other professionals.
It will provide students with:
Contemporary knowledge and understanding of management theory and practice.
Theoretical and applied perspectives.
The ability to apply knowledge and skills in various organisations.
How Will I Learn?
We take an andragogical approach to learning. This means the 18-month course is self-directed with guidance from your experienced tutor. This groundbreaking style of learning is inspired by real-life scenarios which you will contribute from your own experience.
You will challenge other students and be challenged. We do not use pedagogical methods (where a student relies entirely on a teacher).
Business experience is built upon real-life scenarios and challenges therefore you will develop skills such as leadership, adaptability, critical thinking and self-reflection.
You will participate in a combination of module activities that may be group and/or individual based, dependent on the module. This usually occurs within multidisciplinary groups of 15-20 students.
These innovative teaching methods will allow you to seamlessly translate your studies into your everyday challenges.
Our dedicated Student Support Team is also available to help with any problems you may face. From navigating our online platform to advising you on deadlines, our team can assist with any questions or challenges you may have along the way.
Curriculum
The full Executive MBA in Marketing Management will be formed of six 20 credit modules (120 credits in total) and a 60 credit student /organisation specific research/capstone project. This is an 18-month programme.
Module 1: Marketing Management (20 credits)
Module 2: Leadership and Organisational Behaviour (20 credits)
Module 3: Financial Management (20 credits)
Module 4: Strategic Management (20 credits)
Module 5: Digital Marketing (20 credits)
Module 6: Contemporary Issues and Practices in Marketing (20 credits)
Final Assessment: Capstone Project (60 credits)
Assessment Methods
There are three components of assessment to assess the learning outcomes of each taught module. These test different elements of learning including critical analysis, management skills, professional reflection and independent/community of practice-based study.
Scenarios and Discussion 60%
Scenarios reflective of day-to-day work situations will be presented for students to consider and answer every week. Students critically discuss the concepts within their online group discussion forum facilitated throughout the module by their tutor and marked by them at the end of the module.
Students learn by finding relevant literature, reading and critically appraising it; discussing it within the discussion forum and applying it critically to real-world examples and your own practice. The content of the scenario is based on the learning outcomes for the module.
The scenarios, reflective portfolio and the group work are carried on as the module progresses which ensures engagement throughout the module.
Reflective Practice 10%
The online learning portfolio requires students to record and critically reflect on their learning. Reflection is an important aspect of the programme since the business executive/manager will be able to spend time considering how their practice compares to the themes being discussed in the module. The tutor provides weekly feedback and marks your work at the end of the module.
Module Activity 30%
At the beginning of each module, students are presented with a module assignment. The module activity may take the form of an individual piece of work, such as an essay on a relevant topic, or it may be a group activity such as the creation of a marketing plan.
Entry requirements
Our digital doors are open to both local and international students from diverse educational and social backgrounds. We offer no international surcharge and believe having a multi-disciplinary and multi-national cohort is best for student development. Typically, applicants for the Executive MBA in Marketing Management will:
Hold a minimum of a 2.1 degree
Possess a degree (i.e. a minimum of a 2.1) awarded by a UK university or overseas equivalent.
Have 3 years' management experience
The Executive MBA is for those who have significant post-graduation and/or relevant work experience on which the learning process should build. The experience required will be at least 3 years in a managerial position
Ability to communicate their ideas effectively
In some cases, applicants may be asked to submit a piece of work for assessment in order to confirm that they are able to work comfortably at postgraduate level and demonstrate the requisite professional knowledge.
Basic IT Skills
e.g. word-processing, email and internet will also be expected.
English Language
If English is not your first language, you must have one of the following qualifications as evidence of English language skills:
IELTS: 6.5 with 5.5 minimum in each skill
Cambridge Certificate of Proficiency in English (CPE): Grade C or above
Cambridge Certificate of Advanced English (CAE): Grade B or above
Pearson Test of English (Academic): 60 with 51 in each component
IBT TOEFL: 90 with no subtest less than 17
Last updated Jan 2021
About the School

Whether you want to feel confident in asking for a pay rise/promotion, communicate more efficiently with your team, access a knowledgeable community of professionals, or deepen your understanding of b ... Read More
Whether you want to feel confident in asking for a pay rise/promotion, communicate more efficiently with your team, access a knowledgeable community of professionals, or deepen your understanding of business practices, our EMBA programmes are delivered entirely online and will give mid-level managers exactly what you need!
Read less