Program Description
The only EMBA Banking provided in Italy, it is organized by the most important Banking Training School in Italy. The MBA is the highest degree of specialization achievable in the world for management training.
The EMBA is aimed at those who are inclined to work in a team with at least two or three years of work experience who have decided to improve their professional future with the aim of holding leadership positions in multinational companies.
The Executive Master in Business Administration stems from the experience gained by the school in fifteen years of Masters on the entire range of Management disciplines, and from a long research, which has led to designing a path aligned with the highest standards required by the best MBAs in the world.
Structure
8 Editions
11 Titles released
11 Thematic Areas of Specialization
14 Months of teaching of which:
10 months of classroom (presence or virtual)
4 months of Project Work (final thesis)
1 MBA Diploma: Master in BUSINESS ADMINISTRATION
1 Diploma of the II ° Master of Specialization (Optional)
1 Certification of General & Business English (Optional)
Recipients
Executives, Managers and Executives of Production, Credit / Insurance Companies, Entrepreneurs and Freelancers.
Professional experience of at least two years.
Educational Objective
The educational objective is achieved by providing the participant with all the specialist knowledge through the availability of two different delivery methods (traditional e-learning or traditional e-learning classroom) that can be chosen by the participant. The achievement of the didactic objective is completed with the achievement of the final title.
Supporter Program
General Management & Corporate Overview
Fundamentals of Marketing
Financial mathematics
Statistics
Data Analysis
Principles of Business Economics
Balance
Principles of Corporate Finance
Customer Satisfaction
Total Quality Management
General Management exam
Corporate Strategy
Analysis and Strategic Planning
Business strategy
Business Plan
Exam Spec. Corporate Strategy
Marketing Management
Analysis and Strategic Planning
Market Analysis and Research
Marketing Mix
Advertising
Brand Management and Brand Value
Direct Marketing
Integrated communication
Public relations
Exam Spec. Marketing Management
Direct Marketing & CRM
CRM Scenario and Fundamentals
Database Marketing
DEM, Mailing and Newsletter
Exam Spec. Direct Marketing and CRM
Management Control
Budget
Budgeting Process
Administration
Administrative Organization
Industrial Accounting
Management control
Practical Exercises on Budget and Management Control
Exam Spec. Management Control
Business Finance
Short and Long Term Financial Balance
Capital Structure
Cost of Capital
Shares, Bonds and Stock Exchange
Evaluation of Investment Projects
Company Evaluation
Exam Spec. Corporate Finance
Corporate Investment Banking
Basel 2 and Basel 3
Corporate Investment
Heritage Planning and Management
Supplementary pensions
Financial instruments
Managed Savings
Wealth management
Analysis of Financial Markets
Credit Process
Special Credits
Credit Merit Analysis
Financial Requirement
Various forms of financing
Preliminary Investigation of Credit and Guarantees
Exam Spec. Corporate Banking
Process Management And Project Management
Project Management
Total Quality Management
Process Management
Historical evolution of ISO standards
ISO 9001 Quality Management Systems
Exam Spec. Management by processes and projects
Human resources
Business organization
Organizational Communication
Recruitment and Selection
Inserting
Skills assessment
Performance Evaluation
Talent Development and Career Development
Knowledge Management and Training
Incentive Systems
Human Resources Specification Exam
Leadership, Ehtics & Organization
Interpersonal Communication
Creativity and Group Work
Leadership
Mangerial Ethics
Case Study: Power of Media and Leadership
Business organization
Exam Spec. Leadership, Ethics & Organization
Corporate Governance & Ethics
Stakeholder Management
Corporate Etichs
OHSAS Security Management System
Job security
Sustainable Development
Waste Management and Site Remediation
ISO 14000 Environmental Management Systems
Renewable energies
Energy Management
Mobility Management
Corporate Governance & Ethics Spec exam
Final Master's Exam:
Project Work Discussion
Final exam of General & Business English
Diploma
At the end of the Master, all the candidates who have passed the required exams will receive the Diploma of the Master, approved at European level by ICEP.
Last updated Aug 2020
About the School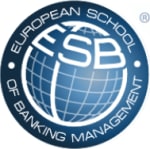 La European School of Banking Management, nasce storicamente dalla comprovata esperienza consulenziale e formativa dei suoi fondatori ed è oggi uno dei poli italiani d'eccellenza specializzati nella f ... Read More
La European School of Banking Management, nasce storicamente dalla comprovata esperienza consulenziale e formativa dei suoi fondatori ed è oggi uno dei poli italiani d'eccellenza specializzati nella formazione bancaria.
Read less