European Masters environmental and energy management
Home ›
Master ›
European Masters environmental and energy management
Program Description
The holder of the European Master Environmental Management and Energy integrates functions of responsibility in the private and parastatal organizations of all sizes.
It will be a listener Mission / board or responsible Energy / Environment / Safety. It may hold positions or frame attached to the direction of a structure (often integrated into a QHSE department) either integrated framework in Environment and Sustainable Development Department at the headquarters of a large company, a local authority or a consultancy.
Your Profile
Be sensitive to issues related to the environment, be provided with a capacity to communicate and to "educate".
Acquire the following skills:
Master of legislation (environmental and energy) and audit tools to conduct an energy and environmental diagnostics
Energy and environmental design strategies for sustainable enterprise; realization of the plans of energy and environmental control through a program
Implementation of processes and procedures of energy management system and environmental management and conduct of the studies necessary to carry out this program
Staff training and team leadership to mobilize domestic actors on the energy and environmental project of the company
Internal and external communication with dissemination of the characteristic elements of the action plan
Evaluation of actions and performance measurement
Program Structure
Energy and Environmental Management - Master I
UC 4/5 - Companies, competition and Europe
UC B4 - European Living Language
UC D 41.1 - Basic tools
UC D 41.2 - Environmental and Energy diagnosis
UC D42 - Mission Project or Professional
Energy and Environmental Management - Master II
UC B5 - European Living Language
UC D51 - Application of basic tools
UC D52 - Action Plans: environmental and energy solution
UCD 53 - Professional thesis
Training
A probationary period lasting 6 to 12 weeks is achievable, but not mandatory. Candidates not having the opportunity to do an internship can support their memory on theoretical work. In this case, the memory project is determined with reference your teacher.
Last updated Mar 2020
About the School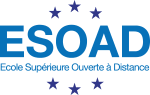 ESOAD est la seule école en France à proposer exclusivement des diplômes FEDE.
ESOAD est la seule école en France à proposer exclusivement des diplômes FEDE.
Read less
France Online ,
Belgium Online ,
Switzerland Online ,
Lebanon Online ,
Luxembourg Online ,
Algeria Online ,
Tunisia Online ,
Morocco Online ,
Canada Online ,
French Guiana Online ,
French Polynesia Online ,
Martinique Online ,
Guadeloupe Online ,
Reunion Online ,
Mauritius Online
+ 14 More
Less