Program Description
An interface between the different players in the company and its stakeholders (customers, suppliers, local residents, public and voluntary organizations ...), the European Master of the owner of Sustainable Development Management participates in the consideration and implementation implement sustainable development principles into policy and business strategy.
Your Profile
The qualities necessary to the manager of sustainable development are: patience and diplomacy. It is also necessary to know how to communicate especially popularize field of standards.
Acquire the following skills:
Understanding the principles of sustainable development
Know the principles and tools of communication
Understanding of the types of management
Know the main reference texts on the ICPE
Know implementing eco-design in his business
Knowing the impact of the supply chain on the environment
Propose and implement actions to optimize energy consumption
Acquire the HQE management methods
Control regulations on waste
Know the safety issues in the workplace
Provide better working conditions for staff
Insert the company in local life
Advise and assist management from a diagnostic Sustainable Development
Know how to build a performance evaluation system of sustainable development
Program Structure
Operational Management of Sustainable Development - Master I
A UC 4/5 - Companies, competition and Europe
UC B 4 - European Living Language
UC D 41.1 - Governance and managerial practices
The challenges of sustainable development for the company
Internal and external communication
Influence Skills
Regulatory rules and ensure
UC D 41.2 - Environmental Responsibility and Safety
Eco-design
Logistics, transport and storage
Challenges of an optimal water management
Reduce its impacts in terms of atmospheric emissions
Control its energy consumption
Manage its waste in a sustainable manner: establishment of a suitable sorting and of an overall waste production reduction
Control nuisance inherent in the business of his company
The security issues
Ergonomics, musculoskeletal disorders
Home incoming, staff training
The risks in the company
UCD 42 - Mission or Professional Project:
Mission: Work placement or employment.
Operational Management of Development - Master II
UC B5 - European Living Language:
UC D51 - societal and economic responsibilities of business
Strategy and Policy for Sustainable Development
Relations with stakeholders
UC D52 - Implementation of the Sustainable Development Strategy
UC D53 - Professional thesis
Training
A probationary period lasting 6 to 12 weeks is achievable, but not mandatory. Candidates not having the opportunity to do an internship can support their memory on theoretical work. In this case, the memory project is determined with reference your teacher.
Alumni testimony:

Last updated Mar 2020
About the School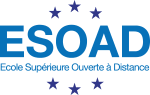 ESOAD est la seule école en France à proposer exclusivement des diplômes FEDE.
ESOAD est la seule école en France à proposer exclusivement des diplômes FEDE.
Read less
France Online ,
Belgium Online ,
Switzerland Online ,
Lebanon Online ,
Luxembourg Online ,
Algeria Online ,
Tunisia Online ,
Morocco Online ,
Canada Online ,
French Guiana Online ,
French Polynesia Online ,
Martinique Online ,
Guadeloupe Online ,
Reunion Online ,
Mauritius Online
+ 14 More
Less