European graduate environmental engineering studies
Home ›
Ecology ›
European graduate environmental engineering studies
Program Description
The holder of deeste - Environmental engineering is a specialty technician in the fields of hygiene, cleanliness and environment.
During his training, it addresses environmental issues and management of pollution and sustainable development.
Your profile :
Prerequisites :
Holds a +2 kind BTS, IUT, Licence 2
Holds a tray and you have 3 years experience in the environment
Equivalent and you have 4-5 years experience in environmental
A degree or a certificate issued by a school or university that validates at least 120 credits under the European Credit Transfer System (ECTS).
The following competencies:
Identify economic issues of the environment
Being able to perform an energy audit
Understand the issues of waste management
Understand the interactions between agriculture and environment
Develop an environmental program as part of an ISO 14001 certification
Identify the basic elements of hygiene and safety
Pursue work:
junior business consultant or community
Responsible for a technical service environment
Eco-advisor
environment moderator
environmental Manager
Program Structure
EU A - The Culture Programme and European Citizenship is common to all programs of the FEDE Europe: history, geography, institutions, a right and the major issues.
A1 EU - Europe, uniqueness values, cultural diversity
History and Civilization
Cultures and religions, practices and policies of European states
European citizens
EU A2 - European integration, institutions within the international framework
Major international organizations related to Europe
The council of Europe, OSCE
The European Union, its institutions and their functioning
The means of action
The future of European Construction
INGOs
EU A3 - Intercultural management and human resources
Intercultural management
human resources in Europe
EU B - European Living Language
Vocabulary acquisition from work
Drafting of commercial mail, telephone
EU D Professional Techniques
Marketing
Management Tools
Waste management
Energy management
Management of gaseous discharges
Water Management
Noise Management
Ecology - Ecotoxicology
Food
Environmental Economics
Training
A probationary period lasting 6 to 12 weeks is achievable, but not mandatory. Candidates not having the opportunity to do an internship can support their memory on theoretical work. In this case, the memory project is determined with reference your teacher.
exams
To graduate, students enrolled must obtain an overall average greater than 10/20 and greater than 6/20 rating chaqueUnité constitutive Teaching degree.
However, the validation of the diploma does not automatically lead obtaining all the ECTS credits for this degree.
Indeed, ECTS credits are allocated to each unit capitalizable and are obtained by the student when his note to the capitalizable unit is greater than or equal to 10/20.
A student can therefore validate a diploma by offsetting its results to the various credit units, but do not get all the ECTS credits of the degree, if some notes are less than 10/20.
Last updated Mar 2020
About the School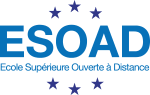 ESOAD est la seule école en France à proposer exclusivement des diplômes FEDE.
ESOAD est la seule école en France à proposer exclusivement des diplômes FEDE.
Read less
France Online ,
Belgium Online ,
Switzerland Online ,
Lebanon Online ,
Luxembourg Online ,
Algeria Online ,
Tunisia Online ,
Morocco Online ,
Canada Online ,
French Guiana Online ,
French Polynesia Online ,
Martinique Online ,
Guadeloupe Online ,
Reunion Online ,
Mauritius Online
+ 14 More
Less