European diploma studies graduate business and management of the distribution
Home ›
European diploma studies graduate business and management of the distribution
Program Description
The holder of DEESDIST - Manager radius or commercial space ensures the administrative and financial management of the radius (management of goods, equipment, implementation of trade and price policy, implementation and holding of the radius, personnel management attached to Ray). He participates in the radius communication plan and participates in the recruitment of team members. He negotiated sales goals with its hierarchy and report on its results. It has a wide autonomy within the framework of the responsibilities conferred on it.
Your Profile
These jobs require a sense of contact, advice. You are organized and you like trading. Like handle situations that require to find solutions quickly.
Prerequisites :
Holds a +2 kind BTS, IUT, Licence 2
Holds a tray and you have 3 years experience in the field
Equivalent and you have 4-5 years experience in the field
Hold a diploma or a certificate issued (e) by a school or a university, valid at least 120 credits under the European Credit Transfer System (ECTS).
The following competencies:
Master the different élèments distributor mix
Organize the merchandising department and products
Animate and optimize sales
Know manage customer relationships
Select suppliers
Train and develop staff
Establish sales forecasts
Analyze the management indicators and dashboards
Carry trades:
Assistant (e) Head of Department
Head (s) of department
Manager radius or commercial space
Merchandiser
Training content
European Culture
Europe, uniqueness values, cultural diversity
European integration and its institutions in the international context
Intercultural management and human resources
Living language
Vocabulary acquisition from work
The drafting of commercial mail, telephone
professional techniques
Marketing-mix dispenser
Selling Technics
Management and organization of a team
Tariff for distribution
support system management delegated shares
Analysis and data processing
Supply logistics
Training
Internship period lasting 6 to 12 weeks is to achieve but not mandatory. Candidates not having the opportunity to perform an internship can support their memory on theoretical work. In this case, the memory project is to determine your reference teacher.
exams
To graduate, students enrolled must obtain an overall average greater than 10/20 to 6/20 and a top score for each constituent unit of Education degree.
However, the validation of the diploma does not automatically lead obtaining all the ECTS credits for this degree.
Indeed, ECTS credits are allocated to each unit capitalizable and are obtained by the student when his note to the capitalizable unit is greater than or equal to 10/20.
A student can therefore validate a diploma by offsetting its results to the various credit units, but do not get all the ECTS credits of the degree, if some notes are less than 10/20.
Last updated Mar 2020
About the School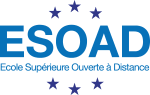 ESOAD est la seule école en France à proposer exclusivement des diplômes FEDE.
ESOAD est la seule école en France à proposer exclusivement des diplômes FEDE.
Read less
France Online ,
Belgium Online ,
Switzerland Online ,
Lebanon Online ,
Luxembourg Online ,
Algeria Online ,
Tunisia Online ,
Morocco Online ,
Canada Online ,
French Guiana Online ,
French Polynesia Online ,
Martinique Online ,
Guadeloupe Online ,
Reunion Online ,
Mauritius Online
+ 14 More
Less