Electrical Engineering Master of Science
Home ›
MSc ›
Electrical Engineering Master of Science
Program Description
Contemporary electrical engineering is a broad discipline that encompasses a wide range of activities. A common theme is the use of electricity and electromagnetism for the generation, transmission, processing, storage, conversion, and control of information and energy. An equally important aspect is the human interface and the role of individuals as the sources and recipients of information. The rates at which information is transmitted today range from megabits per second to gigabits per second and, in some cases, as high as terabits per second. The range of frequencies over which these processes are studied extends from direct current (i.e., zero frequency), to microwave and optical frequencies. The need for increasingly faster and more sophisticated methods of handling information poses a major challenge to the electrical engineer. New materials, devices, circuits, systems, and networks are needed to build the advanced communications and information-handling systems of the future. Previous innovations in electrical engineering have had a dramatic impact on the way in which we work and live: the transistor, integrated circuits, computers, radio and television, satellite transmission systems, lasers, fiber optic transmission systems, and medical electronics. Optional concentrations within the MS program allow students to focus on coursework in the following areas: Telecommunications Engineering, Wireless and Mobile Communications, Lightwave (Photonics) Engineering, Integrated Circuits and Systems, Microelectronic Devices, and Multimedia Networking. NEW! A concentration option in Systems Biology is now available.
COURSES
Students must complete all core courses and selected electives for a total of 30 graduate points of academic work via CVN with a GPA of 2.5 or better. All degree requirements must be completed within 5 years of the first course credited toward the degree. This includes courses in the non-degree program. Course Requirements:
A minimum of 15 points of credit must be at the 6000 level or higher.
At least 15 points must be courses in Electrical Engineering, defined as those with an ELEN designator or joint courses that include Electrical Engineering (e.g., with joint designators such as EECS, CSEE, EEME, ECBM, EEBM, & BMEE.
Courses to be credited toward the M.S. degree can be taken only upon prior approval of the program advisor.
Certain 4000-level courses will not be credited toward the M.S. degree, and no more than 6 points of research may be taken for credit.
Elective courses: Up to 3 points of credit for approved graduate courses outside of engineering and science may be allowed.
Cost & Fees
Please note that all tuition and fees are in U.S. dollars and are estimated. Tuition and most fees are prescribed by statute and are subject to change at the discretion of the Trustees. CVN Credit Tuition:$1782 per point (Credit Hour) CVN Audit Tuition:$834 per point (Credit Hour) CVN Fee:$395 per course Transcript Fee:$105 non-refundable one-time fee Graduate Admission Application Fee:$200 non-refundable one-time fee Certification Program Application Fee:$150 non-refundable one-time fee Late Registration Fee:$100 non-refundable fee CVN Withdrawal Fee:$75, plus prorated tuition and all non-refundable fees For example: A three-credit course would be $5346 + transcript fee $105(one-time) + CVN fee $395 = $5846
Entry Requirements
Degree required for admission: Students admitted to the program must possess an undergraduate degree in engineering, science, mathematics, computer science or another related field (subject to the approval of the Electrical Engineering Program) from an accredited academic institution. Applicants should have a strong undergraduate record to be competitive for admission. GPA required: Minimum of 3.0 GRE requirements: General test required Other application requirements: Two recommendation letters, transcripts, resume, and a personal-professional statement are required. TOEFL test scores are required of all students who received their bachelor's degree in a country where English is not the official and spoken language. All application requirements in the Graduate Application must be completed as specified in the application.
Last updated Nov 2017
About the School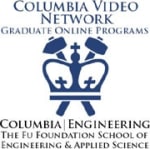 Columbia Video Network has been leading the field of online learning since its inception in 1986, enabling thousands of working professionals and remotely located students to benefit from distance lea ... Read More
Columbia Video Network has been leading the field of online learning since its inception in 1986, enabling thousands of working professionals and remotely located students to benefit from distance learning and pursue their degrees without any residency requirements on the campus in New York. The Fu Foundation School of Engineering and Applied Sciences (SEAS) offers broad-based instruction within a major...
Read less