EUROPEAN WELLNESS WORKSHOPS
Home ›
EUROPEAN WELLNESS WORKSHOPS
Program Description
EWAA OPEN VIRTUAL DAY
EWAA VIRTUAL OPEN DAY

Wish to Become a Certified Professional Beautician or Esthetician who's well-versed in Bio-Esthetics? Start Your Journey in Building Your Professional Credentials TODAY!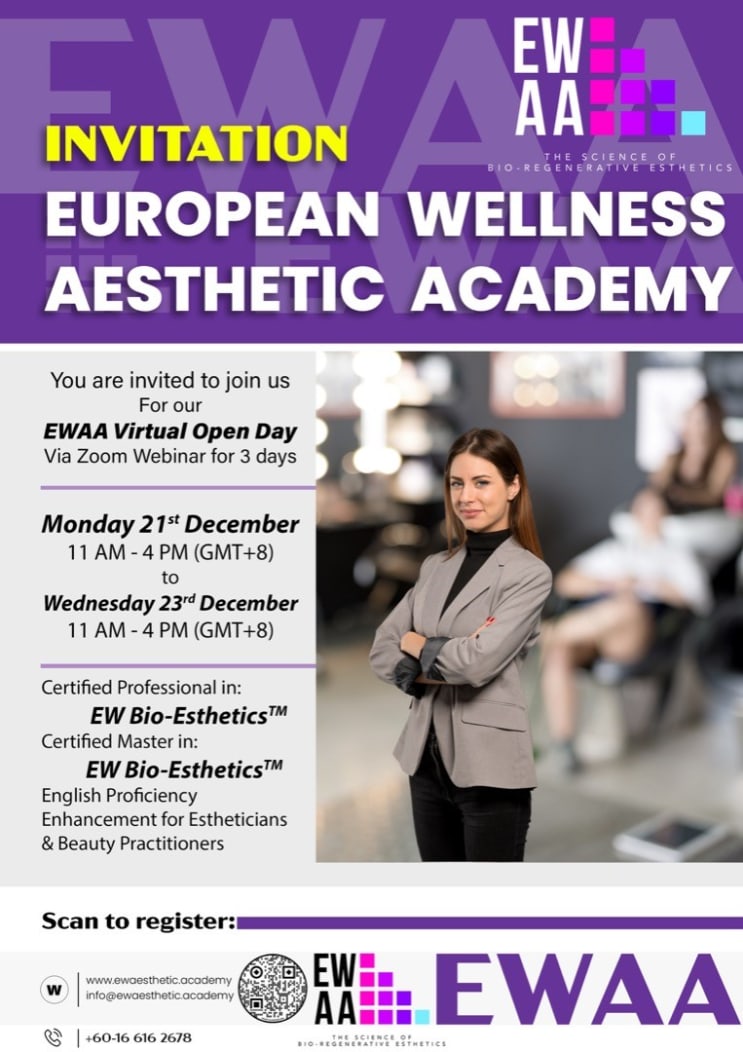 Join our 3 Days virtual open days on Zoom:

Time: 21, 22 & 23 Dec 2020
11:00 AM GMT+8 Kuala Lumpur

Join Zoom Meeting
https://zoom.us/j/91293202057
Meeting ID: 912 9320 2057
EWA WEBINARS
https://www.eventbrite.co.uk/o/european-wellness-academy-30072113504
e-Physician Continuous Medical Education: Weight, Sag and Sexual Dysfunction
| | | |
| --- | --- | --- |
| | This webinar series has been specially designed to cater to the global needs of physicians who wish to learn about the latest trends in biohacking and precision medicine. | This engaging 2 days session will feature key speakers who are both experts and current practitioners in the field of Biological Regenerative Medicine, who have presented their research and findings on various international platforms throughout the years. |
Dear doctors/physicians!Female Rejuvenation
Discover the non-invasive solutions for your female patients' intimate problems!

Rejuvenate the female intimate function through bio-regenerative science! The webinar discusses the problems and Bio-Regenerative solutions for female sexual dysfunction.

Keypoints: RF energy, the non-surgical method for vulvar-vaginal rejuvenation & injectable techniques:

Use of PRP and placental peptides
Orgasm enhancement
Treatment of urinary incontinence
Vaginal dryness
Male Rejuvenation
Greetings doctors!
Do you have many male patients with sexual function challenges?
What are you waiting for? As clinicians, it is best to be trained and certified before offering such treatments to your patients.
Come and join us in this webinar presented by European Wellness Academy presents our latest e-webinar, MALE REJUVENATION EXCLUSIVELY FOR CLINICIANS!
Topics that will be covered:

Bio-Regenerative Sciences behind management of aging male reproductive function and male rejuvenation
Core points of male rejuvenation tactics
Non-surgical method for male genital rejuvenation
Specific minimally-invasive techniques
Hair Restoration
Hello, clinicians!
| | | |
| --- | --- | --- |
| | European Wellness Academy presents our e-webinar: HAIR RESTORATION TECHNIQUES! Been looking for hair restoration solutions for your patients? | This e-webinar is specially designed for aesthetic practitioners looking to improve their professional skills in trichology and to incorporate non-surgical options for hair restoration into their practice. |
EWAA WEBINARS
https://www.eventbrite.co.uk/o/european-wellness-aesthetic-academy-30072135658
Becoming a World-Class Esthetician
Beauticians and Estheticians out there!
Aspiring to add world-class status to your current profession? Learn the science and knowledge behind the beauty treatment and procedures you conduct!
Welcoming you with open arms to our Signature Series: Becoming A World Class Esthetician webinar!
The webinar comprises of 2 part:
Part 1: Client Consultation

The session discovers the relevant foundational theories and skills required to perform basic Bio-Regenerative Esthetic manoeuvres in their respective wellness spa and beauty salon settings. Learn client consultation skills and how to manage customers effectively.

Part 2: Science of Skin

This session encompasses the sciences behind the skin. Learn the environmental effects on our skin and why these effects can be harmful to our skin. Discover the ingredients in certain topical treatments and systemic medications that could also be damaging our skin.
Certificates will be awarded to participants who complete all parts of this series!
Becoming a Beautyprenuer
Are you a beautician or an aesthetician?
Would you like to learn new ways of growing your business in these challenging times?
Then, do NOT miss this e-webinar!
This webinar will be presented to you by none other than Mr Joel See, the Head of the European Wellness Academy! The following lists on the screen are his credentials. The webinar is divided into 2 key parts! Part 1: Prospecting for New Clients Part 2: Decoding Your Prospects and Clients

Gain knowledge on: The Prospecting Process The Sales Cycle The Quiet Technique, and much more...

Join us at the upcoming e-webinar BECOMING A BEAUTYPRENEUR to learn more about prospecting for new leads in these challenging times!
Facial Protocols for Troubled Skin
Calling All Fellow Beauticians & Estheticians!
Beauty is NOT only skin deep! Beauty is deeply rooted in science and research.
Are customers with the same skin condition at your doorstep?

Come onboard and join our e-webinar and online courses, Facial Protocols for Troubled Skin!

The webinar consists of the foundation in Bio-Regenerative Esthetics to ensure that they can professionally perform Bio-Regenerative esthetic procedures with the right facial protocols alongside the knowledge of the science behind troubled skin.
Gut Health-Skin Connection
Fellow Beauticians & Estheticians!
Skin problems are closely interrelated with the health of our gut!

It is essential to know that internal health problems start in our gut and manifest as chronic external skin issues.

Join the "Gut Health-Skin Connection" webinar to discover the anatomy and physiology of the gut and help your clients to improve their general wellness & health of their skin from the inside.
Legal Aspect of a Beauty Business
Dear Beauticians and Estheticians,
Becoming professionally certified and skilled in a profession is important to provide safe and effective treatments to your customers.
| | | |
| --- | --- | --- |
| | This webinar will dialogue the key legal aspects involved in running a beauty business which is often neglected in this industry - more so in recent times in light of the death of a client at a beauty salon in KL. | While it takes years to build up a business and a brand from scratch - all it takes is ONE bad publicity to ruin the reputation of a business! Join our upcoming webinar LEGAL ASPECTS OF A BEAUTY BUSINESS! |
Last updated Nov 2020
About the School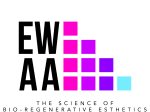 In Bio-Regenerative Esthetics, the focus will be on how BioRegenerative Science can restore the natural condition of the integumentary (skin) system and its corresponding pathophysiology, the esthetic ... Read More
In Bio-Regenerative Esthetics, the focus will be on how BioRegenerative Science can restore the natural condition of the integumentary (skin) system and its corresponding pathophysiology, the esthetic pharmacology of bio regeneration, pain management, esthetic dermatology and much more. The program is also designed to impart the requisite business management and entrepreneurship skills that are required for Estheticians to be able to successfully operate their business and even progress towards franchising.
Read less