Doctorate of Education
Home ›
Doctorate of Education
Program Description
Leadership requires training. Earn an EdD engineered to empower change. Our innovative, three-phase program can be completed in just three years.
When true leaders aren't satisfied with the status quo, they step up. They take charge. But at the same time, they exude stability under pressure, a collaborative spirit, and inclusion—those are the change-maker qualities we instill in our Doctorate of Education candidates here at Concordia University-Portland. Are you compelled to enhance your leadership capabilities so you can make immediate and long-term impacts in your workplace? Do you agree that even the smallest positive change in the education sphere can have a ripple effect on the world at large? If so, you'll find immense value in our innovative program.
Ideal for professionals who are balancing work, family, and community obligations, our EdD program offers an intensive curriculum taught by a faculty of highly regarded scholars from diverse backgrounds, including prestigious universities and successful businesses. And you'll join the same, supportive community they belong to one that believes in the strength and efficacy of genuine leadership.

Prospective candidates exhibit a love of teaching both in and out of the classroom, and share many of the same objectives:
Learn how to use systematic inquiry to improve classroom and school practice;
Lead organizational change using empirically developed and proven strategies;
Work together in small research communities to share resources and ideas;
EdD courses are practical and research-based and will help you gain valuable leadership and decision-making skills through rigorous, intensive project-based learning and purposeful collaboration.
Through intensive curricula, scholarly discussions, and a nurturing faculty of highly regarded instructors, our EdD program produces leaders who inspire ethical change. Each of our five fully online, leadership-focused concentrations is comprised of eight-week classes and is limited in class size to support quality and collaboration. Accredited, nonprofit, and private, Concordia has been developing leaders since 1905.

Program Highlights
Concordia University–Portland doctoral program focuses on developing reflective practitioners and transformative leaders who have a willingness to recognize the need and confront it with reason, who are well-grounded with ethical perspectives, and who have the willingness to think and act critically.
Our courses are practical and influenced by ongoing research from our innovative College of Education to help you gain valuable decision-making skills through rigorous, intensive project-based learning, and purposeful collaboration.
Take your leadership skills to the next level and help create the education landscape of tomorrow. Choose from five concentrations that will focus your passions and help move you toward your next goals. This is where innovation and foresight come together to meet the needs of the next generation.

Our Doctorate of Education Concentrations:
Administrative Leadership for those interested in public or private sector professional and institutional management.
Higher Education includes an emphasis on both higher education administration and teaching to prepare servant-leaders.
Instructional Leadership helps develop the knowledge, ability, and capacity to positively impact practice, programs, and policy.
Professional Leadership, Inquiry, and Transformation offers candidates the ability to design a customized program of study.
Transformational Leadership for individuals who want to advance in the business, organization, and church leadership.

Dissertation
Under the guidance of the Faculty Chair and dissertation committee, candidates will develop and execute a feasible, ethical, and scientifically valid dissertation research study and write a dissertation to report the development, execution, and completion of the study. The dissertation will include a logical, organized Introduction; a synthesized Literature Review; a well-articulated and sound Methodology; a scientifically accurate and precise presentation of Data Analysis and Results; and, a well-developed Discussion and Conclusion. The dissertation is a scholarly document or presentation intended to demonstrate the research competence of the author and to produce greater understanding resulting from a comprehensive, logical, and ethical investigation. The dissertation is an expression of a high level of critical thought and is expected to be a substantive contribution to the theory or practice of its discipline or field of study.

Program Outcomes
Join a growing network of alumni in active support, mutual encouragement and shared knowledge. Start class with 10,000 immediate connections (our #TenThousandStrong alumni network is a growing force in education) allowing you to learn from other teachers, principals, and education professionals. Our curriculum helps you stay ahead of the industry and uses an iterative process that ensures you're getting the most value out of your graduate education.
The Concordia University-Portland education doctoral program focuses on developing reflective practitioners and transformative leaders who:
Understand the theoretical bases of practice, are able to turn theory into action, and can utilize skills and strategies to improve practice;
Apply organizational skills and strategies, apply capacity-building program analyses, and have a willingness to recognize the need and confront it with reason and grace;
Are grounded with a solid ethical, moral, and faith-based truth-telling, integrity, and a spirit of service;
Understand purposeful collaboration, democratic participation, and choice as a guiding style that produces strong and powerful results;
Have the capacity to meld reason and imagination, analysis and hunch, and accept a tolerance for ambiguity;
Have a willingness to think and act critically, unravel dense meaning, and probe complicated projects with sense and clarity;
See themselves as scholars who are committed to studying as intentional, intriguing, and inspiring.

Why Concordia University–Portland?
As innovators in the field of learning, Concordia University-Portland's College of Education has been empowering teachers for over a century and continues to influence education from prenatal to the doctoral level. In fact, our College of Education is housed in the flagship school of our new educational model, known as 3toPhD®. The same bold minds behind this innovative prototype are also those shaping our ongoing educational research, and our undergraduate and graduate programs.
Accredited, nonprofit, and taught by practitioners, all of Concordia University-Portland online MEd programs reflect the same meaningful experience we've been delivering on campus since 1905. The convenience of 100 percent online, clearly defined coursework—paired with realistic deadlines and the ability to immediately apply what you learn in your classroom—makes our programs ideal for busy lifestyles. And the potential career benefits—from higher pay to promotions—are second only to the reward of having an everlasting impact on the lives of your students.
We're growing our community of professional educators to advance learning at every stage—join us.

Scholarship Availability
If you believe our EdD program is right for you, nothing should stand in your way.
Education is an investment worth making, which is why we're happy to help you find the right funding opportunities for you. Contact us about the program you're interested in, and we'll review scholarship opportunities and share information about financing and other programs – based on your individual circumstances.
We offer up to $6,000 in scholarships, and right now, you may qualify* for free textbooks.

Admission Requirements
The following admission requirements are for U.S. citizens and permanent residents applying to Concordia University–Portland EdD programs. Talk with your enrollment specialist for full details.
Completed online application.
Master's degree or higher from a regionally accredited institution.
Official transcripts from each degree-granting institution attended.
Current résumé with references, including relationship and contact information.
GPA of 3.0 or higher in a master's program or any post-master's credit.
Letter of Intent (no more than two pages) citing evidence as to why you should be admitted to the doctoral program, including reasons why you chose Concordia Portland and illustrating your commitment to degree completion. Please state in your cover letter: I certify that I am the author of this paper and that any assistance I received in its preparation is fully acknowledged and disclosed in the paper. I have also cited any sources from which I used data, ideas, or words, either quoted directly or paraphrased.
Current résumé including references (please explain your relationship with the references and include their contact information).
Submit an example of original, scholarly or professional writing from graduate-level work that demonstrates your best writing. The sample should be approximately 5-10 pages in length.
An interview may be required upon request from the review committee.
Candidates for the Professional Leadership, Inquiry, and Transformation concentration will submit to the Director of Doctoral Studies a rationale that includes their purpose and goals, along with a selection of the four concentration courses to be taken.
Candidates may be required to take a post-admission, pre-enrollment writing assessment, so the program has a real-time assessment of candidates' writing proficiency.
Last updated August 2019
About the School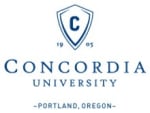 If education is your passion, this is your university. One of the most respected names in learning today, Concordia University–Portland is reshaping the way the world views teachers and students. We o ... Read More
If education is your passion, this is your university. One of the most respected names in learning today, Concordia University–Portland is reshaping the way the world views teachers and students. We offer education degree programs at every level – many of which can be earned online – from a Bachelor in Education to master and doctorate degree programs.
Read less