Doctor of Education: Higher Education
Home ›
PhD ›
Doctor of Education: Higher Education
Program Description
Earn an EdD in Higher Education from Concordia, fully online and designed to help you make your mark
It's an incredible time to work in higher education. Faced with sliding enrollments and increased competition, institutions are making innovative moves to defend their value. If you've ever wanted to leave a legacy in higher ed, now is the time. The floor is yours—and with an EdD in Higher Education from Concordia, people will listen.
100% Online - Virtual Residency
20 Students/Class - Quality Instruction & Networking
113-Year Reputation - Concordia University-Portland College of Education
What will I study?
Concordia's doctoral program focuses on developing reflective practitioners and transformative leaders who have a willingness to recognize the need and confront it with reason, who are well-grounded with ethical perspectives, and who have the willingness to think and act critically. In this specific concentration which includes an emphasis on higher education administration and higher education instruction, you'll also learn:
Higher education history and how it relates to the critical issues facing academia today.
The ability to carefully evaluate research findings to make evidence-based strategic decisions.
The knowledge, attitude, skills, and values necessary for facilitating organizational improvement in schools and colleges.
How to reframe your world-view to move away from knowledge transmission towards transformational learning.
Why Concordia
As innovators in the field of learning, Concordia University-Portland's College of Education has been empowering teachers for over a century and continues to influence education from prenatal to the doctoral level. In fact, our College of Education is housed in the flagship school of our new educational model, known as 3toPhD®. The same bold minds behind this innovative prototype are also those shaping our ongoing educational research, and our undergraduate and graduate programs. We're growing our community of professional educators to advance learning at every stage—join us.
Scholarship Availability
If you believe our EdD program is right for you, nothing should stand in your way.
Education is an investment worth making, which is why we're happy to help you find the right funding opportunities for you. Contact us about the program you're interested in, and we'll review scholarship opportunities and share information about financing and other programs – based on your individual circumstances.
We offer up to $6,000 in scholarships, and right now, you may qualify for free textbooks.
Admission Requirements
The following admission requirements are for U.S. citizens and permanent residents applying to Concordia University-Portland's EdD programs. Talk with your enrollment specialist for full details.
Completed online application.
Master's degree or higher from a regionally accredited institution.
Official transcripts from each degree-granting institution attended.
Current résumé with references, including relationship and contact information.
GPA of 3.0 or higher in a master's program or any post-master's credit.
Letter of Intent (no more than two pages) citing evidence as to why you should be admitted to the doctoral program, including reasons why you chose Concordia Portland and illustrating your commitment to degree completion. Please state in your cover letter: I certify that I am the author of this paper and that any assistance I received in its preparation is fully acknowledged and disclosed in the paper. I have also cited any sources from which I used data, ideas, or words, either quoted directly or paraphrased.
Current résumé including references (please explain your relationship with the references and include their contact information).
Submit an example of original, scholarly or professional writing from graduate-level work that demonstrates your best writing. The sample should be approximately 5-10 pages in length.
An interview may be required upon request from the review committee.
Candidates for the Professional Leadership, Inquiry, and Transformation concentration will submit to the Director of Doctoral Studies a rationale that includes their purpose and goals, along with a selection of the four concentration courses to be taken.
Candidates may be required to take a post-admission, pre-enrollment writing assessment, so the program has a real-time assessment of candidates' writing proficiency.
Last updated Dec 2019
About the School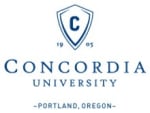 If education is your passion, this is your university. One of the most respected names in learning today, Concordia University–Portland is reshaping the way the world views teachers and students. We o ... Read More
If education is your passion, this is your university. One of the most respected names in learning today, Concordia University–Portland is reshaping the way the world views teachers and students. We offer education degree programs at every level – many of which can be earned online – from a Bachelor in Education to master and doctorate degree programs.
Read less