Diploma/Advanced Diploma of Social Media & Marketing Online
Home ›
Diploma ›
Media ›
Diploma/Advanced Diploma of Social Media & Marketing Online
Read more about this program on the school's website
Program Description
Accelerate your career in the field of social media and marketing
Provides convenient and flexibility in terms of online studying
Study in Australia through our Sydney or Gold Coast campuses
Highly practical with hands-on experience (includes Chinese social media network)
Quarterly masterclasses hosted by industry experts
Why study this qualification?
Social media marketing is one of the fastest-growing industries globally. It has strong employment prospects and the opportunity to work in a variety of industries. The demand for skilled professionals in social media marketing and communication are highly desired globally.
This qualification is being offered online. Pacific Training Group's study online program:
Provides convenient and flexibility in terms of online studying
Study at the comfort of your own home
Introduces students to great networking opportunities
Access learning materials in in one portable device
Promotes self-discipline and responsibility
Offers a variety of specialised skills to choose from
Presents learning opportunities for learners from all walks of life
Highly practical with hands-on experience
Develop the knowledge and skills required to build a comprehensive marketing, communication and implementation strategy using social media and other tools.
Learn the business of marketing and apply your learnings to existing businesses and clients, or to help start your own business.
This course also includes learning content on Chinese social media networks.
WeChat
Youku
Weibo
QQ
Douban
Work on real-life projects with experienced industry professionals
Pacific Training Group courses are structured around industry best practice designed by professionals for the most ambitious of students. You'll be trained and taught by passionate professionals on the latest social media and marketing practices and trends.
With our industry designed curriculum, you will learn the latest techniques, methodology and technology and use them on real businesses and clients. Studying alongside students from an amazing mix of countries will also give you the understanding of cultural differences and its influence in media, marketing and communication practices.
Career Opportunities
After finishing course, secure highly sought-after roles in the social media and marketing communication industry. The courses enables you to land these coveted roles in the industry:
Digital Marketing Manager
Social Media Community Manager
Marketing & Social Media Strategist
Social Media Consultant
Social Media Coordinator
Digital Marketing Strategist
Content Marketing Manager
Client Services Director
Marketing Director
More reasons to choose Pacific Training Group
Centrally located and modern campuses
Award-winning trainers
Extensive connections to industry
World-class eLearning resources
Complimentary academic support classes
A range of in-class timetable options combined with online learning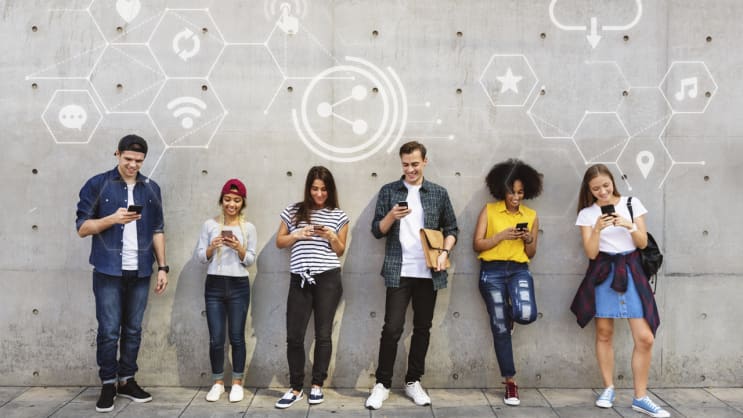 Explore your options
10118NAT Diploma of Social Media Marketing (4 terms of 10 weeks plus term breaks)
By studying this Diploma, you will not only learn all there is to know about social media, but you will also build a social media marketing strategy and implementation plan which can be immediately applied to your chosen business.
End to end social media education
Manage blog and content marketing
Mainstream social media marketing strategies
Niche social media marketing strategies
Strong personal brand in social media
Email marketing
Marketing communication plan
Market trends and developments
Undertake project work
Chinese social media marketing
After achieving the 10118NAT Diploma of Social Media Marketing, you can progress to other high level
qualifications offered by Pacific Training Group which include:
BSB61315 Advanced Diploma of Marketing and Communication
BSB61015 Advanced Diploma of Leadership and Management
SIT60316 Advanced Diploma of Hospitality and Management
SIT60216 Advanced Diploma of Event Management
Note that entry into BSB61315 Advanced Diploma of Marketing and Communication requires evidence of successful completion of the following 3 units of competency:
BSBMKG507 Interpret market trends and developments
BSBMKG523 Design and develop an integrated marketing communication plan
BSBPMG522 Undertake project work
Students who have completed the 10118NAT Diploma of Social Media Marketing course will gain direct entry to the Advanced Diploma of Marketing and Communication, therefore, shortening the course duration by 1 term.
BSB61315 Advanced Diploma of Marketing and Communication (6 terms of 10 weeks plus term breaks)
The Advanced Diploma of Marketing and Communication reflects the role of individuals who provide leadership and strategic direction in the marketing activities of an organisation. They analyse, design and execute judgements using wide-ranging technical, creative, conceptual and managerial competencies.
Advertising campaigns
Organisational marketing objectives
Marketing plan
Strategic plans
Implement a business plan
Market research
Marketing process
Measure marketing effectiveness
Innovation and continuous improvement
Organisation development
Provide leadership
Originate and develop concepts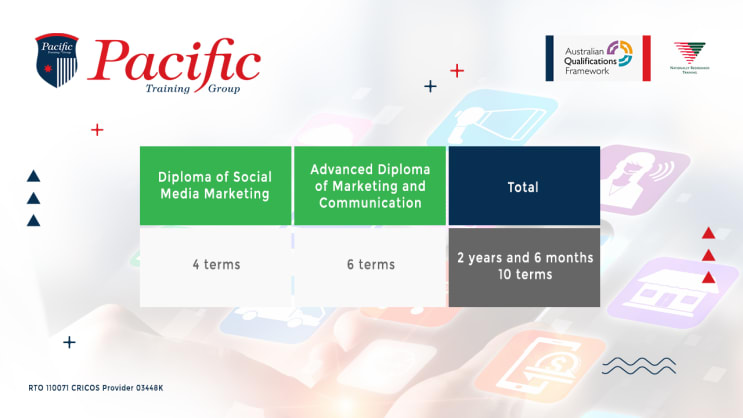 Study Details
This course can be taken on-campus and online. At Pacific Training Group, students are expected to attend to a 20-hour weekly online classes. This study mode is ideal for students who have other professional commitments and prefers a learning program that allow them to manage their own time.
Study Pathways
Offering flexibility in online studies, students can choose from the following study pathways created by Pacific Training Group:
Option 1: Students can study online without leaving their country of origin and complete their qualification entirely online.
Option 2: Students can initially study online, continue their studies in Sydney or Gold Coast campus in the succeeding terms when the borders open up, and obtain their diploma in Australia.

In light of the COVID-19 pandemic, Pacific Training Group temporarily runs the classes through a blended study mode using Remote Live classes via Zoom Client for Meetings until further notice. The shift will not impact the course and learning outcomes of the students.
Entry Requirements
Here are the entry requirements to get in the course:
Minimum age of 18 years
Australian Year 11 or equivalent
An upper-intermediate level of English or IELTS 5.5
Students must provide their own laptop and have access to high-speed internet.
Last updated Aug 2020
About the School

Pacific Training Group brings a fresh approach to vocational education and training in the areas of project and program management, applied blockchain, hospitality management, event management, leader ... Read More
Pacific Training Group brings a fresh approach to vocational education and training in the areas of project and program management, applied blockchain, hospitality management, event management, leadership and management, as well as social media marketing and communication. Working in cooperation with a network of significant industry partners, Pacific Training Group offers a unique blend of classroom-based training, online learning, and industry emersion. Graduate with extensive industry skills, Pacific Training Group offers a network of employment contacts and a qualification that is recognised in Australia and beyond. Visit www.pacifictraining.edu.au today.
Read less