Program Description
3 TOP UNIVERSITIES = 1 EUROPEAN DEGREE All students will have in addition to ABMS Diploma a Joint Diploma with University of Dąbrowa Górnicza (WSB) and Taras Shevchenko National University. 3 Top European Universities = Best Virtual/Distance Program = 1 Top European Diploma SWITZERLAND + EU + TOP RANKED 500 In an increasingly competitive business environment, the adoption of eBusiness technologies is critical to business survival. In this Program, students examine how organizations can use all aspects of eBusiness to create new products and services, reduce the cost of existing business processes and improve the efficiency and effectiveness of their operations. The course then explores the typical revenues models that can be adopted, the key role of eMarketing, the development of business-to-business strategies and the increasing importance of online auctions and virtual communities. It investigates the various security threats that can be posed to eCommerce systems and the appropriate countermeasures that can be adopted. The course also considers various electronic payment systems and concludes by reviewing the main components of a business plan for implementing eCommerce successfully.
Learning Outcomes
The Learner will:
Analyse eCommerce business models
Analyse eCommerce business-to-consumer strategies
Analyse eCommerce business-to-business strategies
Evaluate various forms of online marketplace
Examine the security threats posed to eCommerce users
Understand how to plan eCommerce Strategies
Advance Your Expertise at ABMS Connect with learners and leaders just like you in our online associate bachelor's programs. You will go as far as your mind will take you as a diploma or associate bachelor's student at ABMS. For Professionals The Swiss Diploma (Year 1) or Associate of Bachelor's of Business Administration signifies the first level of achievement in any academic discipline. In our executive bachelor's programs, you will:
Develop and practice innovative research methods.
Earn the highest quality of education.
Achieve the expertise to publish in peer-reviewed journals.
Become a successful researcher and professional.
Associate Bachelor's Diploma/ Swiss Diploma: 2 years/ 1 year The Swiss diploma associate bachelor's diploma will take your leadership to the next level. In our associate bachelor's programs, you will:
Lay the foundation for future for studies and professional achievement.
Study and apply innovative research methods.
Combine applied research and professional practice.
Prepare to make an impact in policy and practice.
Learn strategies to facilitate more effective, adaptable organizations and create positive change.
Become a more innovative leader in your field.
Study Language: this study program taught entirely in English.
Modules:
Essentials of Management
Fundamentals of Economics
Communications for Business
Understanding Business Organisations
Business Mathematics
Introduction to Finance
eBusiness
Principles of Marketing
We have 4 intakes per year: January, April, July, and October
Admission Requirements:
This study program is the 1st academic year of the Bachelor study program Duration: 1 year Diploma: Diploma in eBusiness Age: Minimum age 17 years Previous study: High school Diploma or equivalent English level: IELTS or equivalent (Only for students from non-English speaking countries or students who did not study at English speaking school) Study Method: Online Fee: 2950 Euro per Semester, European Credit Transfer and Accumulation System: this program is equivalent to 60 ECTS European Qualifications Framework: this program is equivalent to EQF Level 4 Note: Study fee does not include application and reservation fee (to guarantee you a study place) of 240 Euro (onetime payment and non-refundable).
Last updated Jan 2018
About the School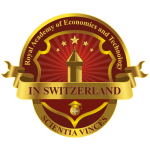 We offer a range of online study programs starting from Associate Bachelor Degree up to Doctorate Degree, including Masters and Bachelors study programs, all our Studies can be done in ONE academic ye ... Read More
We offer a range of online study programs starting from Associate Bachelor Degree up to Doctorate Degree, including Masters and Bachelors study programs, all our Studies can be done in ONE academic year part time (Friday to Sunday).
Read less