Read more about this program on the school's website
Program Description
This 240 credit Diploma in Business and Marketing Management (awarded by EduQual, UK) is broadly equivalent to a Pearson BTEC Higher National Diploma (HND).
The Diploma in Business and Marketing Management (BMM) offers learners the knowledge and skills needed to develop an understanding of the models, tools and techniques used in the fields of Business and Marketing Management. The course is mapped to the National Occupational Standards in Management and Leadership and Business Administration.
Learners will be able to develop the competencies they need to enter work in one of these disciplines. Learners completing the Diploma in Business and Marketing Management will be able to progress onto the third year of a university honours degree in Business or Marketing. The programme has been produced to conform to the requirements of UK regulatory authorities and the relevant Quality Assurance Agency (QAA) subject benchmark statements.
The aims of this programme will allow learners to:
Build a coherent and sound foundation in marketing and business management, at a level equivalent to a Higher National Diploma, enabling graduates to choose from a wide range of career options internationally within the marketing and business disciplines.
Pursue a specialist interest in business management and marketing and relate this expertise to professional requirements and codes of conduct in line with the National Occupational Standards (NOS) and Quality Assurance Agency (QAA) subject benchmark statements.
Develop a wide range of intellectual and analytical abilities relevant to business and marketing, including those of critical thinking and analytical decision making.
Develop and practice the transferable skills necessary for continual personal development and to respond positively to change during careers in business and/or marketing management.
Discuss terminology, concepts, principles and techniques as utilised in marketing and general business management.
Explain the importance of the social, political, ethical, technological, environmental and global contexts in which business organisations operate and to support small- and medium-sized business enterprise (SME) decision making.
Develop the attitudes, skills and abilities necessary to work in an international business context and an awareness and appreciation of different cultural values.
Prepare for further studies at Honours degree level.
Equivalences
This qualification represents practical knowledge, skills, capabilities and competencies that are assessed in academic terms as being equivalent to Master's Degrees, Integrated Master's Degrees, Postgraduate Diplomas, Postgraduate Certificate in Education (PGCE) and Postgraduate Certificates.
Why is this course right for you?
Transform your career: Enrol today and make a life-changing decision, get the necessary knowledge to transform your career.
Move up in your career: With our fully accredited course, you can move up to the next level in your organisation with ease.
Upgrade your skills: Add value to your current educational profile and achieve skill sets to compete in your job role.
Enhance your credibility: The qualification is fully accredited and recognised and adds value to your educational profile.
Progression opportunities: As this qualification is approved and regulated, learners are eligible to progress to an MBA degree or Level 8 Diploma qualification on completion at an attractive fee plan.
Key facts
100% Online: Study online with the UK's leading online course provider.
Global programme: Study anytime, anywhere using your laptop, phone or a tablet.
Comprehensive study materials: Comprehensive study material and e-library support available at no additional cost.
Tutor Support: The programme comes with complete tutor support via Live Chat, email and WhatsApp phone call.
Payment plans: Pay your fee in easy Interest-free monthly, quarterly and half-yearly instalments.
Why Online
Cost-effective: Typically British degree starts from GBP £ 14000 per annum, but with LSIB, you enjoy saving up to 60% on your educational investment.
Assessments: Assessment is done through written assignments and/ or dissertation project.
Support: We offer live tutor support via online chat and email for all qualifications delivered by us.
Progression Opportunities / BA Top-Up Degree
Successful completion of this qualification enables our learners to progress to BA degree Top Up.
The qualification is listed on OfQual (Office of the Qualifications and Examinations Regulation) website, learners are eligible to progress to a BA top-up for £4250 only!
Get in touch with admissions for this special price only for LSIB students.
Entry Requirements
The Learners must possess:
Relevant NQF/QCF/RQF Level 3 Award/Diploma or any equivalent qualification
or
2 years or more of work experience in case you do not hold any formal qualification (evaluated on a case to case basis)
and
The learner must be 18 years or older at the beginning of the course.
Course Contents
Diploma in Business and Marketing Management (SCQF Level 8 / equivalent to Level 5) consists of 16 mandatory units for a combined total of 240 credits.
Each unit is of 15 credit value
Mandatory Units (Choose any six units, each unit is of 20 credit value)
Business Environment
International Marketing Management
Business Accounting
People & Organisations
Principles of Marketing
Credits Business Analysis
IT for Business
Law for Business
Personal Development
Human Resource Management
Entrepreneurship & Innovation
Marketing Communications
Consumer Behaviour
Operations Management
Marketing Planning
Strategic management
Assessment and Verification
All units within this qualification are internally assessed and externally verified by the awarding body. The qualifications are criterion referenced, based on the achievement of all the specified learning outcomes. To achieve a 'pass' for a unit, learners must provide evidence to demonstrate that they have fulfilled all the learning outcomes and meet the standards specified by all assessment criteria.
Accelerated Mode available - Now complete this qualification in just 6 months!
Under accelerated mode, the learner can complete this qualification in just 6 months at special pricing of £1000 only for OnlineStudies visitors.
Apply today - visit London School of International Business website.
Career path
On successful completion, you may progress to:
Other qualifications at the next level, For example, Level 6 Certificate or Diploma in Business or
Top-Up Degree in Business or
Employment in a middle management position
Who accepts this qualification
Most of the UK/ US / Australia / Canada Universities
We offer BA (Hons) Business Studies Top Up at £4250 via British University, quote this page as a reference to avail this special price!
Please get in touch with the admissions team for more information. Visit www.LSIB.co.uk and chat with the admissions agents for more information.
London School of International Business

UK Provider Reference Number (UKPRN): 10062390
Website - www.LSIB.co.uk
Last updated Dec 2019
About the School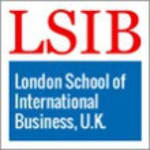 Studying with LSIB gives you the opportunity to develop your knowledge of business and information technology and help you grow your key competencies – so you gain the skills to tackle work projects a ... Read More
Studying with LSIB gives you the opportunity to develop your knowledge of business and information technology and help you grow your key competencies – so you gain the skills to tackle work projects and situations more effectively.
Read less