Design for Sustainability Online Course - Social Dimension
Home ›
Courses ›
Design for Sustainability Online Course - Social Dimension
Program Description
Are you looking to consciously reinvent cooperative and harmonious ways of living and working together?
If so, how do we design for group development, leadership, conflict resolution, decision-making, creativity, social justice, and communication?
Join Gaia Education's Social Design for Sustainability course and learn practical effective ways to create the change we all seek. Our distinct programme is your chance to learn about the different ways to participate in this (r)evolutionary shift in paradigms.
Our aim is to give you a better understanding of the true meaning of social equity and participatory action and to enable participants to apply transformative tools that align us with more resilient social systems. Our relationship with others is too dear to let it default on old domineering paradigms.
Many of us feel that our current social system is no longer sustainable and that more compassionate and just ways of organising are possible, but what are the alternatives? It is a commonly held belief that there are things individuals can do to change the system or improve their social condition. But within the context of a complex global community, the effectiveness of isolated individual action is limited. Yet we all co-create the system we live in, and once we join with others and work for a shared vision to improve the situation in our communities we participate in a powerful force for positive change.
If you have been part of a group, you already know that one of the most common reasons for the failure of group projects is conflict. Conflict is a structural issue in the formation of groups. So propagating successful group projects will necessarily entail a healing process in which we step out of the cycles of pain and violence that have run through human history and take responsibility for initiating new patterns.
Rediscovering the beauty, compassionate nature, and innate power of human beings is part of our journey through the social Dimension of design for sustainability.
Course Content
In the Social dimension we will address the following questions:
What vision will help our projects be coherent and inspiring?
How will decisions be made and conflicts resolved?
How will we walk that delicate line between being an individual and growing our personal empowerment, while being part of a collective body?

Will we be able to celebrate our diversity in a just and inclusive manner, or will we find our differences too challenging?

What will we do to reconnect with the creative source in the web of life and bring a sense of beauty to everything we do?

Finally, will our group, organisation or community reach out to the local and bioregional communities, building bridges, learning and teaching, giving and receiving?

Designing for sustainability implies a holistic design process that pays attention to the 'people' side of things, alongside the work on economics, ecology and our worldviews. On the threshold between vision and reality, an integrative design can set the course for a healthy and sustainable reality.
The course consists of five modules
Module 1 Building Community and Embracing Diversity
Discussing the basics of building community and teaching values and skills that help foster an atmosphere of trust.
Module 2 Communication Skills: Decision-Making and Facilitation
A journey into learning the art of decision-making and the facilitation of groups. Redirecting the energy of conflicts towards growth, inspiration and deeper mutual understanding.
Module 3 Personal Empowerment and Leadership
Offers lessons in distinguishing between 'power from within' ('power with') and 'power over' and developing leadership skills that serve the group and the world as an important part of taking responsibility.
Module 4 Celebrating Life: Creativity and Art
Reminds us all that in the individual and collective expression of creativity, in and through a community, there is a re-unification with the source of all creativity and a recognition of our deeper or higher selves as expressions of the unifying process of life.
Module 5 Local and Global Outreach
Helps to broaden our perspective and see the value of networking. Looking at the dimensions of time and space and different spatial and temporal scales, we strengthen the awareness of the threads that connect us to past and future generations as well as to local and regional communities all around the globe.
What you will receive
A downloadable course book with the latest research and additional resources (also available as an online e-book)

A student handbook with all important information concerning the course

A Student Guide: description of each dimensions' learning outcomes, objectives and timeline, plus a set of activities for each module of the learning journey

A downloadable copy of the Social Key Book: Beyond You and Me, published by Gaia Education and also available in hard copy form our publications partner, Permanent Publications

Access to the virtual campus, where you join our classrooms, forums, design teams, direct communication with tutors, sample materials, all learning materials and activities for certificate, and social media related to the course

Orientation to the virtual campus, e-learning tools and the Moodle platform

Full technical and academic support to go through the virtual course and achieve all the learning outcomes

A Certificate of course completion from Gaia Education

Earn credits to continue onto our flagship certificated programme in Sustainability & Design

The ability and practical skills to take active steps in the strategic area of Design for Sustainability

Paving the way of joining the Gaia Education Learning Journey
Your investment
The cost of this unique and exciting course is £350 GBP. It may be the best investment you ever make for yourself. The whole duration of the Social dimension is eight weeks, encompassing approximately 80 hours of study time. Register up to one month before the start date to get a 20% early bird discount!
Upon completion, you will be equipped with the understanding and skills to become a confident change maker in social issues of sustainability. It will also qualify you to go on to study in our fully certificated programme, Design for Sustainability and join a Design Studio after completing the four dimensions of the course.
Last updated Nov 2018
About the School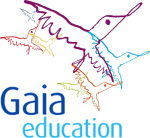 Gaia Education was created by a group of educators called "GEESE"- Global Ecovillage Educators for a Sustainable Earth- who have been meeting over a series of workshops in order to formulate their tra ... Read More
Gaia Education was created by a group of educators called "GEESE"- Global Ecovillage Educators for a Sustainable Earth- who have been meeting over a series of workshops in order to formulate their transdisciplinary approach to education for sustainability.
Read less