Program Description
General information
Faculty : Health Sciences
Modality : online
Language : English
Duration : 4 courses
ECTS : 240
Student profile
The student who chooses the Degree of Psychology is advisable to possess listening, empathy, assertiveness, analysis and planning abilities, as well as logical reasoning and inclination to know those scientific milestones of both past and future years in the scientific field of human development , Their relationships, their environment and their disorders.
Interests : Those of scientific, humanistic, sanitary and social type that relate to the person and their environment.
Skills : Interest in the study of human behavior from a cognitive, behavioral and even spiritual point of view. Ability to observe and listen; Self-observation and ease of oral and written communication. Taste for research. Capacity for analysis, criticism and reflection. Good social skills.
Attitudes : Responsibility, cordiality, respect, empathy.
Why UCAM?
With UCAM you can study the Degree in Distance Psychology. This is an advantage for those people who, for work or personal reasons, can not attend classes regularly. The Online mode Offers a Adapted methodology To your lifestyle, since you will be you who Decide how and when to study. Also at UCAM, where you can study online psychology, we support you with a Personal tutor With which to resolve possible doubts.
Career prospects
Some of the examples related to the professional activity of the psychologist could be the following:
Clinical psychology: previous examination and residency as Resident Internal Psychologist (PIR). The scope of action would be the evaluation and clinical treatment in hospitals and public health centers.
General health psychology: profession recently regulated by the Ministry of Health which, after completing the Master in General Sanitary Psychology, empowers the Psychologist for the private practice of the profession in the areas of evaluation and intervention in the health field of psychological disorders.
Educational psychology: counselor and educational adviser, intervention on school problems, elaboration of educational programs, psychopedagogical evaluation.
Sports psychology: programs to improve sports performance, intervention in exercise and health, orientation to sports organizations.
Social and community intervention: prevention and intervention programs in drug addiction, support for people at risk of exclusion, intervention and support for children and other groups.
Work and business psychology: selection of personnel, adaptation to jobs, marketing psychology and advertising.
Legal psychology: advice to staff of the Ministry of Justice, preparation of expert reports, family mediation.
Traffic psychology and road safety: assessment of the ability to drive, prevention of traffic accidents.
Intervention in emergencies and disasters: support to relatives of victims, intervention in catastrophes.
Mentions
Mention in Health Psychology
(OP) Clinical Psychophysiology
(OP) Psychology of Physical Activity and Sport
(OP) Neurobiochemistry and Psychopharmacology
(OP) Psychogeriatrics
(OP) Mental Health Intervention
Mention in Neuropsychology and Neurodesarollo
(OP) Clinical Psychology (6)
(OP) Neurodevelopment (6)
(OP) Neurobioquímica y Psicofarmacología (6)
(OP) Clinical Neurology (6)
(OB) Mental Health Intervention (6)
Mention in Educational Psychology
(OP) Educational and Psychopedagogical Orientation
(OP) Developmental Disorders and Learning Disabilities
(OP) Early Care
(OP) Psychoeducational Intervention in Childhood Disorders
(OP) Social and Emotional Development
CURRICULUM
First course
(BA) Research Methodology in Psychology (6)
(BA) Learning (6)
(OB) History of Psychology (6)
(OB) Fundamental Ethics (3)
(OB) Theology I (3)
(BA) Fundamentals of Psychobiology (6)
(BA) Psychology of Personality (6)
(OB) Attention and Perception (6)
(OB) Motivation and Emotion (6)
(BA) Developmental Psychology I: Childhood and Childhood (6)
(BA) English for Psychologists (6)
Second course
(BA) Developmental Psychology II: Adolescence, Adulthood and Old Age (6)
(BA) Psychology of Education (6)
(OB) Social Psychology (6)
(BA) Memory (6)
(BA) Data Analysis (6)
(BSC) Social Anthropology (6)
(OB) Physiological Psychology (6)
(BA) Group Psychology (6)
(OB) Research Designs in Psychology (6)
(OB) Applied Ethics: Bioethics (3)
(OB) Theology II (3)
Third course
(OB) Thought and Language (6)
(OB) Psychological Evaluation (6)
(OB) Neuropsychology (6)
(OB) Psychopathology I (6)
(OB) Social Doctrine of the Church (3)
(OB) Humanities (3)
(OB) Cognitive Techniques and Behavior Modification (6)
(OB) Legal & Forensic Psychology (6)
(OB) Psychopathology II (6)
(OB) Health Psychology (6)
(OB) Psychometrics (6)
Fourth grade
(OB) Evaluation, Treatment and Prevention of Psychological Problems (6)
(OB) Practicum I (4.5)
(OP) Mention (18)
(OB) Practicum II (4.5)
(OB) Work End of Degree (9)
(OB) Psychology of Work and Organizations (6)
(OP) Mention (12)
Placements
The Professional internship offer In companies, hospitals, day centers, educational centers ... in the Degree in Psychology online is very wide Since we have collaboration agreements with Private and public entities In the different areas of action of Psychology, including the health care network and social services.
Entry Requirements
Bachiller LOGSE with selectivity, training cycles of higher grade or FP 2nd degree, access test for over 25 years, access for over 40 years with professional experience and university degree.
Testimony
Beatriz de Juan, Alumna Degree in Psychology. "University Lots of guidance When it comes to deciding what it is you want To do in the future, Especially with congresses, since they usually bring speakers very close, Specialized psychologists In the matter that allows you to decide. "
Last updated Mar 2020
About the School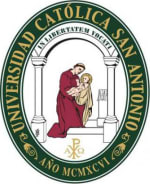 La Universidad Católica San Antonio - UCAM, como universidad católica, se caracteriza por ofrecer a sus alumnos una formación integral, basada en los conocimientos teóricos y técnicos específicos de c ... Read More
La Universidad Católica San Antonio - UCAM, como universidad católica, se caracteriza por ofrecer a sus alumnos una formación integral, basada en los conocimientos teóricos y técnicos específicos de cada titulación más la formación humana anclada en los principios del humanismo cristiano, a esta labor se dedican un claustro docente de reconocido prestigio y un equipo de tutores personales,
Read less